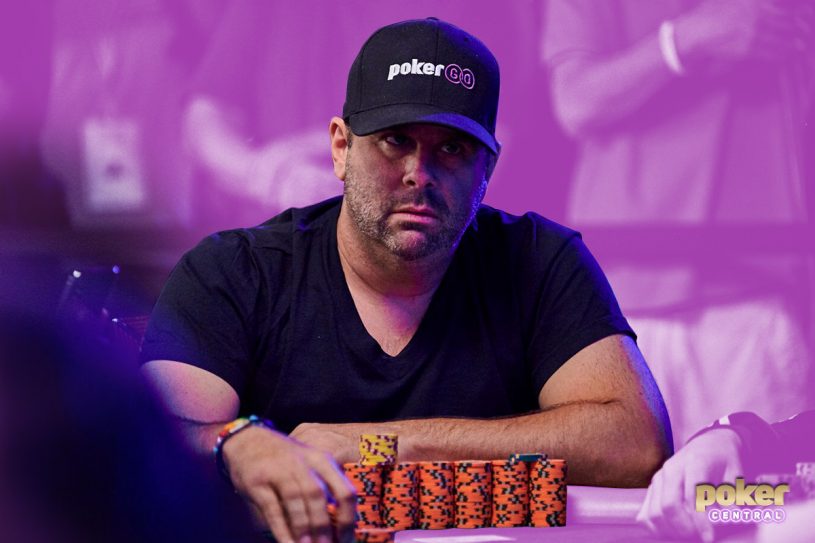 As it goes with outspoken flamboyant fast-talkers, there's haters and lovers. Randall Emmett qualifies in both categories and has both fans and people that think that he's a more irritating bracelet-less version of Phil Hellmuth. At the end of the day, however, Emmett brings a passion and excitement to the game that few can rival. At the 2019 World Series of Poker, the Hollywood producer notched up his first cash by finishing 10th in the tough $5,0000 No Limit Hold'em event, nearly checking off all three of his big summer goals.
Before, during, and after the run that shot his adrenaline levels through the roof before they ultimately collapsed on him with the finish line in sight, I spoke with Emmett and his fiancé Lala Kent to encapsulate the emotional roller coaster of one of the most polarizing characters in the game today.
A Polarizing Player
Roughly two years ago, when Emmett made his debut on PokerGO with "Voices Carry" week on Poker After Dark, nobody could've foreseen where the "Randall Emmett Experience" would go. Opinions started out very positive as his vibrant personality felt like a breath of fresh air, but as it's the case with other colorful characters in the game such as Mike Matusow, too much of the same can get on some fans' nerves. In Las Vegas this summer, however, Emmett is feeling a lot of love from those that he's encountered.
"I've been received mostly well. Most of the amateur and real poker fans think what I do is fun and they have been really supportive. They tell me that I'm great for poker, that I should keep up with the antics."
As Emmett explained, he came into the game with a passion and a love for it that he wants to share.
"I want to be a voice for the players that sit at home and dream about the World Series of Poker. I want to show them that it's not impossible to play here, and it's happened a lot to me recently where people reach out via Instagram who aren't even aware that there are $500 events at the WSOP."
"I think I've inspired some people to hop on a plane and come out here and that's really what's most important to me, having fun with the game, sharing some laughs, showing people a good time, and at the same time hopefully gaining some respect in the game itself by making some deep runs."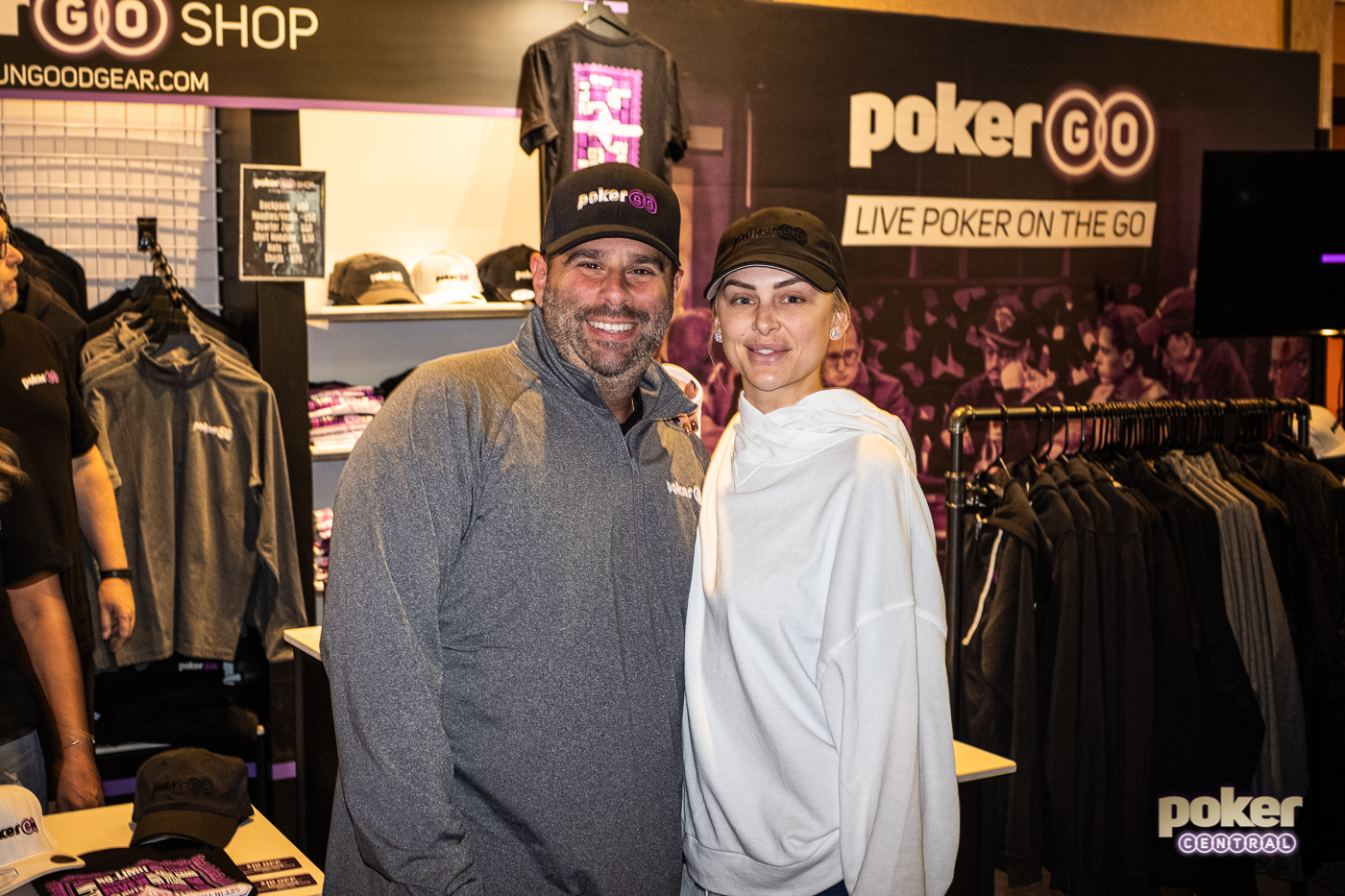 The Best Support System
No matter how big or small the game is that he's playing, Emmett can always count on the support of his fiance, Lala Kent. Even when she's not in Las Vegas, Emmett provides her with daily updates even though poker is not her forte.
Tom Schwartz, one of Lala Kent's co-stars on Vanderpump Rules, has apparently kept Emmett's finance in the loop on all things poker as he's a big fan of the game himself.
"Tom told her, 'Do you understand he's in the Final 27 playing for a bracelet?' so that was great. She understands that it's a super big deal, she's rooting me on every day as well as all my friends and family who's texting me how proud they are of me and that means a lot."
Speaking to Lala at the PokerGO Meet & Greet, she said, "I don't know one thing about poker, but anytime my man is excited about something I just admire his passion even though I don't know what any of it means. All I know is that it's good to hit something on the river and that it's good to fuck up the nits!"
Randall, present during the interview, let's out a thunderous laugh as even I could not keep a straight face as she dropped such specific poker terms. Rating her future husband's play based on what she knows, Lala gives him a 10.
"He's the best poker player in the world and I'm always proud of him and his passion for the game and I know that he makes the game exciting."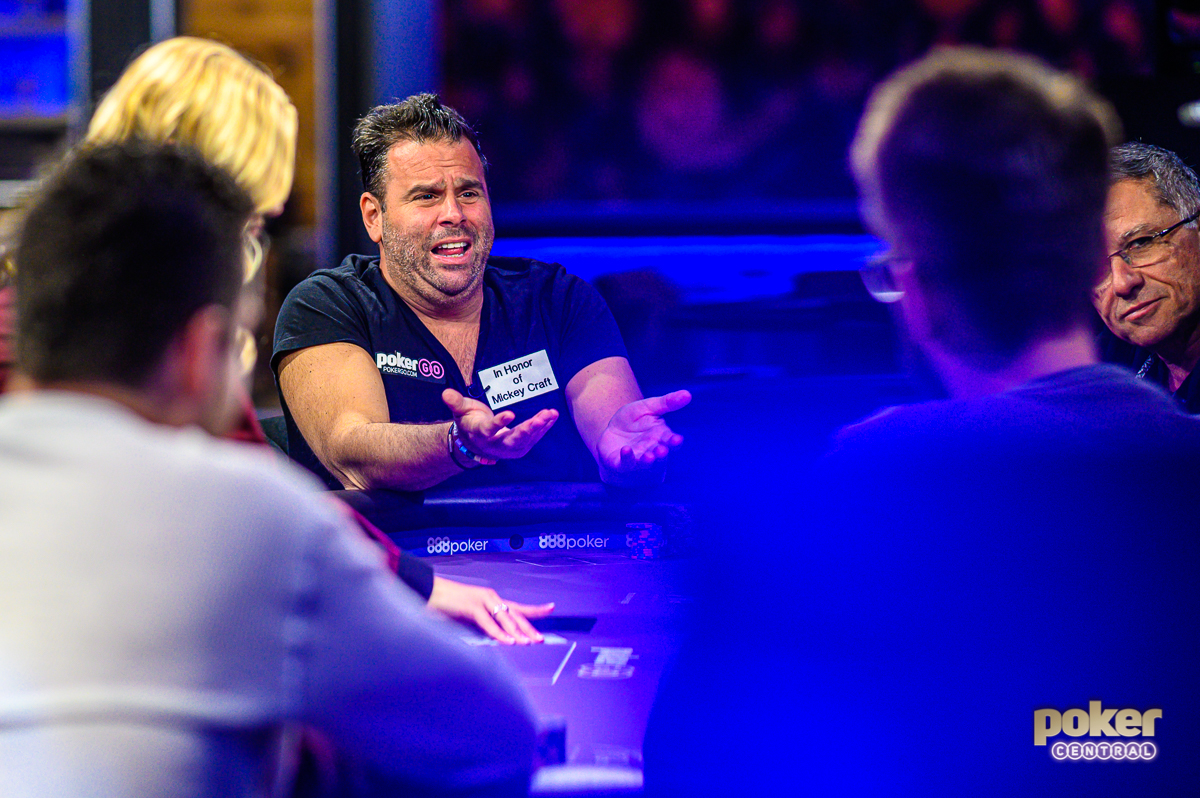 WSOP Bracelet Quest
Frantic is probably the best way to describe Emmett, minutes away from the third day of play amidst his first ever WSOP cash. Speaking a tad faster than usual and unable to stand completely still, it's clear that there's already adrenaline pumping through his body just 26 eliminations away from a WSOP bracelet.
"I came into the summer with three goals," Emmett said as the sound of bags being opened and chips being stacked filled the front corner of the Amazon room, "Cashing, making a final table, and ultimately winning a WSOP bracelet."
Emmett looked up with a smile, full well aware that two of those goals are things some weathered pros are still chasing after having played dozens of bracelet events. The Hollywood producer carries far less experience, although he's built on his experience in the game quite drastically by playing on Poker After Dark, Friday Night Poker, and various other televised games in the last few months.
But tournaments are different, as we all know.
The potential of a $442,385 payday was not on Emmett's mind, as to him it's 'just another tournament' but when I float the thought of being so close to a bracelet to him, he visibly sighs.
"When you put it like that, it's pretty incredible, to be honest."
As the poker bug clamped down on Emmett, he increased his study time and spent a considerable amount of time talking to players such as Ali Imsirovic, Jake Schindler, Phil Hellmuth, Antonio Esfandiari, and Sam Soverel. For someone who's not expected to win anything, Emmett takes pride in studying, getting better at the game, and brushing elbows with some of the game's elite talent.
"Tournaments are heartbreaking," Emmett said. "I'm a fighter, I'm a competitor, and when I stone bubbled the ARIA High Roller the other day, I wasn't upset about missing out on the money, I just wanted to prove to the guys, that I respect so much, that all my hard work in this game is paying off."
Winning a big tournament would mean everything to Emmett, who's as much of a poker fan as he is a true competitor with big dreams. After having played cash games in the PokerGO Studio many times before, there's no pressure or high adrenaline for Emmett in that environment, it's the potential of losing it all on one hand that makes tournaments such a thrilling ride.
Heartbreak
"Surreal" and "heartbreaking" were words Emmett used to describe his emotions after getting felted in 10th place for $21,812 when we spoke on the phone the following morning. Still looking for words and a proper way to describe his emotions after coming so close to his first WSOP final table, it became clear to me that this man probably spent all night rehashing the hands and moments that lead to his premature departure from his quest for WSOP gold.
Without missing a beat after asking him what lead to his elimination, a waterfall of words followed that carefully described each hand, big and small, that lead to the moment of his demise. By his own account, Emmett came into the third day of play without expectations as his small stack and the safety net of already having cashed turned a potential run to the final table into a freeroll. However, things turned as he found a quick double up which not only gave him more chips to play with but also renewed hope of completing this Cinderella Story.
"People started dropping left and right and I looked at the clock and I couldn't believe how close I was to the final table."
At this point, there were just 11 players remaining and Emmett tightened up, folding big hands to the aggression of the likes of Ali Imsirovic, Maria Ho, and Daniel Strelitz, the eventual winner, with his eyes set on the final table.
"I wanted to go as far as I could and play on the final table stream to show other amateur players that it's possible to get there. I think that thought made me play too tight and it was almost as if I was a bit in shock mentally."
Close to the final table, Emmett folded pocket tens to a shove from Daniel Strelitz, as he didn't want to flip for his tournament life at that point.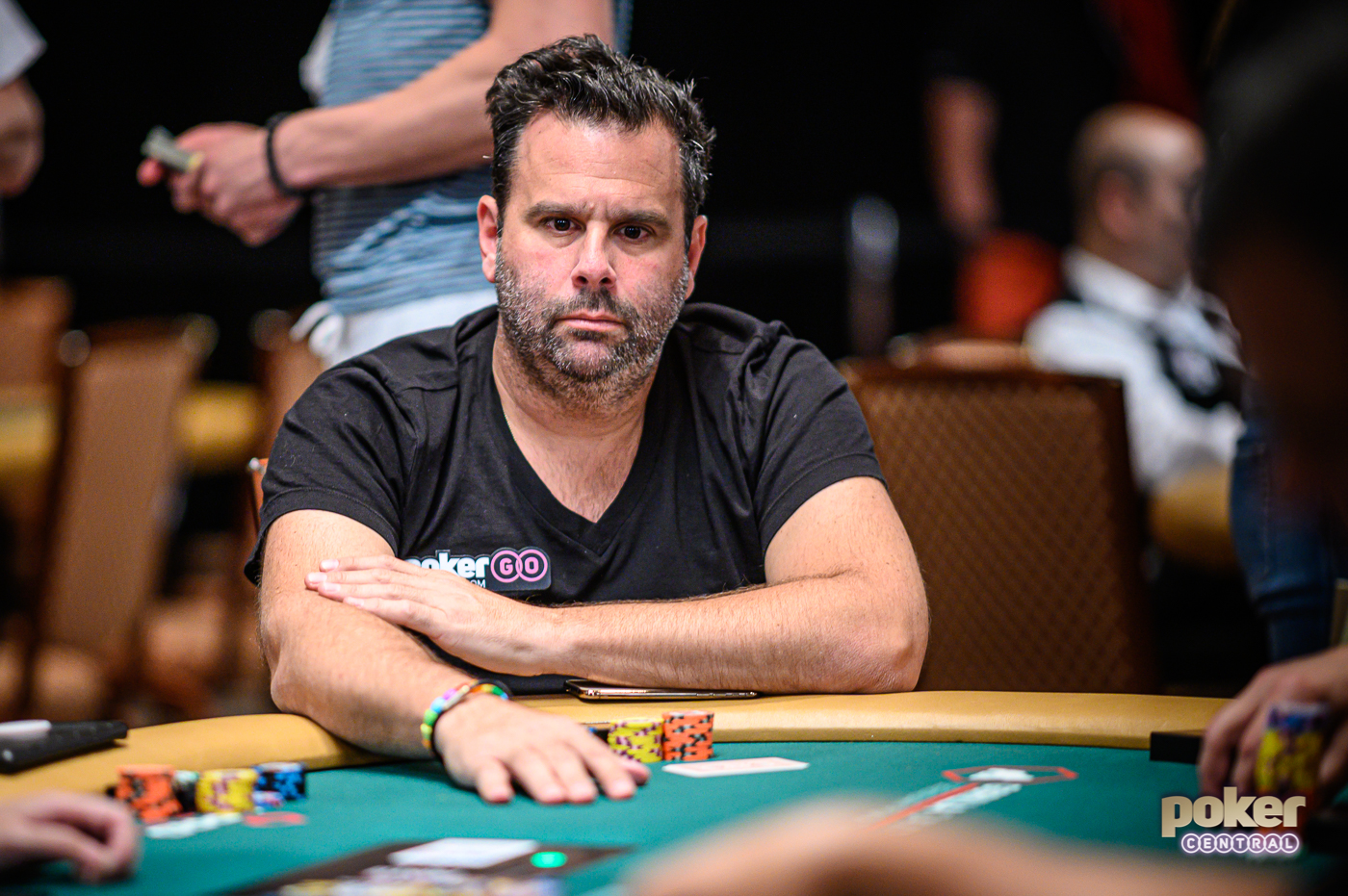 Paralyzed
"Paralyzed" was a word Emmett used about his play towards the final table bubble and while for weathered pros and experienced amateurs that might not be a feeling they identify with, it's a very real thing for recreational players to get too caught up in the moment. Emmett, however, still looks back on his run in this event with pride and thinks that this was needed for him to unlock the next phase of his tournament career.
"I think I played phenomenally for my abilities in this field against some of the toughest players in the world. I held my own, and I proved to myself that I can compete on any level with a lot of hard work."
"Now that I've gotten to where I've gotten to, I need to reset my goals and only think about winning," Emmett said. "Now that I know what it feels like to run deep in a WSOP event, it will be easier to handle that going forward.
The Emmett Fans
Depending on how deep you are into poker and at what level you play, it's sometimes hard to get the full perspective on what casual fans see and enjoy. With nearly 300,000 fans on Instagram, Emmett reaches people on the fringes of the poker world, casual fans, and people who've never been exposed to the game we all love. During this event, a fan saw Emmett's Instagram video about him going deep in the tournament and drove out to root him on.
"This almost brought tears to my eyes, but I had to keep a straight face because we were so close to the final table," Emmett recalled talking to the man on the rail briefly.
"Poker is a game that every single person in the world can play," Emmett continued to emphasize the equal opportunity poker provides for people.
"Poker is a game that even if you can only afford $50 or $20 dollars, there is a tournament in every city, in every country in the world that you can go play, and practice, and work, and build your bankroll up."
The Quest Continues
Emmett compares watching tennis or the NBA at the highest level but then going out and competing against your friends on the court with how poker can work as well. Maybe you're not ready for the World Series of Poker, but that's okay. The World Series of Poker is Wimbledon or the NBA Playoffs, and while most people will obviously never reach that stage, there's a place for them to enjoy the game as well and that's what Emmett continues to hammer home.
The Randall Emmett experience is far from over. Looking into the future, Emmett is eying many more WSOP events this summer with one big goal in mind: Winning a bracelet.
"Now that I've gotten this out of the way," Emmett said in reference to the heartbreak of falling just short of the final table, "I'm ready to go win a bracelet."
"I couldn't tell you how much it would mean to win a bracelet. It will mean more to me than probably most. After you have children and a family, it probably goes in order of Oscar and then WSOP bracelet. Since I was three years old I wanted an Oscar, a winning a bracelet right now means more than anything else. This is why I get so upset when I bust because every single event means so much to me."
One thing is for sure, whether Emmett never wins another hand of poker in his life or takes down the 2019 WSOP Main Event, his Lala will be by his side with that unwavering support he can always fall back on.
"The only way I know if it's like good or bad is like the texture of his voice. If he would just say it all in the same tone, good or bad, it all is the same thing to me. I'm like, 'Did we win or did we lose?' That's the only thing that I understand and I will always support him."
Watch Randall Emmett in action on PokerGO. Subscribe right now.