Regardless of the result at the 2018 WSOP Main Event final table, the tournament is already a success beyond Nicolas Manion's wildest dreams. Getting staked for a satellite just two days before the tournament kicked off, the current chip leader didn't even think he was going to play this event.
It took back-to-back satellite wins across two long days of poker before Manion found himself in the second largest Main Event of all time on little sleep. Now, seven long days of play later, Manion has guaranteed himself a $1,000,000 payout, a great chance of winning $8.8 million, poker's most coveted prize, and a guaranteed spot in poker lure by winning one of the most memorable hands in the 49-year history of this event.
"I haven't busted a tournament for nine straight days of play," Manion joked after bagging up a big chip lead at the final table, still catching his breath from the hand that vaulted him into the overnight chip lead.
The final table bubble you need to see to believe.
A three-way all-in brings the 2018 @WSOP Main Event field down to the final nine!
▶️ https://t.co/KNvPQ1muzl pic.twitter.com/eo1I3WiTRl

— Poker Central (@PokerCentral) July 12, 2018
Sharing his thoughts on the hand that potentially has an enormous impact on his finishing position in the 2018 Main Event, as well as the way his name will be remembered in poker history, Manion said the following.
"Once the turn hit, I let out a sigh of relief," Manion said, having to fade a potential backdoor flush after Antoine Labat caught two clubs on the flop.
"When Zhu moved all in, I just thought it was going to be the two of us, and after Seat 9 finally called I just got up and walked away. I didn't even see that they both had pocket kings until the dealer pulled the cards into the middle and I saw it on the big screen. I was so happy they both had kings because being up against queens and kings or jacks would've been much harder."
Now that Manion has the chip lead, his chances of winning the biggest tournament of the year and getting his banner raised inside the Amazon room are bigger than ever before. Remaining humble and grateful, the satellite winner with 50% of his own action, however, is still taking every pay increase as a bonus after finishing in the money.
"I would've been perfectly satisfied just cashing this tournament, and everything since then has just been a freeroll. It's just been a bonus what this whole experience has been like."
Manion's path to the final table wasn't all smooth sailing, as a four-outer on Day 4 nearly sent him to the rail with an hour left in the day. Back then, Manion's nut straight did not hold up against the two pair of his opponent, but he's rebounded in the best possible way by seeing his aces come out on top in the biggest equity spot of his life.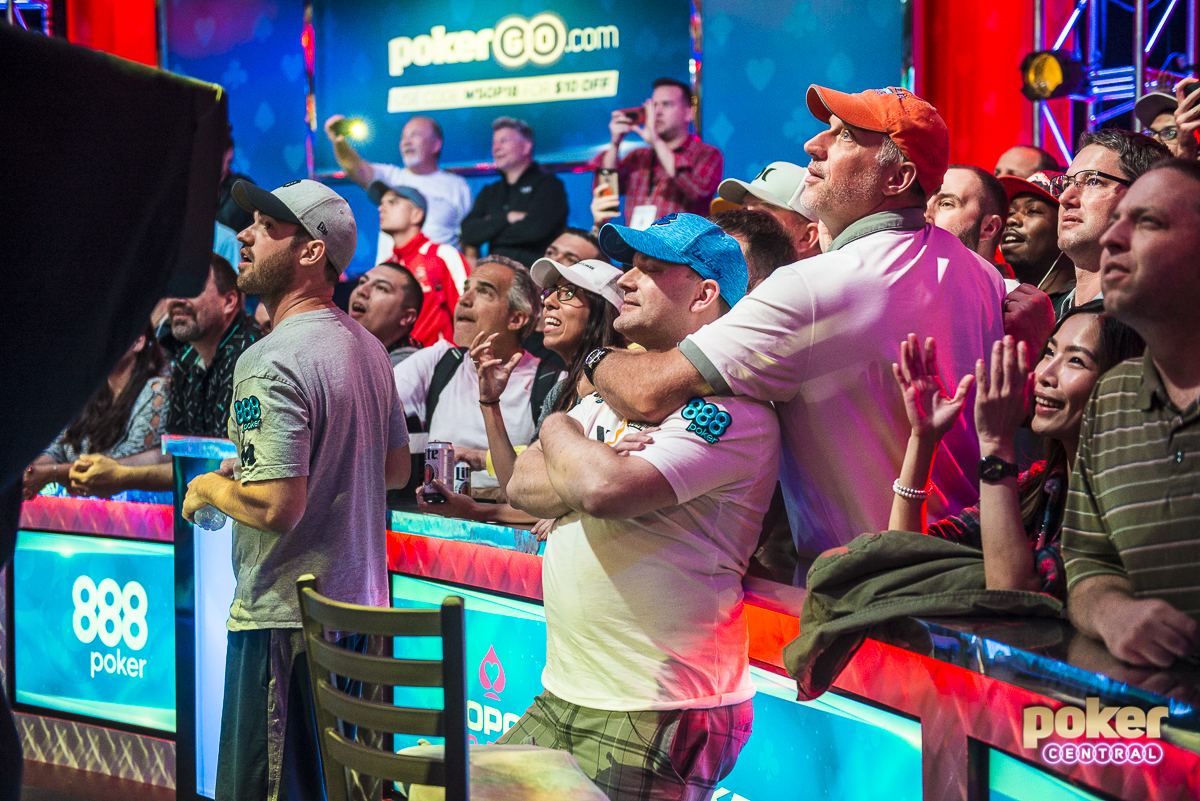 Talking about the final table, Manion realizes that the opportunity at hand is massive, but somehow, it's not as stressful playing through these moments as he thought it would be after years of watching this event on TV.
"It's very different when you're sitting there playing every day compared to watching it on TV. When you're at home you're thinking 'Wow, they're playing for millions!' but when you're in the moment you're just trying to focus and play your cards well."
Reminded of the $1,000,000 he's already guaranteed and the chance of winning $8.8 million on Saturday night, Manion admits that it will change his life, but he won't do anything crazy with the money.
Looking ahead at what's to come, Manion just wishes for one thing and one thing only, as the changes to his life could become incremental with each elimination.
"All I want is to keep getting a lot of good cards, to keep getting action and to win the pots that I'm playing!"
Final table coverage is scheduled to start at 9:00 pm ET on PokerGO and airs simultaneously on ESPN until six players are reached. A full schedule of the PokerGO Main Event schedule can be found here. Find all World Series of Poker final tables from 2018 by subscribing to PokerGO today.