This week the Poker After Dark action from the PokerGO Studio continues with heavy hitters, high stakes and the potential of hands that will be talked about long after the dust has settled. The same can we said for the epic fights between Canelo Alvarez vs. Gennady Golovkin and Conor McGregor vs. Khabib Nurmagomedov, and we caught up with boxing and mixed martial arts fan Nick Schulman to get his take on both fights and look ahead at his own battle on the felt that's set to face-off this week.
Don't miss "Power Play" week on PokerGO! Daniel Negreanu, Jean-Robert Bellande, Nick Schulman, John Morgan, Bill Klein, Justin Young, and Bob Bright square off in a $100/$200 No Limit Hold'em game with a $20,000 minimum buy-in at 6 pm ET on October 9-10. New to PokerGO? Subscribe right now.
Schulman's Talks Big Fights
As the theme of the week is directly connected to the start of the NHL season, we had to ask Nick Schulman about his big passion for boxing and mixed martial arts in light of the recent Canelo vs GGG and McGregor vs Nurmagomedov fights.
"I had GGG winning the first fight and had him eking out the second although, as many have said, it's hard to disparage the decision too much. Canelo is a great boxer, he moved well, and took it to him."
"I do think that whenever someone hangs in there with GGG in a round, they are inclined to give it to them too liberally and this was another example in my opinion. The atmosphere was electric, there's nothing like a prize fight."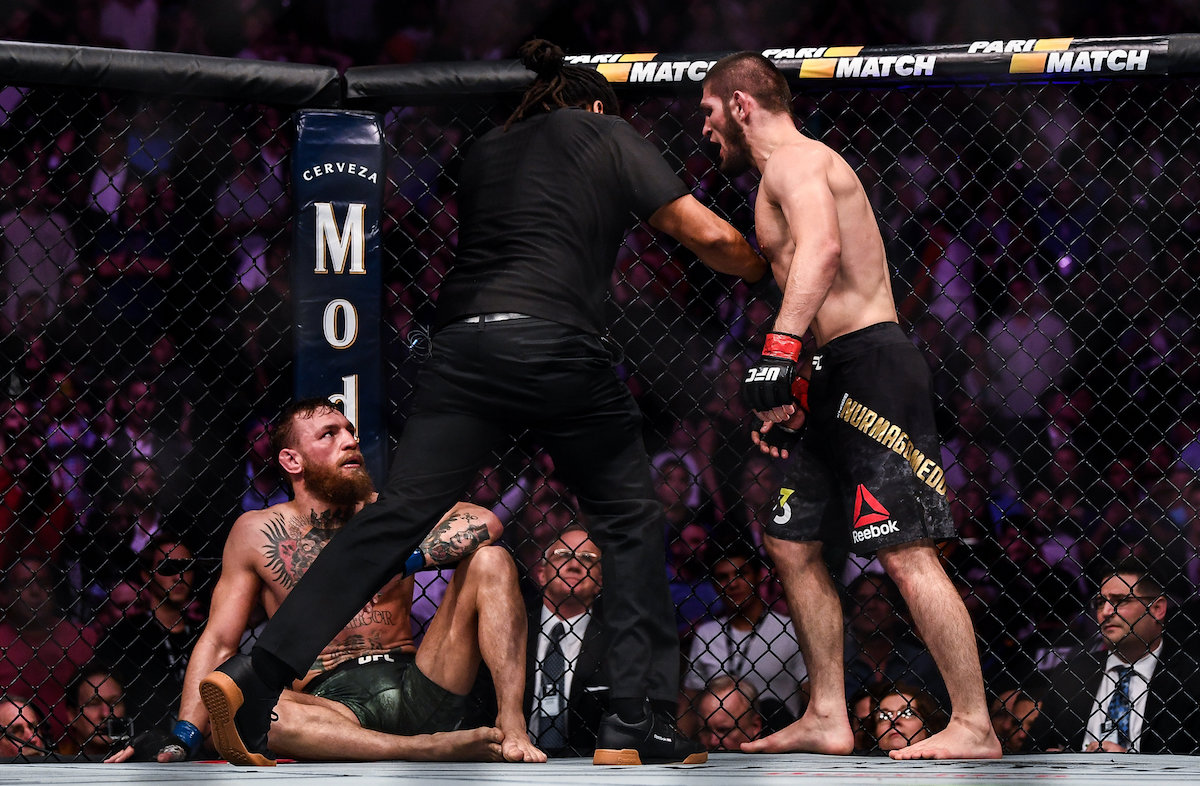 The fight at T-Mobile Arena in Las Vegas resulted in a win for Canelo Alvarez by decision after their first matchup last year resulted in a controversial split decision. Just this past Saturday night, another controversial fight played out in Las Vegas, and while the fight itself was highly entertaining, it was the chaos that ensued right after that got most of the attention.
"Mcgregor vs Nurmagomedov is an instant classic, of course," Schulman said.
"I'm not losing too much sleep over the melee, outside of that dirtbag hitting Connor with a combo to the back of the head, that's just a scumbag move. At least do it to his face.
"With regards to their whole crews beefing, McGregor and his team had it coming. Honestly, the authenticity is somewhat refreshing and Khabib went after a fellow fighter not just some putz in the stands. It was still stupid and a bad example but these Dagestanis or Russians don't play with that 'Your papa is a bitch' and 'Your religion is a joke' shit."
The Fight on the Felt
While no gloves will be dropped inside the PokerGO Studio this week, Schulman's riled up and excited to get into some thrilling action of his own. This Poker After Dark lineup, in particular, is filled with familiar faces he's come across many times, making for a great atmosphere and with some classic Jean-Robert Bellande moments to be expected, Schulman can't wait.
"He [JRB] is a larger than life character. He can deliver a great needle but take it also. It's a lot of fun to play with him, and he also isn't afraid to pile in three or four hundred big blinds with some horror show!" Schulman joked.
"Power Play" week sees a regular high stakes game of No Limit Hold'em back on the schedule after "Big Three" week featured No Limit Hold'em, Short Deck, and Pot Limit Omaha, right after eight thrilling days of Poker Masters action wrapped up. Just like many other high stakes pros, Schulman's also dabbled in Short Deck recently, winning an event at the recent Triton series, but 'The Cadillac' will always be his true love.
"For me, personally, nothing will ever top full deck No Limit Hold'em. In my heart, the game is endless and constantly evolving."
To some extent, Schulman's unsure whether No Limit Hold'em is the most exciting game, but with more than a decade of experience at the highest level, it will always be his favorite.
"Most poker games are great, even the ones dismissed as simple are endlessly complex. My relationship with No Limit Hold'em is more sentimental, and just where I am most comfortable from an enjoyment standpoint. Everyone likes what they like."
New to PokerGO? Subscribe right now to enjoy more than 100 days of live poker action every year. Learn more about Nick Schulman in his Pokerography. Watch Schulman in action at the final table of Event #1 of the 2017 Poker Masters. Follow Nick Schulman on Twitter. Stay in touch with all things poker on Poker Central's Twitter, Facebook, and Instagram pages.