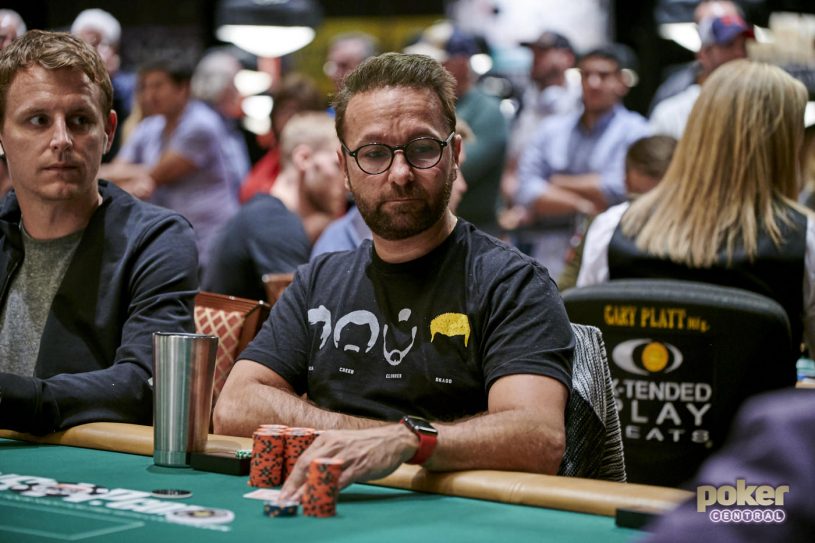 Did you choose the over or under on three weeks for when poker players start to complain about the little things in (poker) life? If you chose the under, then congratulations! It really did only take 20 days. Now tuck those elbows in and enjoy our round-up of what the great and good are discussing at the WSOP felt… and away from it.
NEGREANU WANTS HIS SPACE
Any Tweet that starts with irrationally and angry in the same sentence is clearly going to be good. Check out the replies for who fesses up to this heinous crime.
It makes me irrationally angry when playing 6 or 8 handed when the guy in the 1 or 6, or 1 or 8 seat sit at an angle and infringe on space instead of straight in the spot they are supposed to sit.

— Daniel Negreanu (@RealKidPoker) June 18, 2019
SUPER SENIORS DON'T NEED A SHOT CLOCK
There's a very good reason that the Super Seniors don't need a shot clock, and will never be caught tanking. Over to WSOP legend Mike Sexton.
While playing the Super Seniors @wsop one guy said, "It's so nice to play a tournament where no one tanks." Another guy then said, "We're not gonna live that much longer. We can't waste our time tanking!" #superseniors #wsop

— Mike Sexton (@Mike_partypoker) June 18, 2019
CAUGHT IN A TRAP
Ever wondered what to do in early position when the under the gun player limps? Hot from the WSOP felt comes the answer.
If a player limps utg: the correct play is to squint suspiciously and then move your arm *as slowly as possible* to limp behind, signaling to the other players that you are savvy enough to know this might be a trap.

— Ryan Van Sanford (@RyanTYFL) June 18, 2019
CAMPBELL IS STATING DECLARATIONS
When you're in elite sports, you know that the route to a WSOP bracelet starts with a single cash. Can Calais Campbell run all the way to grab gold this year?
Made my first WSOP cash! Only my 10th event or so. Getting better. One day I will get a bracelet

— Calais Campbell (@CalaisCampbell) June 17, 2019
FRIEDMAN FEELING BLESSED
Adam Friedman was feeling pretty blessed to go back-to-back, and shared a very special reminder of his previous success alongside his latest.
Hey it's a match! Ty all for the love and support. I can't believe I just did that. I will eventually get back to everyone who contacted me but I have a stud hi event I need to enter shortly. pic.twitter.com/ExFr8LnPar

— Ada❌ Fried❌an (@AdamFriedman119) June 18, 2019
DRINAN GOING FOR THE ELDERS
Connor Drinan believes that the winner of this year's WSOP Main Event will be 29 or over. Disagree with him? Maybe you should get in touch with him.
Looking to bet 29 or older for this years main champ, hit me up if you want the youngsters pic.twitter.com/suMtvoeYfo

— Connor Drinan (@ConnorDrinan) June 17, 2019
NUMBERS GOING UP IN $25K FANTASY LEAGUE
The race to win the $25k Fantasy League is hotting up, with more and ore point hitting the board. Here's how the current top five stands:
| | | |
| --- | --- | --- |
| Place | Team | Points |
| 1st | Team Maths | 480 |
| 2nd | Team Noori | 376 |
| 3rd | Team Shafer | 367 |
| 4th | Team Baker | 324 |
| 5th | Team Wong | 323 |
With plenty more chances for players to obtain point today, keep an eye on the official page for the latest movers on the march up the standings.
Who'll claim a WSOP gold bracelet today and become the latest winner at the 2019 World Series of Poker? Watch the action unfold live today on PokerGO and CBS All Access as more coverage of the 2019 WSOP bracelet events takes place. Selected bracelet events will be streamed exclusively on CBS All Access in the United States.