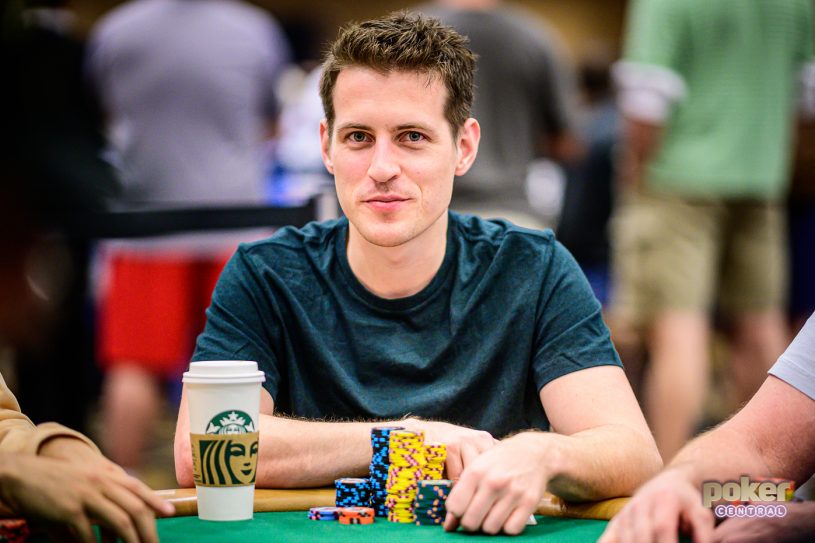 In true WSOP style, this year has seen wit, wisdom and some exclusive content filter out of Rio and Las Vegas in general – God, that Luxor video – via social media. The last 24 hours have been no different, and we've taken time out from gasping at Greenwood's incredible Main Event bust-out to appreciate what's happening in the digital world. Oh, and we've caught you up your $25k Fantasy League chances as well as finding out who's top of the WSOP Player of the Year race.
MCDONALD ROOTING FOR GATES
Purely for the update 'Gates opens…' every time Garry bets out pre-flop, we're also very happy to see Garry Gates thriving in the Main. So's Timex.
I'm not a big believer in karma but my god after so many years of putting up with every single high roller diva in poker my god @GarryGates deserved that ace on the river and 10 million dollars of poker player money that are going to follow!

— Mike McDonald (@MikeMcDonald89) July 12, 2019
CALLING THE BOX LINE
Ryan Laplante can always be relied on for compassion when others need help.
Box line is longest I've seen it. And they closed a window… pic.twitter.com/LFWTneUe7R

— Ryan Laplante🏳️‍🌈 (@Protentialmn) July 11, 2019
WINNERS EVERYWHERE
Meanwhile, an update from one of the Tweeters of the summer, Michael Gagliano.
Made the final table of the $1500 bracelet winners event. I'm 3/8 with 1.5mil going to 25kbb. $72k for first! Plays to a winner tomorrow

— Gags30 (@Gags30poker) July 12, 2019
FIRALDO'S WSOP RULE #412
Niall Farrell knows how to crack Vegas. He's figured out more in the last few days you could even contemplate. Plus…
You can run all the sims you want before Vegas, but in the end it comes down to trying to guess whether the guy potting it from the big after defending 8 ways on AK7r is the overflat KK guy or the lead out 75o guy.

— Niall Farrell (@Firaldo87poker) July 7, 2019
ZACK'S STACKIN'
This is how to tweet your chip count in the WSOP Main Event. There's no other way.
3,795,000 at break. Doing work! #wsop #wsop50 #wsopme #WSOPMainEvent #wsopmainevent2019 #poker pic.twitter.com/3Ukn2wxKgr

— Zackary Koerper (@Thrash370) July 11, 2019
ZACK BACK ON TOP
Dan Zack is back on top of the very latest WSOP Player of the year standings. Can he outrun Phil Hui, Shaun Deeb and Robert Campbell? Perhaps one last victory in a prestigious event might tip the scales for any of those men.
Who's your money on?
TEAM BAKER IN THE LEAD BUT RIESS RISING
All the top five teams in the $25k Fantasy League have done well, but who has been each of those team's most valuable player? Here they are!
| | | | | |
| --- | --- | --- | --- | --- |
| Position | Team | Top Scorer  | Player Score | Team Score |
| 1st | Team Baker | Yueqi Zhu | 225 | 890 |
| 2nd | Team Riess | Phillip Hui | 232 | 860 |
| 3rd | Team Poker Central | Jeremy Ausmus | 183 | 817 |
| 4th | Team Maths | Scott Clements | 180 | 798 |
| 5th | Team Noori | Shaun Deeb | 237 | 725 |
You can watch the WSOP Main Event action unfold on ESPN and check out additional coverage on PokerGO throughout the biggest poker tournament in the world and bracelet event coverage on CBS All Access.