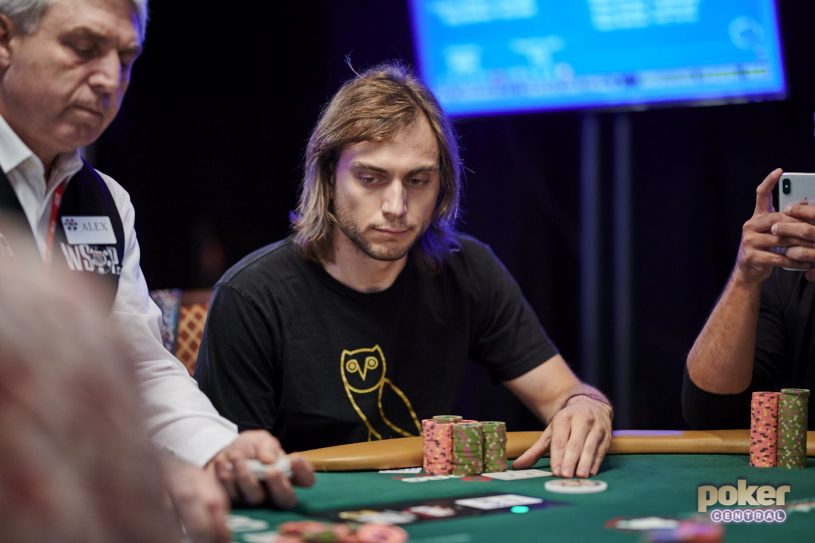 It's a Super Sunday today, as we look back on some of the best tweets this week from the 2019 World Series of Poker. Find out who's top of the WSOP Player of the Year race and who's just having a blast in Las Vegas…and Peru.
BAKES MAKES A POINT
David 'Bakes' Baker knows how poker players think, and what they think of just before the end of the night. It's just pure love.
Find someone who pays attention to you the way players pay attention to where the button ends at the end of the night

— bakes (@DMBakes) June 29, 2019
SILVER SWEAT IN THE MAIN?
Will Max Silver really put it all on the line in the first hand of the WSOP Main Event this year? Any bidding and we might find out.
What's your price to jam 100% first hand of the wsop main event unopened?

You get to look at your cards so people don't know you're blind, your opponents don't know about the bet.

I'd probably do it for $1500

— Max Silver (@max_silver) June 28, 2019
JUNGLEMAN GONNA JUNGLE
Dan 'Jungleman' Cates can't help wind up his opponents. This week's victim? WSOP Player of the Year Shaun Deeb.
This discussion just happened in the 50k

Jungle -anyone ever call you Shaun dweeb?
Shaun- ya
Jungle – ok i was just running the sims and that came up

— David Baker (@audavidb) June 28, 2019
MACHU PICCHU FOR POKER BRAT
If you've been wondering where the legend that is Phil Hellmuth has been the last little while, well, he took a mid-Series vacation. And why not?
W the Hollywood Legend @PeterGuber in Machu Picchu! Only slept 90 mins last night here in Peru, then hiked 8 hours over rugged mountain terrain w a great group of guys. So beautiful! So spiritual! #PHNiceLife #POSITIVITY pic.twitter.com/DWlhY2J5yD

— phil_hellmuth (@phil_hellmuth) June 29, 2019
AWARD-WINNING CONTENT
We'd like to see more of this – an impromptu awards ceremony from players on their travels to the WSOP.
Had an amazing time in Vegas.

Here's my own little @wsop poker awards…

Coolest @barnyboatman
Smoothest @JohnnyDuthie
Legend @themouthmatusow
Best T-Shirts @andrewneeme
Best NFL @CalaisCampbell
Most approachable @SquidPoker
Best drunk @Firaldo87poker pic.twitter.com/rvLuLSMlS7

— OJ Simpson (@BIGOJS) June 28, 2019
DON'T BE THE WORST
What if you are the worst player at the poker table? Sometimes you've got to appeal to your opponents' best instincts… or their senses of self-preservation.
The worst player at my table just said "you guys know you might wanna let me win a hand or two or you're likely to get a good player in this seat instead of me"

— Matt (@AcidKnight) June 29, 2019
HUI HUNTING DOWN ZACK
With just over a fortnight to go, Dan Zack still leads the WSOP Player of the Year race, but as you can see below, he's being caught up. 2018 champion Shaun Deeb is up to third, while the $50,000 Poker Players Championship winner Phil Hui is even higher in second place, less than 100 points behind the leader.
You can check out the full standings right here.
Current Top Ten:
| | | |
| --- | --- | --- |
| Position | Player | Points |
| 1 | Daniel Zack | 2,920.76 |
| 2 | Phillip Hui | 2,830.68 |
| 3 | Shaun Deeb | 2,393.50 |
| 4 | Scott Clements | 2,368.02 |
| 5 | Jason Gooch | 2,268.02 |
| 6 | Anthony Zinno | 2,186.20 |
| 7 | Upeshka De Silva | 2,162.02 |
| 8 | Robert Campbell | 2,034.56 |
| 9 | Daniel Strelitz | 2,032.04 |
| 10 | Ari Engel | 1,997.03 |
Who'll become the latest player to win a WSOP gold bracelet at the 2019 World Series of Poker? You can watch the action unfold live today on PokerGO and CBS All Access as more coverage of the 2019 WSOP bracelet events takes place. Selected bracelet events will be streamed exclusively on CBS All Access in the United States.