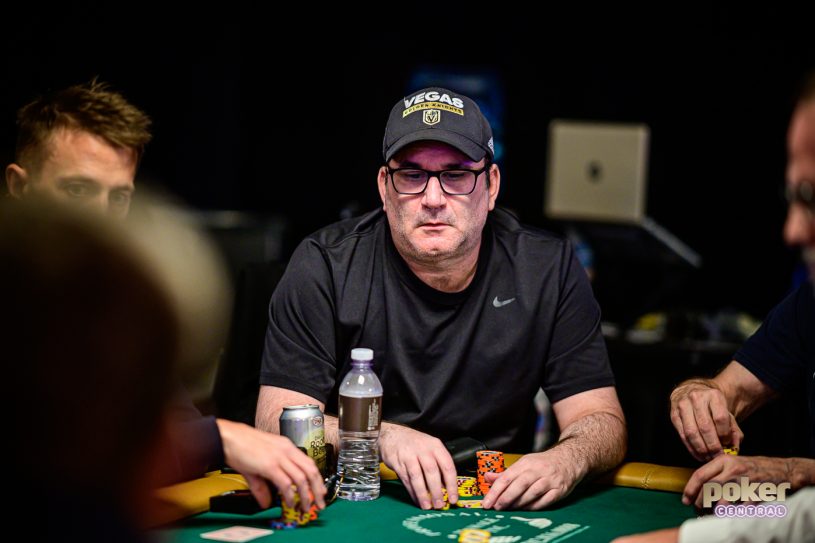 It's not every day you get a video that you simply have to see yet almost cannot bear to watch. While there are rages, roll-calls, last longers and Jennifer Harman's To Do List to get to, we start with the unmissable Mouth no-one can really keep quiet.
MARK UP POLICE CHASE DOWN THE CHAINSAW
Mike Matusow might be dangerously unhinged. but if he's not and this is just harmless fun from a character enjoying a resurgence in popularity thanks in no small part to his recent foray into the world of podcasts, then we're all for it.
SCHWARTZ SNAPS AT THE HELP
Jake Schwartz has got a perfectly good cellphone battery. In fact, he's got more than enough juice. So when he's offered more juice, it's a case of 'I'm full but thanks for asking'…or, words to that effect.
This tweet will get a wide variety of responses but I told one of the Charging case guys to "Eat Shit" today and it was one of the more heart warming moments I've experienced this summer.

— Jake Schwartz (@Jake11291) June 27, 2019
WILLIAMS WELCOMES MORE MAGIC
Magic the Gathering phenom-turned-poker-legend David Williams is introducing new talent to the game of poker. There's no better place to start than the World Series.
The poker world is in trouble… One of the best @MagicEsports players in the world is in action at the WSOP and already off to a good start on the Colossus! Good luck @LuisSalvatto! pic.twitter.com/v2WhrHdxp6

— David Williams (@dwpoker) June 26, 2019
DON'T QUESTION THE HAIRCUT
If you ever see your Uncle, the one thing you don't do is question his haircut. Sure, it might be a few years out of date, but it's better than no hair at all… as Freddie Deeb found out.
Freddy Deeb at my O8 table asked if my hair was a wig. I asked him the same question then busted him. Don't question my hair. pic.twitter.com/rAaNlMzV3z

— Uncle Ron (@UncleRonAA) June 25, 2019
ARIEH REMINDS DWAN OF THE PAST
Josh Arieh understands Tom Dwan's frustrations with the modern game, but he took time out from crushing souls in the $50,000 Poker Player's Championship to remind the former teen phenom of their origins.
Playing the 50k w durrr, he mentions how much he hates the big nl fields because of the tanking and staring….I had to intercede, "you can thank yourself for that Tom"

— Joshua Arieh (@golferjosh) June 26, 2019
RIESS BUYS THE FARM
If you aren't taking part in the PPC, then the next best thing is backing your favorite in a race against another player. In a 'last longer' for those who love to sweat, who better to bet on than John 'World' Hennigan? Well…er… Phil Ivey.
Looking to bet Hennigan over Ivey in the 50k if anyone wants to gamble 🤑

— Ryan Riess (@RyanRiess1) June 26, 2019
HARMAN'S PAINT BY NUMBERS
Jennifer Harman was debating whether to play the Razz event or paint her kitchen. She decided that cards were king…
I'm debating whether: To play cash games (only 8 hours of work), Play the 10k razz tournament (a lot of hours if you finish deep, but kind of fun), or Paint my kitchen. Thoughts anyone?

— Jennifer Harman (@REALJenHarman) June 26, 2019
…until they tilted her towards an emulsional decision.
I decided I don't like razz. And I'm on massive tilt. I will be out shortly to paint my kitchen.

— Jennifer Harman (@REALJenHarman) June 27, 2019
TEAM POKER CENTRAL SURGE INTO SECOND IN $25K FANTASY LEAGUE
With just three weeks to go, Team Poker Central are surging at just the right time, thanks in no small part to Robert Mizrachi.
You can check out the full $25k Fantasy League standings right here, but here's a look at the five most valuable players at the time of going to press.
Top Five $25k Fantasy League Players:
| | | | | | |
| --- | --- | --- | --- | --- | --- |
| Rank | Player | Team | Price | Points | Points/$  |
| 1 | Shaun Deeb | Team Noori | 102 | 174 | 1.71 |
| 2 | Calvin Anderson | Team Fleyshman | 26 | 170 | 6.54 |
| 3 | Scott Clements | Team Maths | 1 | 164 | 164 |
| 4 | Robert Mizrachi | Team Poker Central | 46 | 162 | 3.52 |
| 5 | Matthew Gonzales | Team Negreanu | 1 | 159 | 159 |
Who'll become the latest player to win a WSOP gold bracelet at the 2019 World Series of Poker? You can watch the action unfold live today on PokerGO and CBS All Access as more coverage of the 2019 WSOP bracelet events takes place. Selected bracelet events will be streamed exclusively on CBS All Access in the United States.