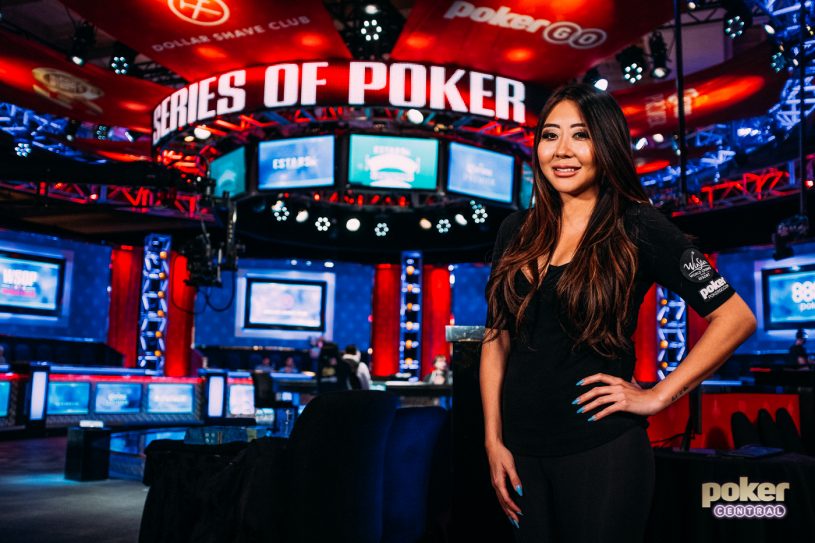 Poker professionals are never done looking for the next challenge, big win, or improvement to their game, and things are no different for Maria Ho. On the recent Poker Central Podcast with Shannon Shorr, Brent Hanks stated that Shorr and Ho are the two biggest names without a major title, and while for now, that remains to be attached to their resumes, it's not for a lack of trying.
We caught up with Ho to talk about the hot start to her summer, as she finished third in the World Poker Tour Seminole Hard Rock Poker Showdown followed up by a fifth-place finish in the World Series of Poker $5,000 No Limit Hold'em event and a variety of other scores to bring her total for the year in live tournaments to $845,542.
"I want to be happy with the result that I've had so far but of course it's never enough," Ho said about both the slew of close calls she's experienced so far this summer.
"I'm going to keep trying and keep playing the schedule that I had always planned to play until I make it back there again."
Relive the World Poker Tour Seminole Hard Rock final table on PokerGO on demand right now. 
The early results have boosted Ho's confidence and increased her eagerness to play in hopes of all of it culminating in that major title she's been looking to add to her resume.
In the WPT event that Ho nearly snagged her first big title, Ho battled her way through a field of 1,360 players before departing in third place, leaving Eric Afriat and James Carroll to battle it out heads up. Carroll ultimately took down the event for $715,175. While Event #11 at the WSOP wasn't nearly as big with 400 entries, it was quite possibly twice as stacked. At the final table, Ho faced off against Al Imsirovic, Shannon Shorr, and Daniel Strelitz as the latter took it down for $442,385.
📷: @WPT pic.twitter.com/ANJbau9ep1

— Maria Ho (@MariaHo) June 1, 2019
As far as the money goes, Ho is happy with this padding of the bankroll and the prestige of making a massive WPT and WSOP final table is something to be proud of, but at the end of the day she maintains a top notch professional by focusing on the process and her play.
"I thought that I battled really hard at the final table, but things didn't really go my way. I fought really hard. I showed a lot of heart I think and I did a lot of preparation leading up to that."
Ho's big WPT final table, and the weeks of prep time she had prior to that, helped with her big run in the subsequent WSOP event, and all that is still to come.
Watch the final table of the $5,000 World Series of Poker Event #11 on demand on PokerGO right now.
"When I made the $5k final table I slept so well that night because I knew how to approach this exact situation and I was more confident and more prepared than ever.  It feels like everything is just lining up for me to hopefully take one down."
Looking back on both final tables, there's no comparing the atmosphere at World Poker Tour final table at the Hyper X Esports Arena at the Luxor in Las Vegas. Ho had a massive rail to support her, made up of family and friends.
Ho called the vibe "electric" with a massive wave of support carrying her to third place, a feeling that most finalists of big events can only dream of.
"The environment and atmosphere really made me want to win it for them almost and give them a show. I feel really grateful that every time I show up to play there are people that I know that have my back and it's really nice because you just want that good energy thrown your way because there's a lot that's out of your control."
After her elimination in third place, Ho partied with her friends and family as if she'd won the tournament.
"I still went out and partied like I won because those people were there to support me and that made me feel like I did win!"
Looking ahead, Ho remains level-headed on the dreams of winning a tournament. Poker is not a game in which it's realistic to dream about the outright No. 1 place finish, but at the end of the day, it's part of the motivation that keeps tournament players putting in the long hours both on and off the felt.
"The next time I get there I hope to close it out but that's not going to make or break it for me for the summer," Ho said. "I have no off days unless I want them. The World Series of Poker is where I'll be."
New to PokerGO? Subscribe right now to never miss another minute of exciting action.