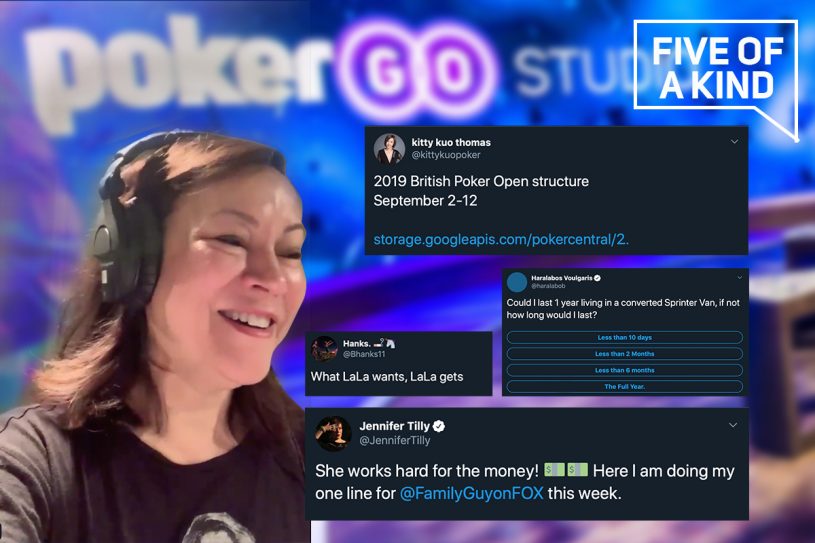 Every week, we look for the best gems on social media for your entertainment and this week we've found some of the big names getting involved on Twitter.
Tilly's Non-Poker Grind!
For us poker fans it's hard to remember sometimes that Jennifer Tilly grinds not only at the poker table but also in a variety of Hollywood endeavors! Voicing Meg on Family Guy, Tilly's voice makes its way into living rooms all over the world on a weekly basis and this week you get to watch her battle on the felt against the likes of Phil Hellmuth and Paul Pierce.
She works hard for the money! 💵💵 Here I am doing my one line for @FamilyGuyonFOX this week. pic.twitter.com/dnTu1ZkC7D

— Jennifer Tilly (@JenniferTilly) August 19, 2019
Primadonna Bob Living That Van Life?
Haralabos Voulgaris is a self-proclaimed primadonna but the other day he got stuck in a rabbit hole on YouTube that had him reevaluating his life choices. Do you think Bob can live in a van for an entire year? We think it's nearly impossible given how used he is to his amazing war room with massive TVs all around, the infinity pool, an endless supply of Fiji waters and all other luxuries he's getting so accustomed to.
Could I last 1 year living in a converted Sprinter Van, if not how long would I last?

— Haralabos Voulgaris (@haralabob) August 19, 2019
Kitty Goes London!
Our favorite hot-pot fan, poker pro, spin-class wizard, and Twitter expert Kitty Kuo is headed to London for the British Poker Open! The BPO gets underway on September 2nd at Aspers Casino so if you're a fan of high stakes action as well as Kitty Kuo, you're not going to want to miss this!
2019 British Poker Open structure
September 2-12https://t.co/nKq4L0Zkvo pic.twitter.com/YMXVt8w1Gv

— kitty kuo thomas (@kittykuopoker) August 16, 2019
Jungleman Takes a Leap
Dan 'Jungleman' Cates has taken plunges far bigger than jumping off a cliff by betting hundreds of thousands of dollars on the turn of a card but for someone who's used to that kind of pressure, this jump was probably a lot harder to make! We're unsure how Brandon Cantu found himself in a position to show Jungleman the ropes on cliff jumping, but we're here for it.
Somewhere in Spain… @junglemandan 1st ever cliff jump. pic.twitter.com/2QjZoohIAw

— Brandon Cantu (@brandoncantu) August 14, 2019
LALA GETS WHAT LALA WANTS!
Did that title have to be in caps? Yes, it did, because it's Lala Kent we're talking about her! The better half of Randall Emmett dropped some heat on our very own Brent Hanks to get her boo into GOAT Week on Poker After Dark, and she succeeded! Obviously, it's hard to turn down Lala and we're excited to see what kind of heat Randall will bring on GOAT Week tonight on Poker After Dark!
What LaLa wants, LaLa gets pic.twitter.com/PcczdVdXup

— Hanks. 🚬🦄 (@Bhanks11) August 18, 2019
Got something to add for next week? Let us know on Twitter. Want to watch exciting poker action 24/7 and more than 100 days of live action every single year? Subscribe to PokerGO right now.