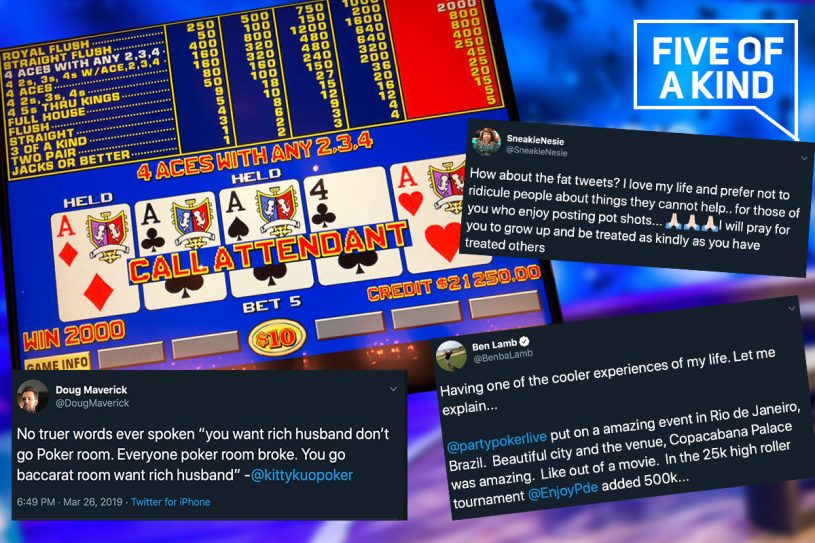 This week on Five of a Kind: Jason Somerville returns to poker, Kitty Kuo's dating advice, another Jamie Kerstetter gem, Ben Lamb's gambling adventure in South America and Denise Pratt drops some heat!
Every week, Five of a Kind takes a light-hearted look at the Twitter drama, fun, excitement and much more! Leaving picking the best moments up to us so you don't have to clog up your personal timeline!
Jason Somerville's Poker Comeback!?
Jason Somerville's last 11 cashes have all come at the Run it Up Reno series that he organizes bi-annually at the lovely Peppermill Resort & Casino. In the last few years, Somerville's been very active with his own studio in Las Vegas, expanding his Twitch empire to greater heights every year but it's a shame w don't see him in action during the big events anymore! Somerville's last cash in a major event dates back to the 2016 World Series of Poker Main Event, but as the photo down below indicates: He hasn't lost his magic touch! Congrats Jason!
who says I don't know how to play poker any more?? 💵💵💵 pic.twitter.com/vShbnXd33q

— jcarver (@JasonSomerville) March 26, 2019
Connor "Fedor Holz" McGregor?
Yesterday, Connor McGregor announced his retirement from the MMA, but Jamie Kerstetter isn't sold on his withdrawal from the sport that brought him millions of dollars and global fame. In poker, we've seen fake retirements play out numerous times over the years but yet players are never truly ready to say goodbye to the game that brought them to the top. Will things be different for someone who was getting punched in for a living? Only time will tell!
McGregor retires like poker players retire

— Jamie Kerstetter (@JamieKerstetter) March 26, 2019
Kitty Kuo's Dating Corner
Astutely noted by Doug Maverick in the Tweet below, Kitty Kuo shared some high-level dating advice for people looking for a rich husband! When school is in session with Kitty Kuo delivering the lectures you listen, ask questions and improve your approach to life. Thank you Kitty for teaching us your ways!
No truer words ever spoken "you want rich husband don't go Poker room. Everyone poker room broke. You go baccarat room want rich husband" –@kittykuopoker

— Doug Maverick (@DougMaverick) March 27, 2019
Lamb-ling in South America!
Is this the worst punt on the word "gambling" I could come up with? Yes. Was I following Ben Lamb's Tweets with extra attention as he spun it up with Jonathan Depa and John Cynn? Obviously! Check out the whole thread below as Lamb and his buddies went on the adventure of a lifetime with some nice profits to show for!
Having one of the cooler experiences of my life. Let me explain…@partypokerlive put on a amazing event in Rio de Janeiro, Brazil. Beautiful city and the venue, Copacabana Palace was amazing. Like out of a movie. In the 25k high roller tournament @EnjoyPde added 500k…

— Ben Lamb (@BenbaLamb) March 25, 2019
F&$% The Haters!
Denise Pratt was a breath of fresh air with her entertaining appearance on Poker Ater Dark Femme Fatale II on PokerGO this week. While many loved the talkative, brash and confrontational style that Pratt displayed, the haters weren't far behind. Don't listen to the haters, Denise. We love you, keep it up!
Learn more about Denise Pratt in this candid interview on Poker Central. Link.
How about the fat tweets? I love my life and prefer not to ridicule people about things they cannot help.. for those of you who enjoy posting pot shots… 🙏🏻🙏🏻🙏🏻I will pray for you to grow up and be treated as kindly as you have treated others

— SneakieNesie (@SneakieNesie) March 26, 2019
Suggestions for Five of a Kind? Send them into Poker Central on Twitter. New to PokerGO and ready for some poker action? Subscribe right now and never miss another big moment.