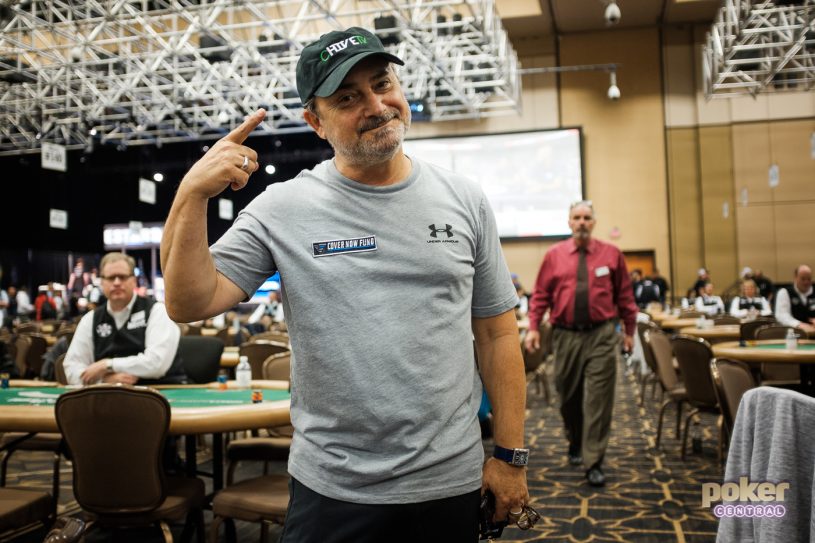 Award-winning actor and poker fanatic Kevin Pollak is a busy man. Currently, in the middle of taping season three of The Marvelous Mrs. Maisel, Pollak has managed to find time away from the set in Brooklyn to play in his favorite poker event of the year.
Pollak took his seat just before the second break of the day coming right from the airport to get another crack at improving on his best result back in 2012 when he finished in 134th place for $52,718.
"I start getting excited about this event a few months ahead of time!" Pollak told us on break.
Last summer, Pollak busted on Day 2 and you can read about his story of that event right here.
This year, Pollak has found a sponsor that has been gracious enough to put him in the event, lowering the pressure a bit on the Hollywood home game regular.
Less Pressure in 2019
"I just have to thank my sponsor, The Chive, for this year," Pollak said, "It takes a bit of the pressure off versus showing up with $10,000 of my own money. I'm able to enjoy it from a different perspective but I of course also want to make them incredibly happy and proud."
Aside from the WSOP Main Event, Pollak plays in a weekly home game he's been running for the past nine years as well as some smaller buy-in events in Los Angeles.
"It means a lot to me to play in a weekly game like that and this year one of the players from my game made the final table of a WSOP event," Pollak said.
Well Prepared: Pollak Watched a Lot of Poker
The player in question, Jeff Tahler, finished ninth in the $800 No Limit Hold'em Deepstack Event #53 for $31,933 and that made Pollak incredibly proud. But now, it's time for Pollak do make his own run in the world's biggest event and he's ready for it with a lot of study and practice under his belt.
"I watch all the coverage, I watch as much coverage of every tournament and all the final table stuff. I'm just constantly soaking up," Pollak said.
"Watching poker is an amazing education to be had and I would highly recommend it. Thank goodness I had CBS All Access already from wanting to watch the new Twilight Zone from my buddy Jordan Peele, so I just kept it because there's a crazy amount of coverage on that. That's my homework, to be honest with you."
Aside from watching, Pollak also studies as he's soaked up Daniel Negreanu's MasterClass as well as his daily Vlogs during the WSOP.
"There's a lot of homework to be done and I love doing it!"
There's a long road ahead for Pollak to outdo his personal best in the WSOP Main Event, but he's ready and up for the challenge.
"In many ways, it's been said so many times, but this the ultimate poker tournament."
Watch the WSOP Main Event on ESPN and PokerGO as well as bracelet event coverage on CBS All Access.