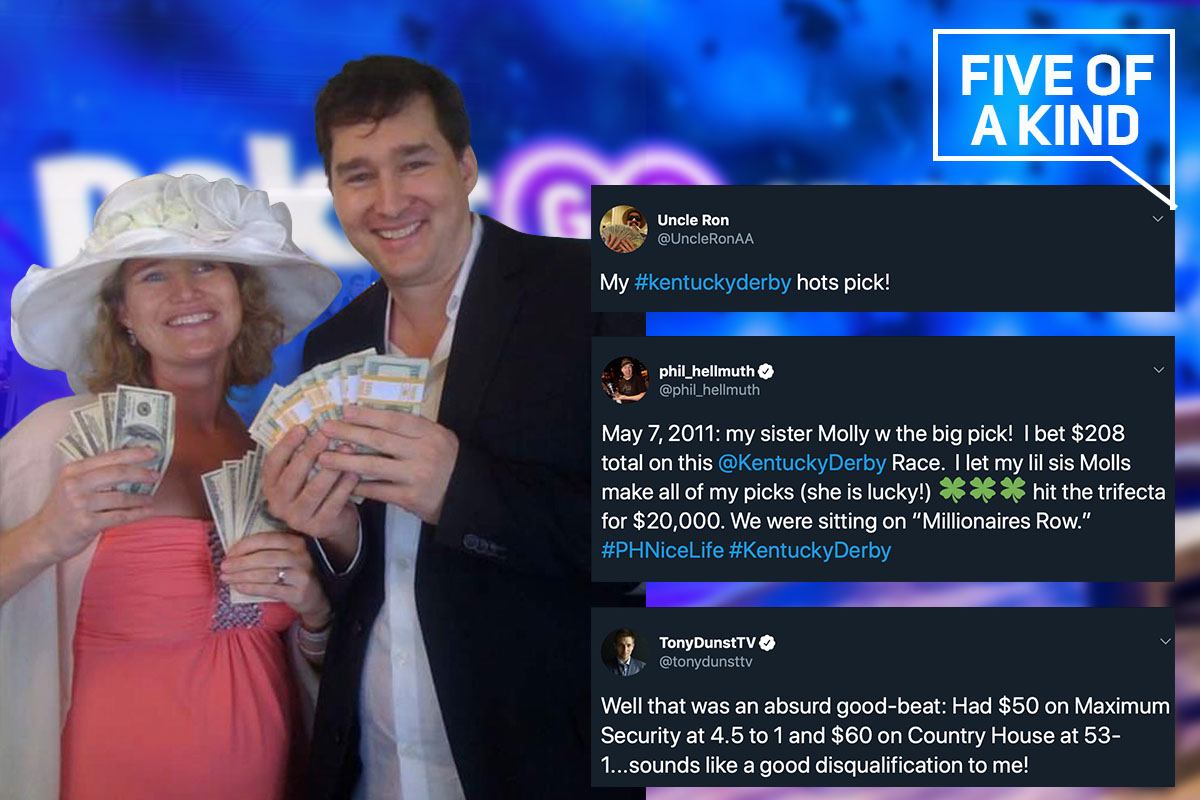 Every week, Five of a Kind recaps all the hottest poker action for you to enjoy and today we look back on the Kentucky Derby!
Hot Picks from Uncle Ron
There's nothing left to be said about Uncle Ron, but sometimes we have to include our favorite comedic genius poker fan and player! Ron had some takes on the Kentucky Derby but we're not sure he's ever going to win a bet!
My #kentuckyderby hots pick! pic.twitter.com/9b0jYGpbWV

— Uncle Ron (@UncleRonAA) May 6, 2017
Hellmuth Sighting!
Phil Hellmuth loves the horses, as evident from the photo at the bottom of this article, and he was also at the 2014 Derby where he was spotted with Lena Evans.
Flashback to hanging out and winning bets with @Phil_Hellmuth at #KentuckyDerby 2014 #Positvity #WinnersAlwaysWin pic.twitter.com/JriM8vxwC9

— Lena Evans (@LenaEvans88) May 5, 2019
Lynn's Big Weekend!
If you follow the lovely Lynn Gilmartin on social media you know that she had an absolute blast with the WPT crew that also included Adam Pliska, David Gitter, and Tony Dunst!
Winner Winner, Chicken Dinner!
The dramatic Kentucky Derby of this year saw a disqualification of the winning horse and that was much to the delight to Tony Dunst! Dunst had a small amount on the winner at short odds but it was his similar bet at long odds that came through after replay review!
Well that was an absurd good-beat: Had $50 on Maximum Security at 4.5 to 1 and $60 on Country House at 53-1…sounds like a good disqualification to me!

— TonyDunstTV (@tonydunsttv) May 4, 2019
Hellmuth's Throwback Derby Win!
Back in 2011, poker was really hurting but Phil Hellmuth pulled out a massive win at the Kentucky Derby along with his sister Molly! These are the kinds of bets everyone dreams of making and winning and it's no surprise that Hellmuth was on the right side of this one!
May 7, 2011: my sister Molly w the big pick! I bet $208 total on this @KentuckyDerby Race. I let my lil sis Molls make all of my picks (she is lucky!) 🍀🍀🍀 hit the trifecta for $20,000. We were sitting on "Millionaires Row." #PHNiceLife #KentuckyDerby pic.twitter.com/LqFjXO3q20

— phil_hellmuth (@phil_hellmuth) May 4, 2019
Got something to add for next week? Let us know on Twitter. Want to watch exciting poker action 24/7 and more than 100 days of live action every single year? Subscribe to PokerGO right now.