When you ask people and players at the World Series of Poker what the most exciting thing would be to happen in the Main Event, they almost unanimously respond with, "A woman making the final table."
This hasn't happened since 1995 when Barbara Enright finished fifth out of 273 players and Dan Harrington got the win for $1,000,0000. Times have changed, the field sizes have exploded and more woman entered the Main Event this year than the total participants in the tournament when Enright made the final table.
However, the odds are still severely against a woman making the final table, as just 301 out of a total 7,874 players are females in the biggest tournament of the year.
This year, midway through Day 5, the dream is still very much alive with Kelly Minkin in strong contention. Can Minkin do what Elisabeth Hille and Gaelle Baumann came so close to back in 2011? Her experience from 2015, when she finished 29th, most definitely helps, and if it doesn't work out it's not for a lack of trying or confidence, as she's firing on all cylinders to make her dream come true.
"The vision I see for myself is being at the final table and win. Knowing that that's coming up is very exciting," Minkin said on one of the breaks.
After briefly grabbing the chip lead early on Day 5, Minkin has come back to earth ever so slightly, peddling a little over the average with 134 players left in the hunt.
"It feels amazing, and it feels like I know I'm going to win. It's very emotional for me, and I'm just looking forward to continuing my streak of playing great, getting hands and stacking chips.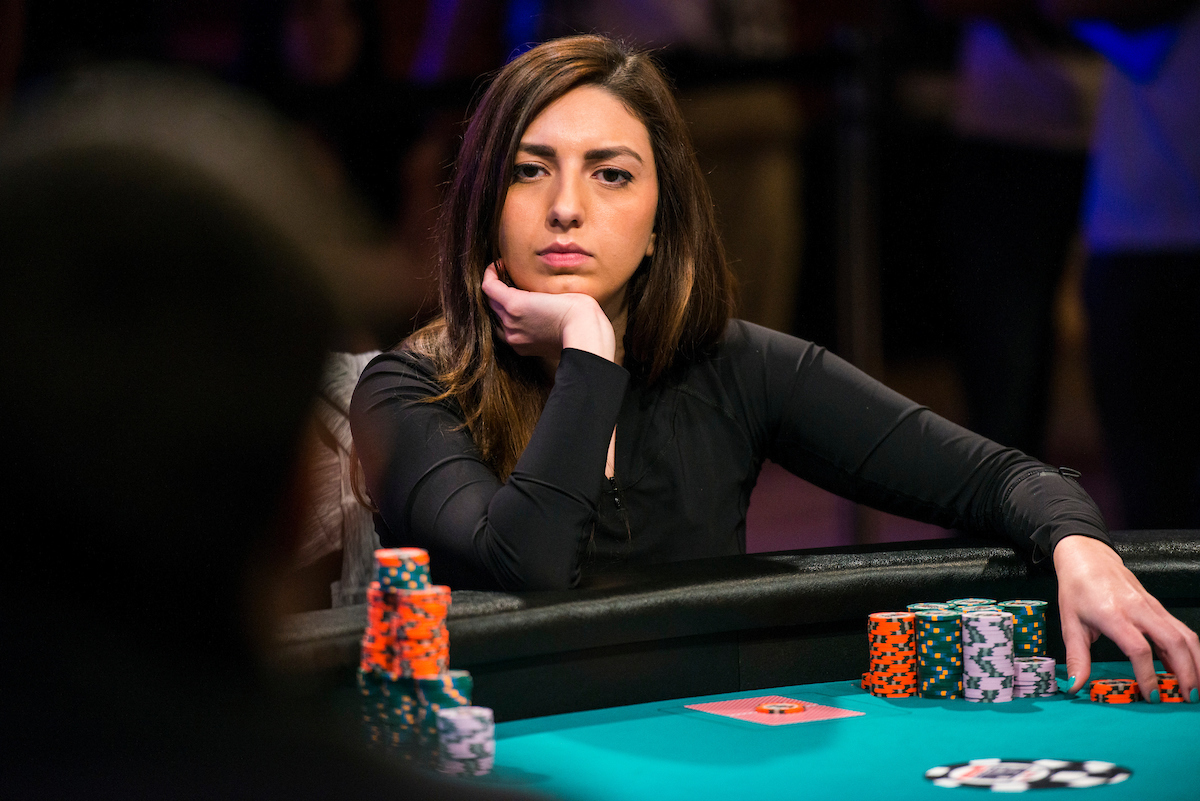 As a sign of her confidence and belief in herself, Minkin doesn't feel pressure, but having come this far three years ago adds a different weight to the experience.
"During my 2015 run, the whole experience didn't really weigh on me. It wasn't until after I busted that I was left devastated even though I cashed for six figures. Having gone through that, I better understand the opportunity at hand right now, I'm more prepared and I know how important this is, and how great it would if a woman would make the final table and win, and if I can complete that journey that would be incredible."
Minkin's biggest supporter, her father, arrived today to watch it all unfold in person, and she loves being able to share this moment with as many people as possible. Referring to her friends and family as 'her team' Minkin hopes to carry that team to the final table, and the ultimate goal of winning the tournament.
With the team on her back, the potential of being the first woman in 23 years to make the final table, $8.8 million, and plenty of top players ready to battle for every pot, Minkin remains cool as a cucumber hiding behind her Stu-Ungar style shades.
"If anything, I've proven by constantly bagging up three times what I bagged the day before that I'm able to hold my own. If anyone, I can do this."
Adding more strength to wanting to accomplish this for herself and for all women in poker, she once again verbalized that there's only one real outcome that she will be satisfied with.
"It's a great accomplishment coming this far, and it will be a great accomplishment to make the final table. But I can't downplay that a win would be unprecedented and I think that's where I need to be."
Enjoy continued coverage of the WSOP Main Event on PokerGO and ESPN as the event slowly moves towards its final table. Catch Kelly Minkin and your other favorite players again on today from 9:30 pm till 02:00 am ET on ESPN2 and from 2:00 am till 3:30 am ET on PokerGO.