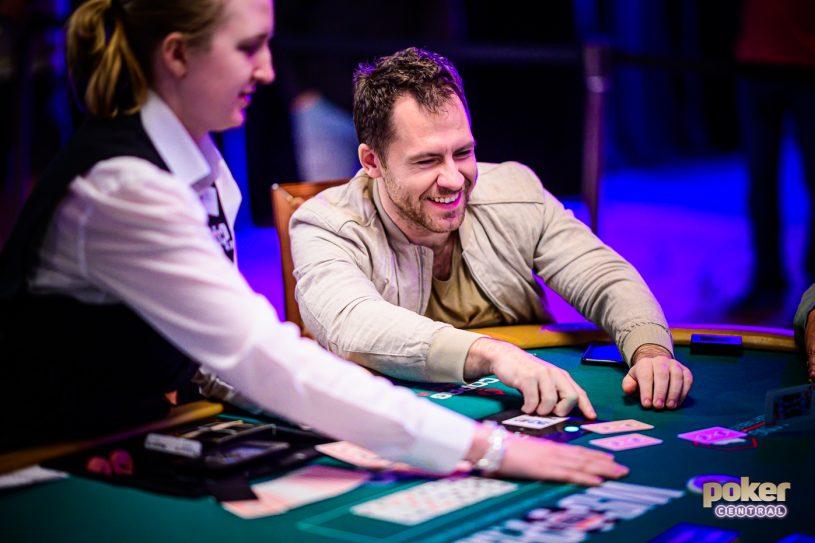 "It's my destiny to win," a stone-faced Dan 'Jungleman' Castes said when asked about his sentiments towards the $50,000 Poker Players Championship.
A silence followed and I found myself under the deep gaze of one of the best poker players in the world. Cates sized me up as if I was one of his opponents that he had just three-bet, and it threw me off my game.
"Is that feeling what you needed to leave the cash games?" I stuttered, barely able to produce a follow-up question.
"Well, when destiny calls you, you have to answer," Cates said, as he broke into a big smile before providing more context on what it really was that he went through last night.
"I had a weird dream," Cates said as he paused, "Owls were leading me down the path of victory and then you get a good feeling. So you come down to play."
At this point, I felt as though I was a live witness to one of the most complex poker minds either trolling me to a level I've never experienced or perhaps this dream really happened. But owls, really? But wait, there's more. A lot more.
"I woke up a bit early hearing monks chanting or something, so here I am."
Cates went on to describe the exact dream in which he won the $50,000 Poker Players Championship that consisted of a final table of "shit talkers," which he all named in the following order: Jared Bleznick, David Oppenheim, Michael Mizrachi, and John Monnette.
"Oh," Cates paused again, "Isaac Haxton was there too, but he was quiet."
In Cates' dream, he busted Matt Ashton right before the final table, a player, in his own words, he can only beat in his dreams.
"I finally got the best of him," Cates chuckled, "That was a big part of my dream, finally overcoming him and all those c**** that talk shit to me all the time."
Jungleman Gets Fired Up
As he recollected his dream, Cates grew tense and a bit heated. This, in conjuncture with his summer not going well and the cash games being a losing endeavor to this point, might've contributed to him dreaming, visualizing if you will, a victory in this huge event.
"I've been extra mad this summer," Cates admitted, "and I get like that when someone's beating me, when they're talking a lot of shit and especially if they're not particularly intelligent, then I get mad."
But now, in the $50,000 Poker Players Championship, things are going to turn for Jungle. Just when everyone thinks that he's vulnerable, Cates is going to strike in the best of moments.
"See, but it's part of the hustle. If you always win, they're not going to let you play. So, I decided to lose a bit the first three weeks and this time I really dug deep to really convince them! I think I now really have them convinced and from this point forward I will play my real game. Now they don't know what to expect from the Real Jungle!"
Cates will need to string together five solid days of high-level poker to capture his first bracelet but if his dream is any indication that won't be a problem at all. Jungleman is already three steps ahead and daydreaming about what it's going to be like showing up wearing the bracelet to the biggest cash games.
"Every day I'm going to wear it to ruffle some feathers and be obnoxious about it!"
Looking to see if Jungleman's dreams will come true? Watch the final two days of the $50,000 Poker Players Championship live on PokerGO. Subscribe right now.