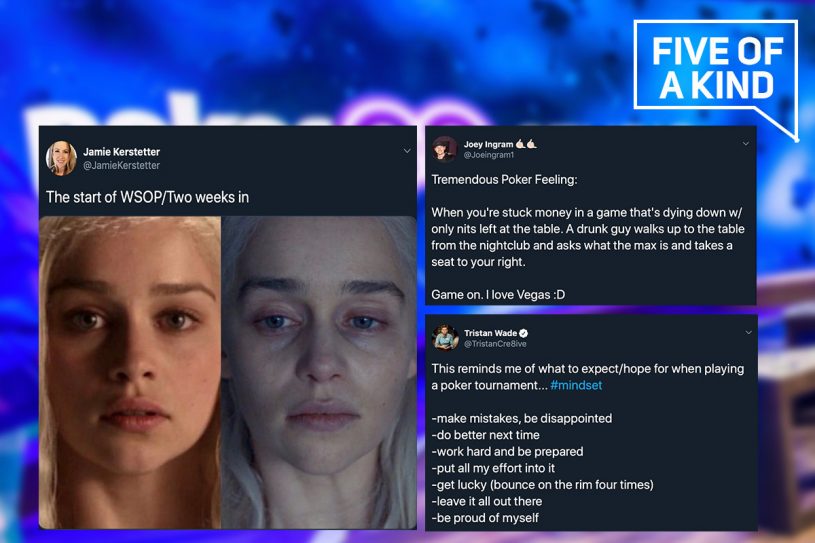 Five of a Kind looks at all the funniest Tweets and Instagram posts in the world of poker, and here are five that caught our eye over the weekend!
Jamie's WSOP Preview
Jamie Kerstetter is the queen of Twitter in the world of poker and as we're just two weeks removed from poker's biggest yearly event she perfectly puts into perspective what this grind will be like! Be safe out there Jamie, summer is coming!
The start of WSOP/Two weeks in pic.twitter.com/Ov6XrnRioq

— Jamie Kerstetter (@JamieKerstetter) May 13, 2019
Jungleman: Troll King
Dan 'Jungleman' Cates is unstoppable on social media lately. First, he released an epic video in which he was having some fun with models in Cannes and then – as seen in the video below – he had some fun with Christoph Vogelsang. One thing's for sure, Cates is quickly becoming one of everyone's favorite players after a few quiet years!
LOL @junglemandan is on another level after that photo w/ the 15 beautiful ladies 😂😂😂 acting this way in a $125k tournament 😂😂 pic.twitter.com/fuBGtgp9xW

— Joey Ingram 🤙🏻🤙🏻 (@Joeingram1) May 10, 2019
Ingram's Wisdom
Joey Ingram is known to drop some great wisdom from time to time and this weekend was no different! We all know that feeling when an inebriated player joins your table and reading this Tweet got us even more excited for the upcoming World Series of Poker!
Tremendous Poker Feeling:

When you're stuck money in a game that's dying down w/ only nits left at the table. A drunk guy walks up to the table from the nightclub and asks what the max is and takes a seat to your right.

Game on. I love Vegas 😀

— Joey Ingram 🤙🏻🤙🏻 (@Joeingram1) May 12, 2019
Wade's World
Tristan Wade only speaks in truths and wisdom and this comparison he dropped last night resonates deeply with poker players. Just watch the video and draw some inspiration from Toronto Raptors superstar Kawhi Leonard.
This reminds me of what to expect/hope for when playing a poker tournament… #mindset

-make mistakes, be disappointed
-do better next time
-work hard and be prepared
-put all my effort into it
-get lucky (bounce on the rim four times)
-leave it all out there
-be proud of myself pic.twitter.com/012SCc4UBi

— Tristan Wade (@TristanCre8ive) May 13, 2019
Hendon Mob Reality Check
Ari Engel has 308 live tournament results of which his biggest is a victory in the Aussie Millions Main Event in 2016. Engel's average cash is for $20,070 and the photo he Tweeted is a great example of how great a $6 million Hendon Mob page looks and what the actual reality is!
The Hendon mob/cashes vs reality #tournamentpokerpro ht: @benjie_ro pic.twitter.com/nZyCg9yv7l

— Ari Engel (@AriEngelPoker) May 12, 2019
Got something to add for next week? Let us know on Twitter. Want to watch exciting poker action 24/7 and more than 100 days of live action every single year? Subscribe to PokerGO right now.