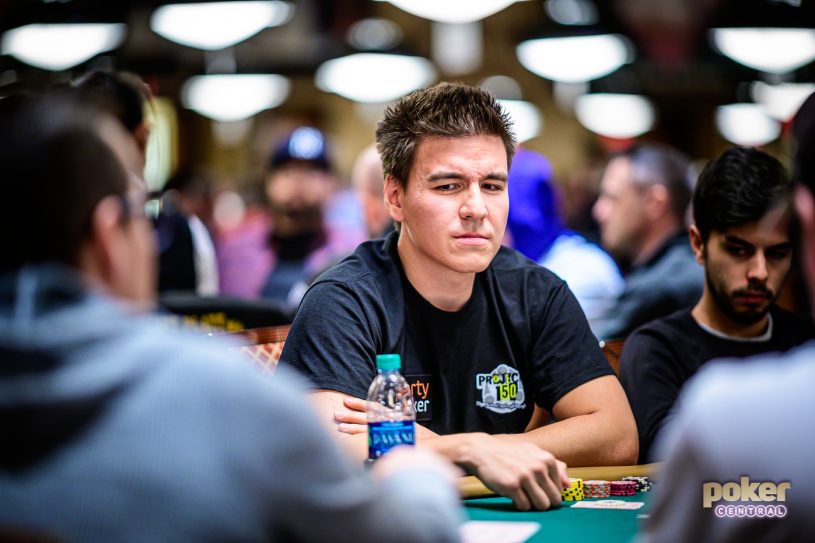 Whether you're one of the best players in the world, today was a very special day at the 2019 World Series of Poker, with the $50,000 Poker Players Championship kicking off at the Rio All-Suite Hotel & Casino.  With Jason Mercier returning to the felt in dramatic fashion and legends of the game at every table, it's must-play for those with the bankroll to cope. Other stars of the TV screen and poker felt combined to make this one of the most fun days of the summer so far.
HOLZHAUER LIVING THE DREAM, WIN OR LOSE
Recent Jeopardy! star James Holzhauer took his seat at the World Series of Poker full of hope…
In the immortal words of Joe Maddon, try not to suck. #WSOP pic.twitter.com/RrXyeJXlhx

— James Holzhauer (@James_Holzhauer) June 24, 2019
…but left it soon after with the best consolation prize of all waiting for him back home. Nawww…
I lost on purpose because my daughter wanted me to come home. https://t.co/5tjCuPRcZ4

— James Holzhauer (@James_Holzhauer) June 25, 2019
SCHULMAN TRIES NOT TO TORCH CHIPS
Nick Schulman knows a good look when he sees one, and Nick Schulman definitely knows this is not a good look. Good news for him is that the 'baggy' look is due back on trend within 50 years.
If 1997 me shows up in this 50k PPC tomorrow on God it will be a stone cold rap, for my chips that is I will torch them off like I do every year lol. I ask for the poker heavens to shine upon me 1 time, and deem me worthy of their blessings. GL to the crazed mixed game warriors pic.twitter.com/b5YBiohA7Q

— Nick Schulman (@NickSchulman) June 24, 2019
WILLIAMS WISTFUL ABOUT POKER PAST
Magic the Gathering turned poker legend David Williams can remember when things were even more cramped at the WSOP venue.
True story: 2004 WSOP Main Event at Binions they weren't prepared for the post Moneymaker rush and we started 11 handed at a table outside on freemont street. https://t.co/BEBtHqf3Qb

— David Williams (@dwpoker) June 24, 2019
SEIDEL DOES IT FOR THE TEAM
Erik Seidel summons memories of the Mayfair Club as he tries not to let his teammates down.
Starting tag team @Farah_Galfond , @PhilGalfond , @mkonnikova We are the New York Nits.
We need some jerseys

— Erik Seidel (@Erik_Seidel) June 24, 2019
GLANTZ EXCITED ABOUT THE PPC
Matt Glantz juts couldn't wait for the $50,000 Poker Players Championship to get underway.
In every game or sport, the greatest thrill is playing against the very best in the world.
The 50k Poker Players Championship @WSOP comes once a year. It's where and when the world's elite players compete in a select variety of poker disciplines.

There is nothing else like it!

— Matt Glantz (@MattGlantz) June 24, 2019
TEAM BAKER JUMP TO TOP OF THE LEAGUE
After a swingy last 48 hours in the $25k Fantasy League, Team Baker have risen highest, thanks in no small part to their cheapest purchases, with Ari Engel and Shannon Shorr both costing just a dollar. Between the two of them, they've racked up 252 of Team Baker's points. Here are how their top five players stack up.
| | | | | | |
| --- | --- | --- | --- | --- | --- |
| Rank | Player | Price | Score | Budget% | Score% |
| 1st | Shannon Shorr | $1.00 | 127 | 0.50% | 22.97% |
| 2nd | Ari Engel | $1.00 | 125 | 0.50% | 22.60% |
| 3rd | David "ODB" Baker | $83.00 | 97 | 41.50% | 17.54% |
| 4th | Yueqi 'Rich' Zhu | $1.00 | 80 | 0.50% | 14.47% |
| 5th | Anthony Zinno | $74.00 | 73 | 37% | 13.20% |
Want to check out the full $25k Fantasy League standings? Just head here.
Who'll become the latest player to win a WSOP gold bracelet at the 2019 World Series of Poker? You can watch the action unfold live today on PokerGO and CBS All Access as more coverage of the 2019 WSOP bracelet events takes place. Selected bracelet events will be streamed exclusively on CBS All Access in the United States.