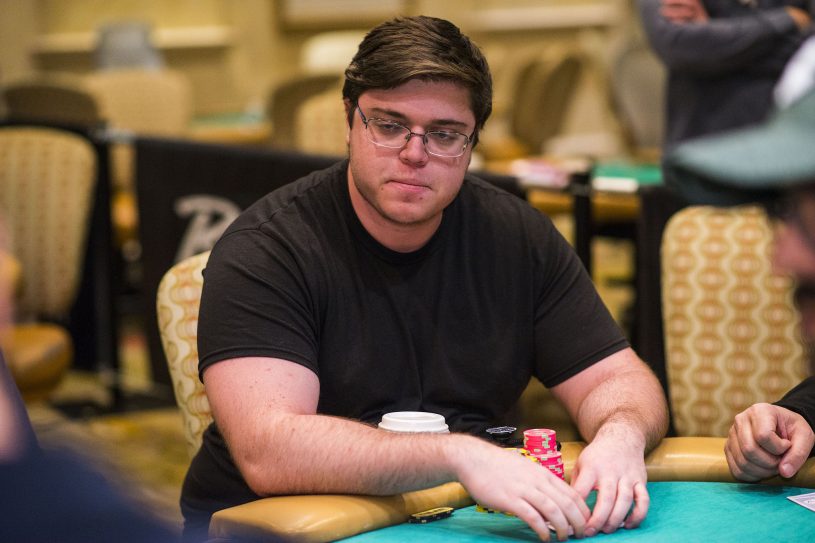 Of all the six players who will renew rivalries at the WPT Borgata Winter Poker Open on March 13th, live and exclusively on PokerGO, Ian O'Hara has more reason than most to be hopeful.
Five weeks have passed since a field of 1,415 entries was whittled down to just six men. After cashing an incredible 23 times in the last nine months, Ian O'Hara heads to Vegas from Florida with hopes he'll take down what would be his biggest tournament win yet.
"I've been playing professionally for seven and a half years," says O'Hara, looking back with fondness on a journey that has taken up his entire adulthood. "I was probably ten or eleven the first time I played poker. Me and my neighbor watched it on TV then played heads-up just for fun in my house."
That fun soon developed into home games that he won more than his friends. He's been passionate about poker ever since.
"You can go from not knowing the rules to knowing all about it very quickly now. I went on YouTube and picked it up very quickly, taking it more seriously than others."
O'Hara will be hoping for that first attempt at playing poker when he was heading to high school can be mirrored by him making the final two in Las Vegas. It's a task that looks tough on paper, given he goes into play fifth out of the six in chips. But he's confident that the volume he's put in will put him right back in contention very soon when play recommences.
"One hand can take you from sixth to first. I feel like I have the most accomplishments and experience at the final table, especially where the pressure in huge."
One such experience was when he came second to Jason Mercier in the Seminole Hard Rock Poker Open in 2015, cashing for $527,313, more than Mercier after a deal took place.
"That was my first real huge win where it was like 'Wow, that's more money than people make in their lives'. It allowed me the opportunity to keep playing bigger and see where it takes me."
Level Headed, Focused and Determined
So far, that's included bigger buy-ins into both cash games and tournaments. O'Hara is a wise head on young shoulders, with the maturity to invest his winnings, having put a chunk of winnings by for retirement and family responsibilities in later life. He doesn't see himself taking as much time away from the game as Mercier, however.
"I'm not sure I'll ever fully transition like Jason did; he doesn't play so much anymore. I'll take a step back, but I feel like poker's always going to be, if not my primary source of income, something big in my life."
That's certainly the case right now. O'Hara loves calling poker his day job and he's going to work when he arrives on March 13th, ready to apply pressure at the felt as he is feeling noe himself.
"I've never really been scared of the bad results of poker, downsides or anything. I never go to a tournament think it'll be bad if I lose."
O'Hara also knows his opponents pretty well, having shared the felt with them for some time during the last few levels that took place in January.
"I've played with four of the other five for a good amount of the tournament. My strategy was set up going into the final nine and the lay-off hasn't changed too much on what my outlook will be."
The Challenge that Lies Ahead
O'Hara heads into play with work to do, but for the Floridian who is used to putting in the volume, the experience holds no fear. He could be one of the most dangerous players to face at the final table felt and will be ice cold under the heat of the lights.
"Some people change how they play on TV, knowing everyone will see how they play on the live stream," he closes, "You don't want to do something you look back on and think 'That was stupid'."
Somehow, it's hard to see any of O'Hara's peers thinking that this coming Wednesday. Here are how the remaining six players line up, and that all important seat draw:
The Borgata Winter Poker Open final table:
Seat 1. Ian O'Hara  –  5,100,000  (34 bb)
Seat 2. Dave Farah  –  18,850,000  (126 bb)
Seat 3. Joseph Di Rosa Rojas  –  5,800,000  (39 bb)
Seat 4. Brandon Hall  –  14,100,000  (94 bb)
Seat 5. Vinicius Lima  –  3,550,000  (24 bb)
Seat 6. Daniel Buzgon  –  9,100,000  (61 bb)
With $728,430 and a season-ending Tournament of Champions ticket worth $15,000 up for grabs to the winner, you can see if Ian O'Hara can claw back his deficit and take home the biggest prize of his career by subscribing to PokerGO. We'll have all the action once the Borgata Winter Poker Open final table takes place in Las Vegas on Wednesday 13th March. You won't want to miss a thing.