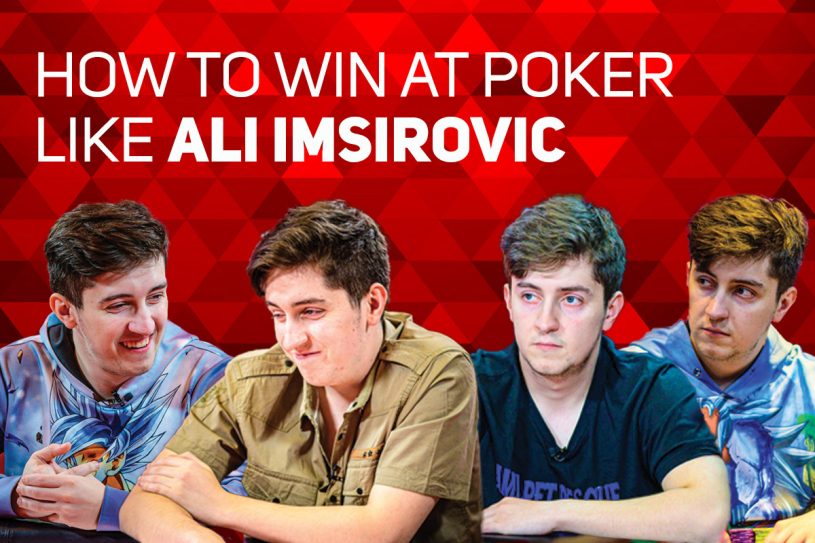 How can an American poker player realize their dream of becoming a professional? With online poker not yet a countrywide option, players with both live and online skills are needed to balance their career in order to become a profitable player.
So how does someone young and hungry make it as a poker player in lightning quick time? The answer should be sought from a player who has done just that – Ali Imsirovic. The Bosnian-born phenomenon has achieved so much in the last two years that he has become an inspiration to players of all nationalities, but especially the younger demographic of poker players.
Aspirational players who have left their studies as competent players could hardly look to anyone better for guidance. So, as we look back at this incredibly insightful interview with Imsirovic in this archive podcast from Heads Up with Remko Rinkema, the Bosnian player's influences that shaped his life could guide you to turning your dream into a reality.
Looking to play the 2019 Poker Masters or enjoy it on PokerGO? Check out the full schedule right here eas the action gets underway on November 5.
STUDY FOR HALF YOUR TIME
"Study almost as much as you play." says Imsirovic, "For some guys, playing is much more important. Studying close to half the time would make them progress much faster than most people could."
Imsirovic ramped up his live poker in 2017, and he is open in admitting that his only goal early on was to play $5,000 buy-in events with competence and confidence. Coming 4th in three separate tournaments gave his bankroll the boost it needed, but it was what he did immediately afterward that is important.
"I went home and studied for two weeks," he says. "I was looking forward to [the Poker Masters] most. I studied hard with my friend. I think mentally, I'm very strong; I've done meditation and yoga before. I never get too high or too low."
LOVE THE GAME OF POKER
One of the things that Imsirovic has above many players is a love of poker, rather than a love-hate relationship. Watch any of the recent 2019 British Poker Open via the PokerGO Archive portal and you'll see it's true – Imsirovic's attitude at the table is the same whether he's just won a huge pot or been busted from the event on the bubble. He has an infectious enthusiasm, but that desire to play is core to everything. He goes at it 100%.
"I love the game so much. I want to be the best I can in everything I do," says Imsirovic. "I want to keep playing as much as I can. If you want to do it, you have to play that much. For me, it's all about trying to achieve whatever I can in the game."
BE HONEST WITH YOUR FAMILY
Being open and upfront with your family about playing poker for a living is a daunting prospect for many players. Imsirovic made sure he had a true handle on playing the game before he
"I had fun playing online without them knowing," admits Imsirovic, "The plan was to build up a roll, so I did that then I was at the beach with them and I told them. They took it incredibly well. The support system I got was incredible. Now, my parents – after my sister – are my biggest fans."
Imsirovic's family lived in Bosnia but had to flee after the war that lasted three and a half years from 1992 to 1995.
"We fled Bosnia. My Dad had a restaurant and three houses. He had it all [back in Bosnia]." says Imsirovic. "Here he had $500 to his name and it was tough on him. He worked three jobs. It was cool for me to realize how hard he was working for his family and it inspired me to be the best I can."
Imsirovic has made his family so proud now that there seems no stopping him. So what did Imsirovic of 2017 want to achieve in the two years he's now played during?
"I want to solidify myself in the high roller scene and be a representation of someone who is doing well in the game."
It would be impossible to argue that Ali Imsirovic has achieved that goal he had back in 2017. Today, Imsirovic is one of the biggest names in the game and one of the first players fans look for in high-profile high roller events. His live winnings of over $7.2 million to date are only going to rise.
Want to watch Ali Imsirovic in action at the recent Super High Roller Bowl in London? Check out the action from the final table right here. Be sure to subscribe to PokerGO for 24/7 poker action, documentaries, live streams and the all-new, on-screen Poker Central Podcast with Remko Rinkema and Brent Hanks.