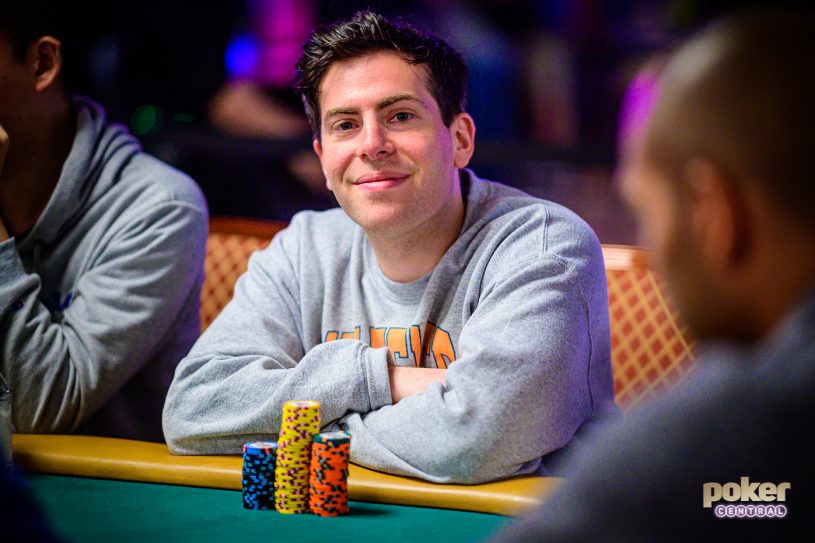 The World Series of Poker Main Event brings people from all walks of life to Las Vegas. From Hollywood star Kevin Pollak to seasoned pro Maria Ho, and from a dealer who's been coming to Las Vegas since 1972 to Kevin Roster, who's terminally ill and living out a bucket list item by playing the Main Event one last time, they all dream of hoisting the diamond-encrusted bracelet that comes with millions of dollars and poker immortality. The same goes for rapper and songwriter Hoodie Allen who's going through a roller coaster Day 2.
Allen first got into poker on tour, playing at local casinos after his shows before hopping on the bus to the next stop. Quickly this hobby evolved into something serious as he's not missed the Main Event in recent years.
Allen's second day started off very strong, pushing his stack up to well over 200,000 before running into a series of unfortunate spots to bring him back down to just about 55,000.
"I'm trying not to blow this whole thing right now because there's still lots of play left and I'm enjoying the ups and downs, but the ups a little more of course," a battle-ready Allen said.
The Adrenaline of Poker
Having taken a Main-Event sized break from touring, Allen looks forward to this event for many months prior and makes sure his schedule aligns with it.
For someone who performs on stage for thousands of fans on a nightly basis, playing the Main Event might be like a cake walk when it comes to pressure, but the Plainview, NY native finds himself more at ease with the brights lights on him.
"I'm a lot more comfortable on stage because I'm just used to that," Allen said with a smile.
"The pressure here is internal. In a big spot, you know, you still get your heart racing and can't really control the pulse that much. It's definitely a different kind of adrenaline but it's a lot of fun."
Grateful to Play
Allen's been keeping his fans updated through Twitter and Instagram, and even though the ven diagram of his fans and poker fans might not be very large, he loves hearing from them on the world's most popular card game.
"Some people hit me up and say, 'Oh my dad plays, I'm going to learn!' and those sorts of things. It's always fun to share other interests outside of music and show yourself as a well-rounded person and I think it's an overall positive."
For now, the task for Allen is simple because despite a few rough hours he's still very much in the hunt for that expected first prize of roughly $9,000,000.
"That's what we're all doing it for you know chasing that chance," Allen said about that championship dream.
"I'm enjoying the ride and practicing patience because at the end of the day it's a blessing to be able to spend time doing this. I know that there are probably so many people who want to be in this position so I don't take it for granted, I enjoy all the time in this event even when it's going bad."