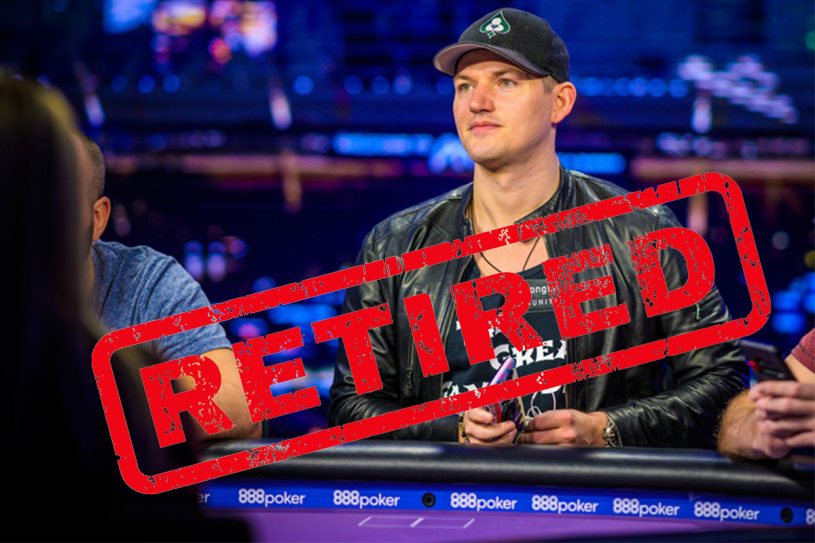 Joey Ingram is not your average poker player. Ingram is an entertainer, podcast host, interviewer, and lover of all things drama and prop-bet related in the game of poker.
On Monday night, Ingram made his Poker After Dark debut and today he'll jump into action again during "Run it Once Week" where an exciting $25/$50 Pot Limit Omaha game is put on for all PokerGO subscribers, and he told us some very interesting things about his relationship with prop betting and goal setting.
"They used to be but they don't work for me anymore," Ingram said about getting motivated to chase after things through prop bets and how that feeling has worn off after many years of doing so.
"I've got to re-evaluate the prop bets. I've not been motivated to really get after much lately so I'm kind of trying to find that again. I've been playing a lot of poker and then sort of shift away from that. Right now I'm taking it one day at a time."
When pressed on the issue, Ingram made a statement that might come as a surprise to many of his fans that love following along with his challenges.
"I don't even think I'll make any more [prop bets]. I don't think I'm gonna win them. I'm not really feeling it with my confidence in the prop bets and my ability to get myself to do something I don't really want to do right now. So. That's kind of where I sit on the prop bet thing."
Ingram did add that he's so far managed to win all his big prop bets but that his batting average is very poor on the ones he cares less about.
This is the music video for my 100k views prop bet featuring @GusHansen GREAT summer of 2018, including his battle vs @junglemandan mixed w/ my fave TV moments in poker history.

All comments + likes ON YOUTUBE really help the video so plzzzz do so! Thxxhttps://t.co/4L85v3qAcG pic.twitter.com/0JJZBkm9c0

— Joey Ingram 🤙🏻🤙🏻 (@Joeingram1) August 15, 2018
The Future of Joey Ingram
"Oh God, I don't know, good question!" Ingram said when asked about what his future would look like, especially since prop betting seems to be a station in life that he's passed.
"I think about that every day. I don't really know. There's no easy answer. It's not a path that most people have. I used to have a set goal in mind and but I don't necessarily have set goals or is that path in mind right now, this month is about getting back to content, start playing more on stuff like this [Poker After Dark] do more stuff like this and kind of get yourself out there and out of the house a little more."
Finished up the Poker After Dark session up about $8000 after a couple really huge hands to end the session. We were in for $20k and made the big rebound 🔥🚀🔥

YouTube video up tomorrow from today's session. Thanks for all the messages & support ♥️♥️♥️ pic.twitter.com/cgE2nq1w4w

— Joey Ingram 🤙🏻🤙🏻 (@Joeingram1) April 9, 2019
An Internal Struggle
Always vocal on Twitter, YouTube and Instagram about his projects and whatever's on his mind, Ingram lets us know that the way he looks at his own future changes almost on a daily basis.
"Every day, it changes all the time. I think that has to do with having no set massive goal of the top. I'm constantly readjusting, too many thoughts basically, too much thinking about things, and yeah that's kind of what's been going on lately."
"I frustrate myself all the time, every day. Every day I'm frustrated with myself. I think I could be doing a lot better in everything I do. I have high expectations for myself and other ambitions and it's something that I think about all the time.
So while prop betting seems to be a no-go for now and his mind is always changing about what he wants to do, Ingram's short term goals are to play well on Poker After Dark and take the rest of the Spring as it comes. For the summer, however, Ingram joked, "I'm trying not to die."
"It's simple, that's my goal. I'm trying to not drink too much, not go out too much. Try to keep a balance. So that's the goal for this summer."
Watch Joey Ingram in action on Poker After Dark at 6:00 pm ET on Tuesday, April 9th or catch all the action on-demand on PokerGO. New to PokerGO? Subscribe right now. Follow Joey Ingram on Twitter, Instagram, and YouTube.