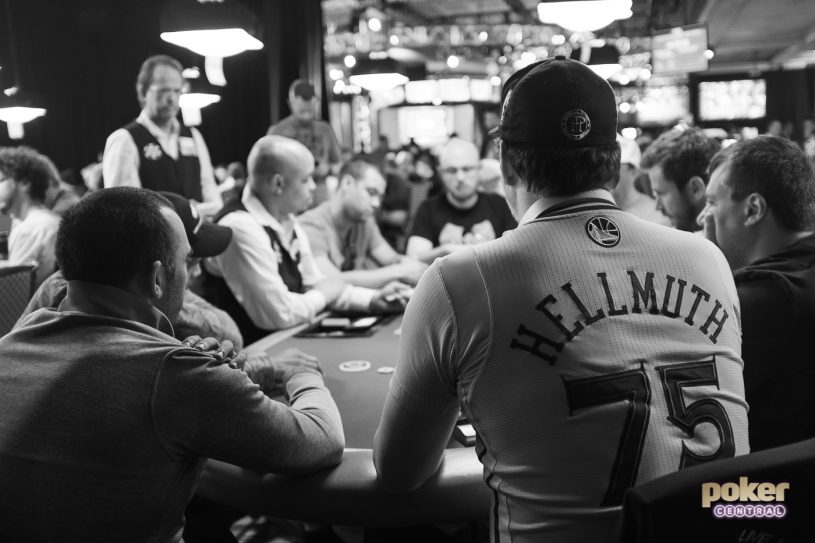 Another World Series Social Round-Up and another Phil Hellmuth rant. It's not even Main Event time, yet. Elsewhere, we take coaching tips from Faraz Jaka and enjoy a simple tribute to some WSOP legends.
POKER BRAT TURNS AIR BLUE (AGAIN)
After his latest bust-out, Phil Hellmuth took to Twitter to explain his feelings in the only way he knows how. Other players, such as former WPT Player of the Year Matt Salsberg, were on hand to help.
Wow! You can't make this stuff up: I fold 10-10 and As-Ks before the flop vs one random guy, then he calls off 10.5 bigs w J-9 pre-flop vs my A-A, and busts me #WhereDoTheyComeFrom #Frustrated #WorldClassPoker

— phil_hellmuth (@phil_hellmuth) June 10, 2019
MISSING SMITHY
Shane Schleger may have started it, but a whole memory box was opened by him mentioning the late, great Gavin Smith and many others who are fondly missed by a lot of poker players at the WSOP.
WSOP ain't the same without Gavin Smith bouncing around the room. Also a toast to the memory of Amir Vahedi, Bobby Hoff, Billy Duarte, Devilfish, Chad Brown, Chip Reese and other assorted characters who died but not before leaving a positive mark on this wacky microcosm.

— Shane Schleger (@ShaneSchleger) June 9, 2019
LOW BUY-INS? IT'S NOT POLKER
Doug Polk isn't a fan of the lower end of the tournament buy-ins this summer and isn't afraid to say it.
Not a fan of all of the$600 type events. Part of the WSOP is that events are mid-high stakes, so not every single person can enter.

If you disagree, then why not have a $450 event? $120? Maybe we should end the summer with a 182,382 person $50 tournament for #WSOP50

— Doug Polk (@DougPolkPoker) June 3, 2019
COACH GOALS
Faraz Jaka didn't take it easy on his stable when he heard there was fresh meat in town.
When my non pro college friends come into town to play @WSOP & find themselves still in the #big50 with 28 left… here's an example of the type of winning tips I give them, that help them keep pumping towards that gold bracelet. cc @phil_hellmuth pic.twitter.com/3pWQb8WKPF

— Faraz Jaka (@FarazJaka) June 7, 2019
WSOP PLAYER OF THE YEAR UPDATE
Dan Zack is still riding high in the World Series of Poker Player of the Year race, but Frankie O'Dell moved up and Zack has some high roller company in the top ten.
Full WSOP Player of the Year Top Ten:
| | | |
| --- | --- | --- |
| Rank | Player | Points |
| 1 | Daniel Zack | 1,754.40 |
| 2 | Isaac Baron | 1,396.76 |
| 3 | Femi Fashakin | 1,384.62 |
| 4 | Brett Apter | 1,356.43 |
| 5 | Benjamin Heath | 1,339.27 |
| 6 | Frankie O'Dell | 1,259.10 |
| 7 | Jeremy Pekarek | 1,227.02 |
| 8 | Daniel Park | 1,175.47 |
| 9 | Ben Yu | 1,172.17 |
| 10 | Shannon Shorr | 1,156.92 |
Check out the full standings right here.
$25K FANTASY LEAGUE IS CLOSE AT THE TOP
The current $25k Fantasy League could hardly be closer, with the top four teams separated by just 38 points after a very strong performance from Robert Mizrachi, Dan Zack, Jon Turner and James Obst all scoring more than 30 points so far.
Who'll score big today at the WSOP felt? Watch all the action unfold live today on PokerGO and CBS All Access as more coverage of the 2019 WSOP bracelet events takes place. Selected bracelet events will be streamed exclusively on CBS All Access in the United States.