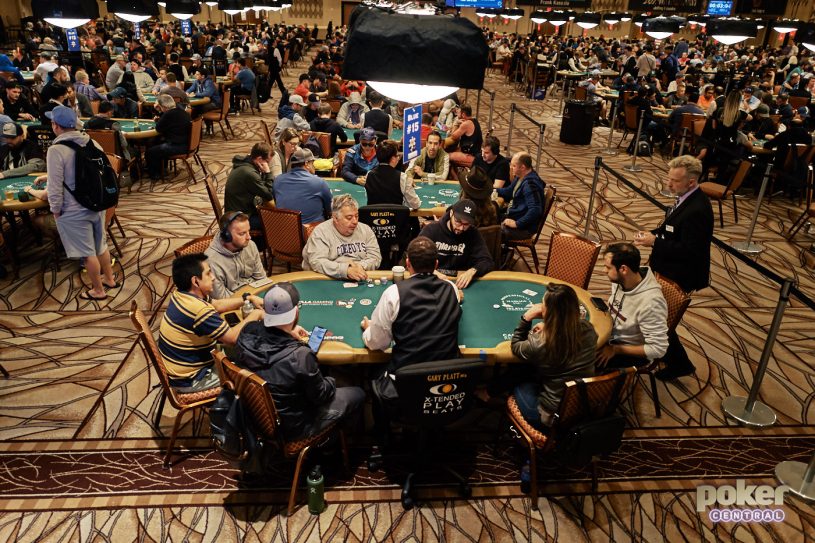 How's your World Series of Poker going? After three weeks at the felt, some players are coming into their own, while others are flat out on their back in the middle of the Rio floor, while people step over their prone body. That's not an exaggeration.
OUT FOR THE COUNT
At least we know what would have happened if the popular movie trilogy 'The Hangover' was brought back for a terrible fourth instalment based around poker.
Yelling " I can't handle this hangover!" This player lays down for a few hands. The floor asks if he is ok and then says " you do you" and steps over him. pic.twitter.com/L8PM66wa9e

— Bob Mather Poker (@BobMatherPoker) June 16, 2019
WHO'S THE BIGGEST STAR AT EVERY TABLE?
Steve O'Dwyer is the latest player to have an idea about a new poker tournament, having been inspired at the 2019 WSOP. We wonder who he means…
Tournament idea: "star of the show" event. An auction takes place before the start of the event. The winner pays the winning price into the prize pool and gets to play at the feature table the entire time they are in the tournament.

— steveodwyer (@steveodwyer) June 19, 2019
HANDSHAKE? CHECK. ELBOW ROOM? CHECK. SLOWROLL? C-H-E-C-K.
Is Kid Poker starting to feel the burn of his marathon seven weeks at the felt in this, the final day of his third straight week at the felt? If there's one indication that the six-time WSOP bracelet winner Daniel Negreanu might be on edge, it's how he's dealing with this slowroll.
Also, don't slowroll people.

It's sociopathic behavior.

People get emotionally involved when playing poker and slowrolling them is like kicking them when they are down.

It's not funny.

It's not classy.

It's just rude.

— Daniel Negreanu (@RealKidPoker) June 18, 2019
HOW DO YOU FEEL?
Melanie Weisner sums up many tournament poker players and how they're feeling around this time as she eulogises on the duality of the game…
Poker is a mindfuck. Some days, it feels like the blood, sweat and tears you poured into your game have you practically seeing the matrix and no one else stands a chance. Other days, you pat yourself on the back for an incredible fold and get shown the deuce of clubs

— Melanie Weisner (@melanieweisner) June 18, 2019
…while Tony Dunst ponders that it's a good job he brought his cell charger.
How the hell did we play 10 handed before smart-phones?

— TonyDunstTV (@tonydunsttv) June 11, 2019
UPESHKA DE SILVA OVERTAKES DAN ZACK IN WSOP PLAYER OF THE YEAR RACE
Finally, the WSOP Player of the Year race has truly kicked off, with two men toe-to-toe at the top. With three of the seven weeks in the can, Upeshka De Silva has hauled in Dan Zack early pace-setting and has overtaken him as the player approach the crucial middle stages of the Series.
Here's the full up-to-date line-up. You can check out the full standings right here.
Player of the Year Leaderboard Top 10:
| | | |
| --- | --- | --- |
| Position | Player | Points |
| 1 | Upeshka De Silva | 2,162.02 |
| 2 | Daniel Zack | 2,146.20 |
| 3 | Scott Clements | 1,837.33 |
| 4 | Robert Campbell | 1,605.08 |
| 5 | Daniel Strelitz | 1,597.26 |
| 6 | Shaun Deeb | 1,534.87 |
| 7 | Stephen Song | 1,503.76 |
| 8 | John Gorsuch | 1,486.47 |
| 9 | Frankie O'Dell | 1,447.89 |
| 10 | Yuval Bronshtein | 1,438.31 |
Who'll claim a WSOP gold bracelet today and become the latest winner at the 2019 World Series of Poker? Watch the action unfold live today on PokerGO and CBS All Access as more coverage of the 2019 WSOP bracelet events takes place. Selected bracelet events will be streamed exclusively on CBS All Access in the United States.