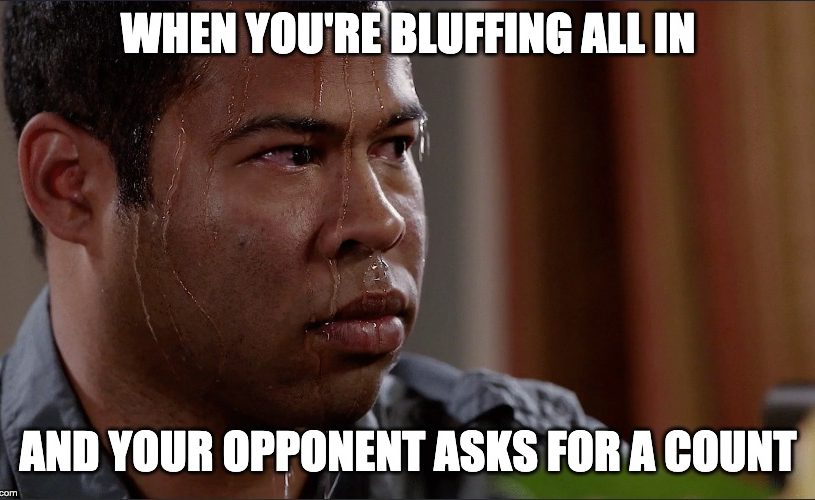 Sometimes, when the game of poker becomes too serious, funny poker memes can get you through any bad beat. With the age of the internet and social media seemingly designed for poker memes, players, fans, and commentators have lived off these funny asides to the greatest card game on the planet.
But which poker meme is the best poker meme? Which one applies to your own game and which one to your poker nemesis? Let's get viral.
THAT DEALER COUNT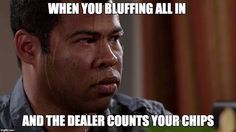 We've all been there. We've made the move and we're hoping, praying, that our opponent folds. Then the player asks the dealer to count. It takes forever, longer than an ice age, and you feel that first bead of sweat break out on your forehead. By the time they've re-stacked your chips in 20's, sweat is running off your nose.
HOW HARD CAN IT BE?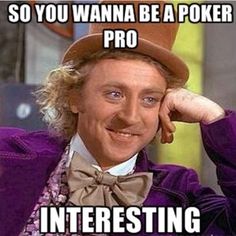 The answer to that question if it ends 'to be a professional poker player?' is… very. Every poker pro who has ever endured someone else telling them that they're about to follow them up that mountain they've just so laboriously climbed has worn the Wonka look. It's almost as if aspirational poker players think there's a Golden Ticket or something.
SOME PLAYERS HAVE ALL THE LUCK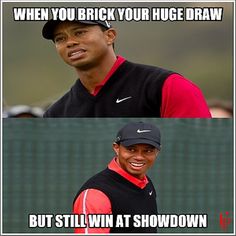 There's something very special about missing your draw and winning anyway. Maybe your bluff was higher. Maybe your second pair just overtook their lower made hand. It doesn't matter. You feel like Tiger Woods on the 18th hole after an Eagle to clinch the U.S. Open.
SO WHAT DO YOU DO?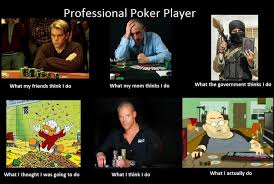 Every poker player has been asked this question, and it's not an unreasonable one. It's just that everyone has their own perspective on what a professional poker player really does. Don't they?
It's just that your feelings aren't echoed by your mother, or partner, or basically anyone else on the planet.
MASHING BUTTONS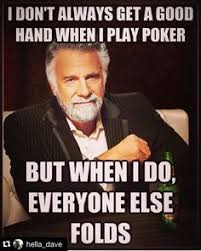 You're not just messing around with any old hole cards. You want a proper hand when you commit those chips. A solid, rock-steady selection. And when you find it, boy are those click-happy super aggro guys going to feel it.
Let them see how they feel when you three-bet… ah, everyone folded. Oh well, a win is a win. That hand will come around again in another 219 hands-on average, then they'll pay. Or not.
ONLINE ACTION DRAGS ON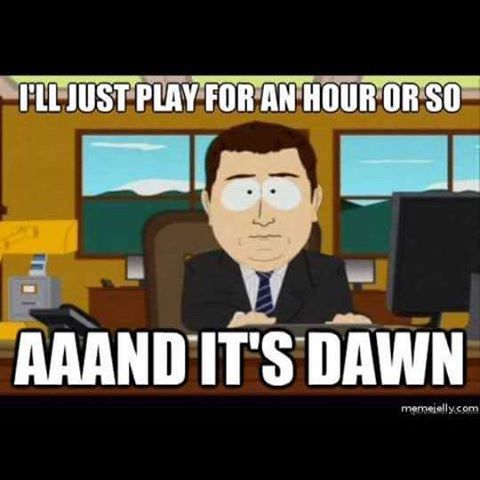 When you're an online poker player, there's no such thing as an early night. There are early mornings, or there are losing sessions.
While you might want to call it a night with a stop-loss, there are times when you just want to get back in the game and see if you can win that event to get yourself a feelgood finish to the night.
You know, that event you've always wanted to win. That one cent rebuy with 80 minutes of late reg. That's the title you've been after.
Step away from the keyboard.
LOOSE CHIPS SINK SHIPS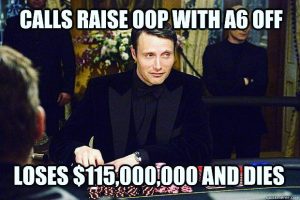 This is one of the best memes ever to come out about poker, referencing as it does, Le Chiffre from the 2006 James Bond movie, Casino Royale.
It's not that Le Chiffre is bad at poker, per se. It's that he's so bad at poker that he manages to lose with a full house to a straight flush to a slowroll from a Brit which then costs him his life.
Oh, Spoiler Alert.
THE HARSH TRUTH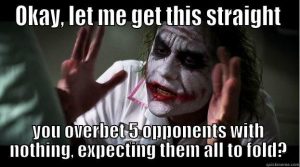 No collection of poker meme cards would be complete without a joker in the pack, and what a joker. We'd bet Bane's shares in cough sweet companies that The Joker would win a superhero poker home game. Poker After Really Dark, maybe.
Everyone could do with The Joker's advice, especially right after making that overbet.
Just like in poker, when it comes to those moments where you could feel like a meme or run hiding from the humorous side of the game, just ask yourself, 'Why so serious?'
You can catch up on all the action during Rob's Game this week as the gigantic cash games take place on the PokerGO stream. Why not sign up for PokerGO today and check it out?