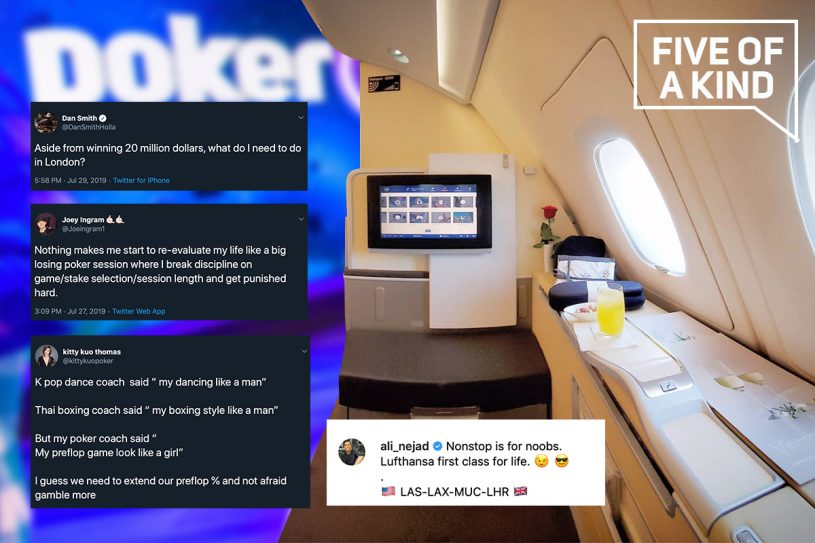 The World Series of Poker wrapping up might've created the slightest of breathers for poker fans and players all around the world but things clearly never truly die down in the Twitter streets. With the Triton Million kicking off on Thursday morning at 8:00 a.m. ET for free on PokerGO, it's time to check-in with all that's good on social media.
Travel Advice for Dan Smith
Dan Smith is a well-traveled man but he's clearly always looking to make his trips as memorable as possible. If you're looking for some good London travel advice, make sure to check out the replies to Dan's Tweet!
Appreciate the recs. Now I have way more activities than I can possibly do in a week… I guess I'll have to come back for British Poker Open next month !

— Dan Smith (@DanSmithHolla) July 30, 2019
Ingram's Losing Session and Troll Impersonation
Joey Ingram loves stirring stuff up on Twitter and he did so once again with some good ones this week! Firstly, Ingram once again had some compelling insights on what a losing session does to his morale. Secondary, he got a good laugh out of me with his impersonation of the Twitter trolls what will be bringing out the pitchforks during the Triton Million event.
Nothing makes me start to re-evaluate my life like a big losing poker session where I break discipline on game/stake selection/session length and get punished hard.

— Joey Ingram 🤙🏻🤙🏻 (@Joeingram1) July 27, 2019
For the upcoming €1,000,000 buy-in @tritonpoker event I'm most looking forward to everyone on Twitter being overly critical of the businessmen play.

This is what I imagine they sound like when ranting about how bad everyone is & how they would crush everyone if they had €1mm pic.twitter.com/PUk6vqZbL7

— Joey Ingram 🤙🏻🤙🏻 (@Joeingram1) July 31, 2019
Ali Nejad Travels in Style
Commentator extraordinaire, lover of all that's high quality and swagged out, it's no surprise that Ali Nejad was caught flying in the fanciest possible way to the Triton Million. Let's see if all that rest and comfort will translate into an epic broadcast on PokerGO the coming days!
Schulman's London Search
Nick Schulman is once again Ali Nejad's partner in crime and he's looking to relax and unwind before the action gets underway in London!
We shall fight on the beaches, we shall fight on the landing grounds, we shall fight in the fields and in the streets, we shall fight in the hills; we shall Never surrender, and if, which I do not for a moment believe, we cannot find the best weed in London, we shall fight on! pic.twitter.com/5PuyI9lAq3

— Nick Schulman (@NickSchulman) July 31, 2019
In Other News: Kitty Kuo & Barstool Nate
There's never a dull moment when Kitty Kuo is involved! Kitty Kuo apparently is into dance music, Thai boxing, and pre-flop ranges these days!
K pop dance coach said " my dancing like a man"

Thai boxing coach said " my boxing style like a man"

But my poker coach said "
My preflop game look like a girl"

I guess we need to extend our preflop % and not afraid gamble more pic.twitter.com/io6AfMYrOP

— kitty kuo thomas (@kittykuopoker) July 29, 2019
And Nate sums most people's summers at the poker table up in this very fitting GIF.
When you get aces in vs kings and then the river comes… pic.twitter.com/yF2j9Jzp6Q

— Cracking Aces (@CrackingAAces) July 20, 2019
Got something to add for next week? Let us know on Twitter. Want to watch exciting poker action 24/7 and more than 100 days of live action every single year? Subscribe to PokerGO right now.