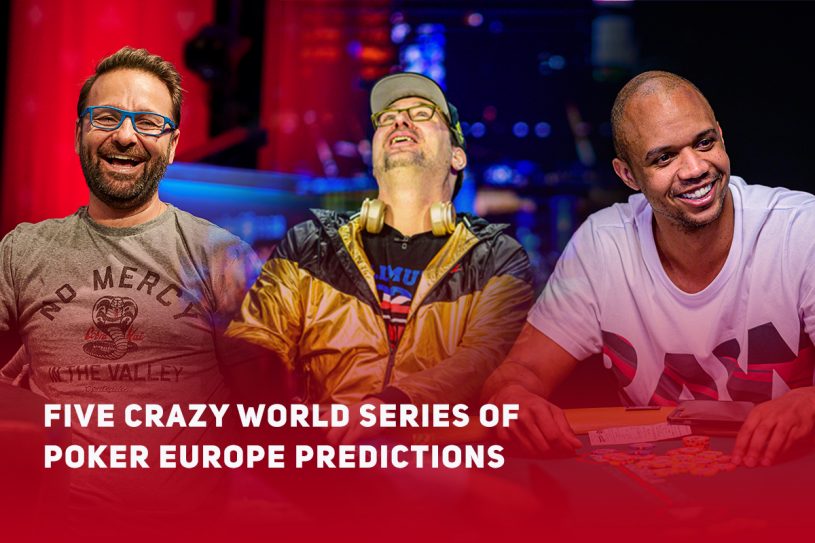 World Series of Poker Europe is in full swing down in Rozvadov in the Czech Republic and with PokerGO live streaming all the big action starting on Wednesday, October 16, I decided that the time is right to put some extra hot takes on paper so that we can collectively root for some of these crazy things to happen. So let's dig in with some personal opinions, let that be clear, on World Series of Poker Europe.
Phil Ivey Wins a World Series of Poker Bracelet
Why waste time getting hot with these takes when you can kick the door in with a Phil Ivey related speculation? Phil Ivey has been in a whirlpool filled with legal hot water for what feels like an eternity at this point, and a lawsuit filed by Daniel Cates and Ilya Trincher made things even more interesting as we found out that Borgata had laid claim to his $124,410 cash in the $50,000 Poker Players Championship this past summer.
Is Ivey going to return to tournament action in Rozvadov where he might not fear the Borgata raining on his parade? If we don't see Ivey here I'm ready to call it on his career as a tournament professional because I feel pretty strongly about him not being too eager to have the next $10 million in tournament cashes immediately claimed by the Borgata. If that's the case, this might be the last time for a while we saw Ivey hit the rail.
Phil Ivey bubbles the Poker Players Championship final table! 😱

Play continues LIVE on PokerGO: https://t.co/qNqHt4tDY9 #WSOP50 pic.twitter.com/lNVO5YmVFT

— Poker Central (@PokerCentral) June 28, 2019
Phil Hellmuth Will Record Zero Cashes at World Series of Poker Europe
I'm sorry Phil, I'm not rooting against you but I just feel as though your (tired) social media posts are not a great indication for success! I think that Hellmuth will put up a donut in Rozvadov despite him having his own hotel suite where he should be able to get plenty of rest! This past summer Hellmuth recorded 12 cashes in WSOP events with his best result being a sixth-place finish in the $5,000 No Limit Hold'em event. I think it's time for Phil to get into the best shape of his life, put the candy aside, and return to the spotlights in 2020 with a two-bracelet performance in Las Vegas. I believe in your Phil. POSITIVITY!
Edit late on Tuesday: Well, damnit Phil! You already proved me wrong cashing in the PLO event. I guess now I'll have to change this hot prediction to him not making any final tables?
Bummer! Day 2 of @WSOP Europe started at 2 PM…And…I…woke up…at 2:51 PM…Boogied downstairs. Started day w 27,500, antee'd off 19,000, sigh…arrived and had 8,500 left, blinds 2k-4k…busted…Three sleeping pills in 3 days, after 3 in last 18 months! Staying positive.

— phil_hellmuth (@phil_hellmuth) October 15, 2019
Daniel Negreanu Wins World Series of Poker Player of the Year Race
He's done it twice already and with his current point total, this isn't the hottest prediction, but given the first-class treatment on his way to Rozvadov mixed in with an abundance of vegan food on hand, I just can't see how this will go wrong. Negreanu currently sits in third place behind only Robert Campbell and Shaun Deeb but one big score could push him to the top. Having been on-site for Negreanu's POY win in 2013 when he edged out Matthew Ashton on the very last event that qualified, I'm predicting another last-minute win which will happen in the Colossus which closes out World Series of Poker Europe. Other contenders include Ismael Bojang, Phil Hui, and David 'ODB' Baker. Check out Daniel's daily vlogs to follow along with the action.
Short Deck Tournament Poker Dies in Rozvadov
Short Deck is a fun game. There, I said it. The game, however, hasn't really trickled down to the medium and lower stakes and I think that it just doesn't have a place at the World Series of Poker. The first WSOP Short Deck bracelet was awarded to Alex Epstein in Las Vegas when he defeated a field of 114 players in the $10,000 Championship event and that's just not cutting it for me.
I think the turnout for the Short Deck events in Rozvadov is going to be low again and the fact that it didn't even outperform the $10,000 Razz Championship (116 runners) despite having one re-entry is an indication that this format just isn't WSOP and bracelet worthy. Remember when Chinese Poker and Pineapple were all the hype and everyone started calling for those formats to become bracelet events? Well, that storm has blown over and I think the same can be said for Short Deck aside from when the big boys from Macau are down to play.
A Woman Will Win The WSOPE Main Event
Okay, I'll be the first to admit that this is mostly wishful thinking. Annette Obrestad did it all the way back in 2007 and ever since we've been waiting for another woman to get the gold in the WSOP Main Event. Maria Ho came very close two years ago and both Gaelle Baumann and Elisabeth Hille barely fell short of the final table, but perhaps this year is the year they can close it out? With plenty of top female talent out there, Maria Lampropoulos, Ana Marquez, Leo Margets, or perhaps Ema Zajmovic will be among those ready to make deep runs and I'm excited to see how it will play out on PokerGO.
Hate my takes? Let me know. Want to watch it all unfold, check out the PokerGO Live Events tab to set your alarms to watch the streams.