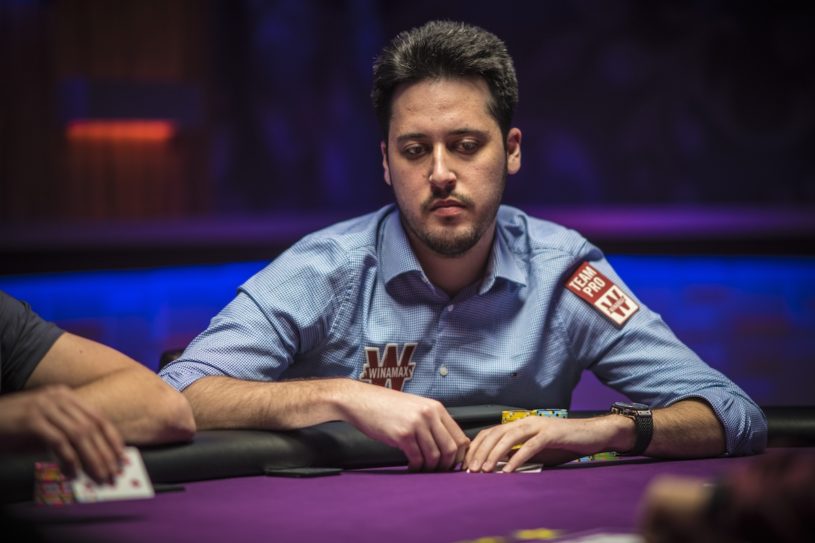 Despite still being among the youngest players on the international circuit, Adrian Mateos has quickly become one of the most celebrated, successful and respected players a the highest level. When Super High Roller Bowl V was announced just a few weeks ago, there was, of course, no question the Spaniard would enter, and it's safe to say that he's ready to end the year with a bang.
"This is one of the most important tournaments of the year," Mateos said about the upcoming fifth edition of the Super High Roller Bowl when we spoke to him on break at the World Poker Tour Five Diamond Main Event.
"I always love playing this tournament and I'm really motivated for this edition."
The fifth edition of the Super High Roller Bowl is set to take place at the PokerGO Studio for three days of thrilling action on December 17, 18, and 19. The entire tournament will be streamed live on PokerGO for poker fans from all over the world to enjoy. Super High Roller Bowl V will also air on the NBC Sports Network at a later date in 2019.
With 34 players announced to date, Mateos believes the field will be a bit softer than usual although he's hoping for some more signups in the upcoming days before cards go in the air. Talking about his own you, however, Mateos has had his share of ups and downs coming into the home stretch of 2018.
"The year started really well, but the last few months have been really bad. The total for the year is meh, so I'm even more motivated to perform well this week. The only way to win in this game is to play and study more than anyone else, so I'm sticking to that plan."
While many top pros choose for a life on the road, focusing solely on big live events, Mateos recognizes that staying sharp by putting in the hours online has real value to keeping his game ahead of everyone else, which is something he believes will help him stay on top.
"Of all the players that play on the Super High Roller level, I probably play the most online, I play a lot of hands, and put a lot of time into studying. Because of that, I think that I have to play this type of event every time it's being organized."
The number 31 on poker's all-time money list will make some slight adjustments to his play after playing some big Main Events, as he believes that the Super High Roller Bowl is not the place to get out of line.
"I can't get out of line too much because a lot of players have a GTO approach. The table draw will be very important, but at this level, every little detail is important for success. At the end of the day, the most important thing is to make hands and win pots."
In the coming days, Mateos will play in the $25,000 and $100,000 high roller events that are being organized, as he feels that being up against tough competition is the best way to stay sharp with Super High Roller Bowl V only a few days away.
In closing, it would mean the world to Mateos to take this massive event down to add to his collection of trophies.
"It would mean a lot to win this one, everyone is watching, everyone is railing, and there's a lot of money on the line."