Too busy to stay caught up on all the latest in the world of poker on social media? Five of a Kind briefs you on all that's good in Twitter and Instagram, highlighted by Doug Polk, Dan 'Jungleman' Cates, and Randall Emmett this week.
HU4ROLLZ?
Back in the day, heads-up challenged were all the rage but as the game has changed so has the appetite for destruction as the highest stakes. Poker Sasha, however, put her money where her mouth is and did some serious damage at the Pot Limit Omaha tables the other day. Take the photo below as your inspiration for the week and go challenge someone to a heads-up for rolls battle!
I didn't do so well in the $1/$2 PLO earlier today, then when the game broke, I challenged the biggest winner at the table to play HU. He had $4500+ at the time and I had about $1K. He said he would only give me 30min.

….20min later, I got all the chips. pic.twitter.com/AT9HDQW8pS

— Sasha (@PokerSasha) April 22, 2019
NBA Poker Games
Terrific sports writer Rodger Sherman is a great follow but he dipped his toes into a poker hypothetical that made me want to include him in this article. We all know the worst game of poker we've ever played and in most cases, we have multiple stories with a variety of "what if" and "I should have done X instead of Y" but has it ever been this bad? The Oklahoma City Thunder traded James Harden, like folding an open-ended straight flush draw on the flop, and then lost their pair of kings, Kevin Durant, because their hand timed out and all they were left with was pocket jacks. Good riddance Oklahoma.
What's the worst you've ever played a hand of poker? Anyway the Thunder has Kevin Durant, James Harden, and Russell Westbrook and ended up with Russell Westbrook

— Rodger Sherman (@rodger) April 22, 2019
The World of Jungle
If there was a reality show I'd binge watch no matter how many episodes it would, it would be that of Dan 'Jungleman' Cates. Cates operates on a level that many of us will ever fully comprehend and he deals with problems we simply can't grasp. See the example below to have your mind blown.
Whenever you win too much don't you ever just get bored and feel like losing sometimes? (poker gods PLEASE don't punish me for this tweet)

— Daniel Cates (@junglemandan) April 21, 2019
#INSPIRED
Doug Polk is inspired and how could you not be? Check out this classic Phil Hellmuth clip from the 2003 World Series of Poker where he takes us through his morning routine. This video belongs in the Poker Video Hall of Fame, first ballot!
Maybe the most inspirational video I've ever watched https://t.co/o3wbM2anDq

— Doug Polk (@DougPolkPoker) April 21, 2019
Emmett Weight Loss Challenge
It's impossible to follow poker these days and not know who Randall Emmett is. Emmett entertained on Poker After Dark while tangling with Phil Galfond, made the Top 10 of the Poker Central Power Rankings for two straight weeks, and now he's involved in a serious prop bet! As seen on Scott 'BrokeMogul' Vener's Instagram account, Emmett is attempting to lose 20lbs in three weeks while Vener holds onto the scale for the time being. Which side do you like?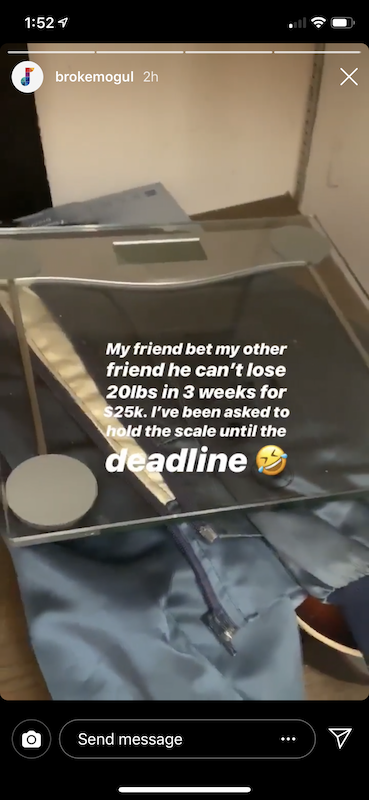 Suggestions for Five of a Kind? Send them into Poker Central on Twitter. New to PokerGO and ready for some poker action? Subscribe right now and never miss another big moment.