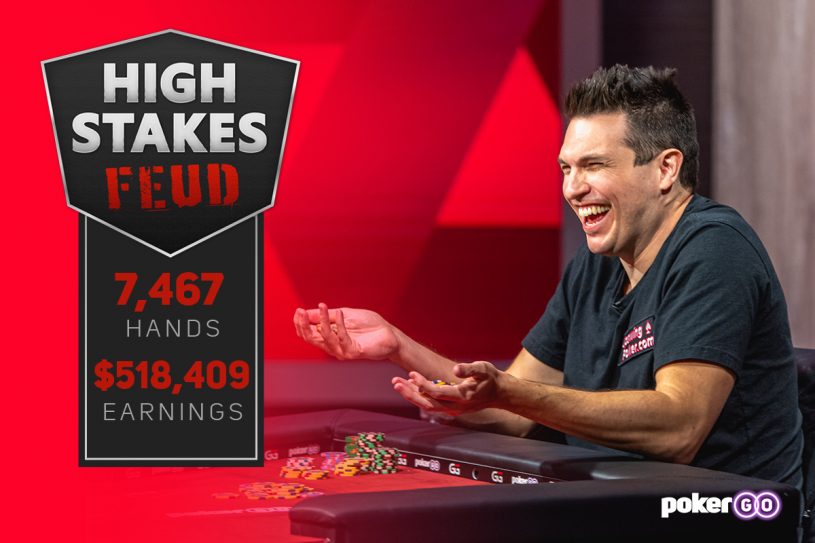 The post-Thanksgiving sessions of High Stakes Feud continued last week with Daniel Negreanu and Doug Polk playing three sessions. Following an estimated 7,467 hands in total, Polk still holds a lead of $518,409.44 following Negreanu booking three small wins.
After beginning High Stakes Feud from inside the PokerGO Studio, the match migrated to WSOP.com where Polk immediately eroded his deficit and surged into the lead. Negreanu managed to stage a fightback, but over five sessions during Thanksgiving, Polk went on an upswing of nearly $800k to reach the highest point in High Stakes Feud as he held a lead of $595,771.64.
Disclaimer: Statistics for High Stakes Feud are taken directly from either player's social media posts, or from Upswing Poker.
The 13th session of High Stakes Feud was a very timid session between Polk and Negreanu in comparison to the previous week of action on WSOP.com. Polk took the early small lead before Negreanu wrestled back the advantage with a string of pots. Negreanu surged ahead going uncalled in some river spots as his advantage moved to roughly a full buy-in. In the biggest pot of the session that was three-bet preflop, Negreanu check-called the flop and turn before both players checked the river as Negreanu's pocket tens collected the pot.
Following a short break, the second part of the session began with Negreanu getting full value with top pair against Polk's second pair as he was forced to rebuy. Polk would now be down roughly $120,000 but eventually, it would turn as Polk ended the session down only 17,780.32 after 476 hands while it would appear that Negreanu would be most upset after losing out on a big win with Polk also dodging aces multiple times.
A win is a win but this freaking guy is WORLD CLASS at folding preflop when I have Aces! I have video evidence we are now at exactly 10 straight times where he has either open folded, folded bb, or folded t a 3 bet.

4 times in today's session. 😂

— Daniel Negreanu (@RealKidPoker) December 1, 2020
Wednesday saw Polk and Negreanu play their 14th session and it began with Polk edging out into the early lead. In a four-bet pot, Negreanu found himself all-in on the turn with aces-up but it would be Polk having turned trips to prompt Negreanu to rebuy and be holding a deficit of roughly three buy-ins. Shortly after, Negreanu doubled on that same table when he flopped the nut straight, while on the second table in a four-bet pot he flopped top pair and a flush draw and was all-in on the turn against Polk's second pair and improved to a flush on the river.
That quick swing saw Polk hold a lead of just under a buy-in before that eventually dropped to even. As quickly as Polk hit the red, he soon rebounded into the black following a string of pots including one where his pocket nines struck gold on the river after Negreanu had turned trip kings. With Polk now back to roughly a three buy-in advantage, it was slowly reduced by Negreanu before he won a monstrous $185,057.06 pot with flush-over-flush to be down less than a buy-in. The session continued for a little longer before it concluded at an estimated 788 hands which saw Negreanu win approximately $13,000 over Polk.
The final session of the week occurred on Friday with Polk streaming his session on a delay and with mostly covered hole cards. Polk immediately forced Negreanu to rebuy when both players flopped top pair as the money went in on the flop with Polk's kicker playing by the river. Negreanu clawed his way back when he made a river shove that prompted Polk to fold two pair, before Polk bricked a pair and a flush draw and folded to a Negreanu river-shove.
Polk however would surge back into the lead when he scooped a pot worth over $150,000. Negreanu check-shoved the turn with an overpair and Polk snap-called holding the nut straight. It would then be Negreanu making a straight when he flopped a wheel against Polk's two pair and found a full double on the river. Negreanu then flopped a full house as Polk barrelled into him with queen-high before rivering some showdown with a pair. Soon after, Polk ran kings into Negreanu's aces in a pot totaling just over $92,000 as the session wrapped up after 452 hands with Negreanu profiting $46,581.88.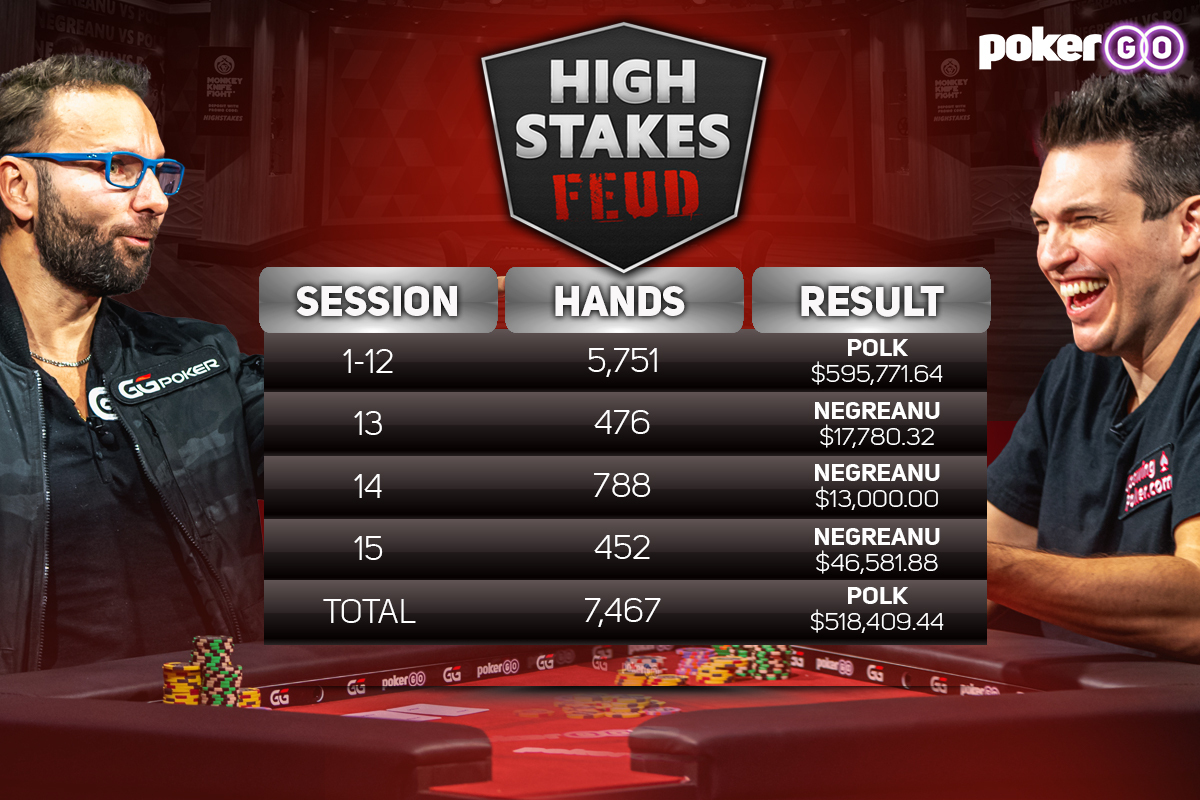 With 15 sessions now complete, 7,467 hands have been dealt of the 25,000-hand quota in High Stakes Feud. Polk holds a lead of $518,409.44 over Negreanu as Poker Central will continue to provide weekly updates of all the High Stakes Feud action until a winner is crowned.
Disclaimer: Statistics for High Stakes Feud are taken directly from either player's social media posts, or from Upswing Poker.
Connect with PokerGO on Facebook, Twitter, and Instagram. Use code "HSP" for $20 off an annual PokerGO subscription now!