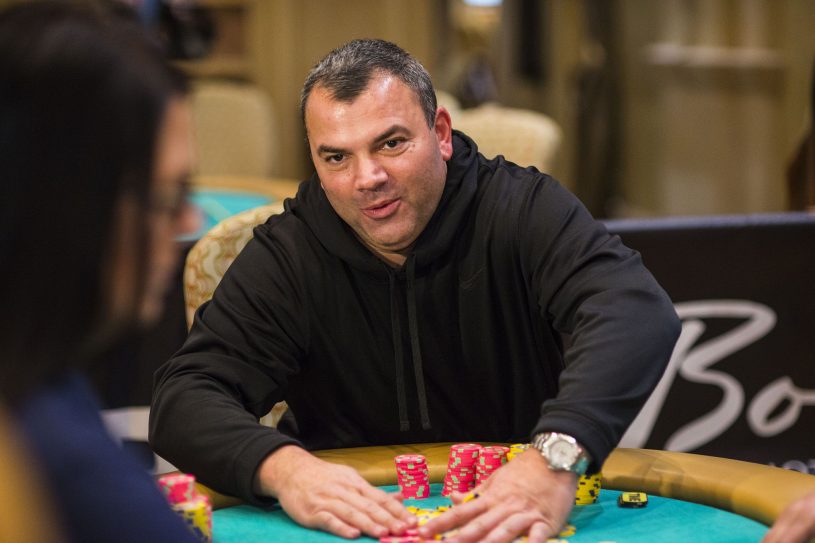 It's only a few days until the WPT Borgata Winter Poker Open final table comes to the Hyper X Esports Arena, but for chip leader Dave Farah, it's been a very long wait indeed.
KEEPING THE MOMENTUM
With just six men remaining in contention for the WPT Borgata Winter Poker Open title, they'll reconvene on March 13th to play down to a winner. Heading into play with the chip lead is Dave Farah. He's got 126 bb, but as we found out, it's been a long wait for the New Jersey player.
"I feel really good, I just wish it would be over with already! I had momentum going into it and it's been a long wait. I live in New Jersey, there have been a couple of snowstorms in between."
The hiatus may not have helped his heart-rate, but Farah is hoping that he'll be able to close out a victory that he has been waiting a long, long time for.
GETTING BACK ON THE ROAD
"I used to play full-time and once my kids came, I wasn't able to get out there and play. I play in Florida a couple times a year and go to Vegas every summer for the Main Event, but with my son and daughter's schedule, it's hard. I always go to the Borgata Winter Poker Open."
Farah knows he'll have to be on his A-game if he wants to take the trophy on Wednesday night. He's followed in the chip counts by Brandon Hall.
"Brandon Hall is a very good player. I'm definitely confident but I understand the game. A couple of hands and I could be out in sixth place."
THE WISDOM OF MATURITY
Farah's masterplan is to use his patience and position to make sure he doesn't blow his chips early. That said, he knows that poker is an unpredictable game.
"Anything's possible, I've been around poker a long time. I've seen it all. I haven't thought about the money. But I'm not 21 years old any more. When I was younger and did well at poker, the money was gone the next week. I'm smart enough to know now that the money will be put away."
BECOMING THE MAIN MAN
Farah also understands that he is the only person with 100% of their own action at the final table. He doesn't plan on blowing it and will put any money he wins to one side. That said, he is looking to return to Vegas in the summer. He has mixed memories about the WSOP Main, however.
"I play the Main Event every year. In 2015, I was one of the guys who busted on the bubble. They had it in a couple of different rooms. It took forever and I had kings versus jacks. They turned a jack on me."
Despite that experience, Farah got right back on the horse the following summer. It went a lot better.
"The year after that I went deep [Farah finished 344th). I feel like I've been playing for a long time."
NAME ON THE TROPHY?
There's one huge ambition that Farah is close to, and he is excited about the possibility of that happening on Wednesday.
"To have my name engraved on that WPT trophy would be the coolest thing. We all play these tournaments and dream of winning. But for it actually to happen would be great."
PLAYERS TO WATCH OUT FOR
Farah is arriving early and leaving late, making the most of his trip. He says that he won't change the way he's played to get this far. But he's aware of a couple of particularly dangerous players at the table.
"One kid from Florida, Ian O'Hara, is a good player. He's played a lot of hands, but the good thing is he only has 5 million in chips. I'm confident and comfortable enough to press, but we'll see. Dan [Buzgon] is tough, he's cashed, like, the most in Borgata Open history."
Farah clearly loves playing in Borgata too, as his own tournament results show. But he's looking forward to conquering one corner of Las Vegas.
"It means so much and poker is coming back. It was great 'til Black Friday and it seems like poker is on the upswing again. Hopefully I have momentum and keep on swinging going into the summer."
Farah will take his seat as the man to beat, as you can see from the full Borgata Winter Poker Open final table chip counts:
Seat 1. Ian O'Hara  –  5,100,000  (34 bb)
Seat 2. Dave Farah  –  18,850,000  (126 bb)
Seat 3. Joseph Di Rosa Rojas  –  5,800,000  (39 bb)
Seat 4. Brandon Hall  –  14,100,000  (94 bb)
Seat 5. Vinicius Lima  –  3,550,000  (24 bb)
Seat 6. Daniel Buzgon  –  9,100,000  (61 bb)
There's a massive $728,430 to be taken home by the winner and and a season-ending Tournament of Champions ticket worth $15,000 on offer too. Subscribe to PokerGO today and watch all the action as Farah and friends go for the glory on Wednesday 13th March at the Hyper X Esports Arena.