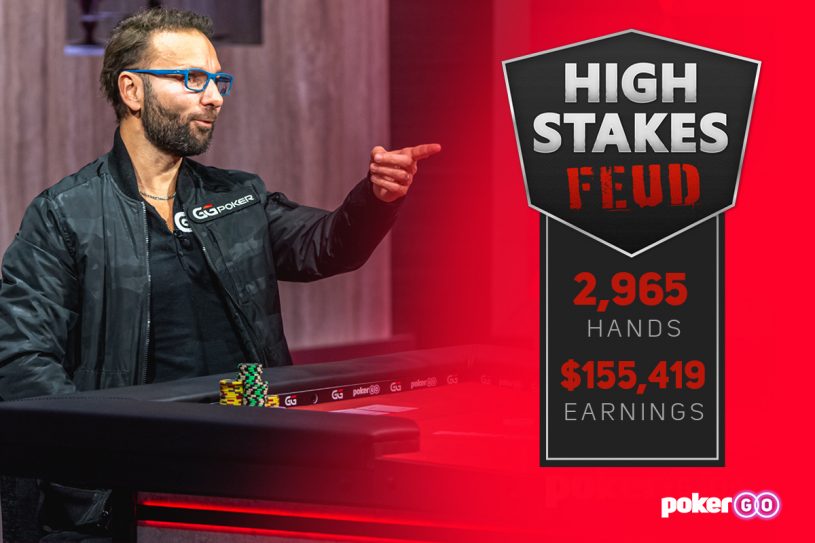 High Stakes Feud continued this week with Daniel Negreanu and Doug Polk playing an additional three sessions. Following 2,965 hands, Negreanu now holds a lead of $155,419.39 after booking two $200,000 winning sessions this week over Polk.
After the first 200 hands of High Stakes Feud were played from inside the PokerGO Studio, the match progressed to WSOP.com where Polk immediately eroded the $116,500 deficit that he had incurred in the first session by logging two winning sessions totaling over $380,000. Negreanu fought back in their fourth session of play as Polk held a $180,865.59 advantage after 1,372 hands.
The two began their fifth session of High Stakes Feud last Friday, and the match started with each trading the lead back-and-forth before Polk eventually edged out to holding a $25,000 advantage. The momentum shifted back in favor of Negreanu after he found value with his small two pair, and then went runner-runner to make a wheel against Polk's two pair to take his own lead of roughly $20,000. Negreanu then extended the lead when he rivered the nut straight against Polk's turned straight to prompt Polk to rebuy as the lead for Negreanu moved to a full buy-in.
Polk managed to regain his composure and claw his way back to even before he doubled Negreanu in a cooler. Polk flopped the nut straight, but Negreanu rivered a bigger straight and check-called all-in to double through. Polk then ran top pair into pocket aces in two pots to be down roughly $155,000 as the session was coming to a close. A few more pots went Negreanu's way before the session concluded with Negreanu winning $206,994.59 after 365 hands.
The sixth session of High Stakes Feud took place this Monday and it would be the longest session so far coming in at 637 hands. Negreanu immediately was off to another hot start which included flopping quad tens. However, Polk would double up on that same table just moments later when he was all-in with pocket aces against Negreanu's two pair. Polk improved to a superior two pair on the river, and the two were nearly back to even. Polk surged ahead, and then made a full house to be up roughly $40,000.
About five minutes later, Negreanu held the bottom end of a straight on a three-diamond board and shoved the river for just over pot. Polk tank-called with just ace-king high – but the ace of diamonds – and the match was sitting roughly even between the two. The two continued to trade blows before Polk surged ahead after turning trips and triple barrelling before the session concluded with Polk winning $93,542.68.
The seventh session played out on Wednesday and it would be Negreanu taking the early lead when he caught Polk bluffing with ace-high against his top pair. Several hands later on the same table, Polk committed his stack with a pair and a flush draw but was up against Negreanu's top pair and failed to improve and was now stuck roughly $60,000. Negreanu kept adding to his lead as it progressed to roughly $100,000 while one table saw him sit with over $200,000 in his stack.
On the other table, Negreanu found himself all in holding two overs and a flush draw against Polk's pocket queens. The flush came in on the river for Negreanu and his lead was approaching $200,000. Polk managed to bring his deficit down to roughly $150,000, but Negreanu put his foot on the pedal and scooped in a few late pots before the session ended with Negreanu winning $222,832.70 after 591 hands.
Dont get it twisted, I'm gonna win the challenge.

Remember this tweet.

— Doug "Truck Driver" Polk (@DougPolkVids) November 19, 2020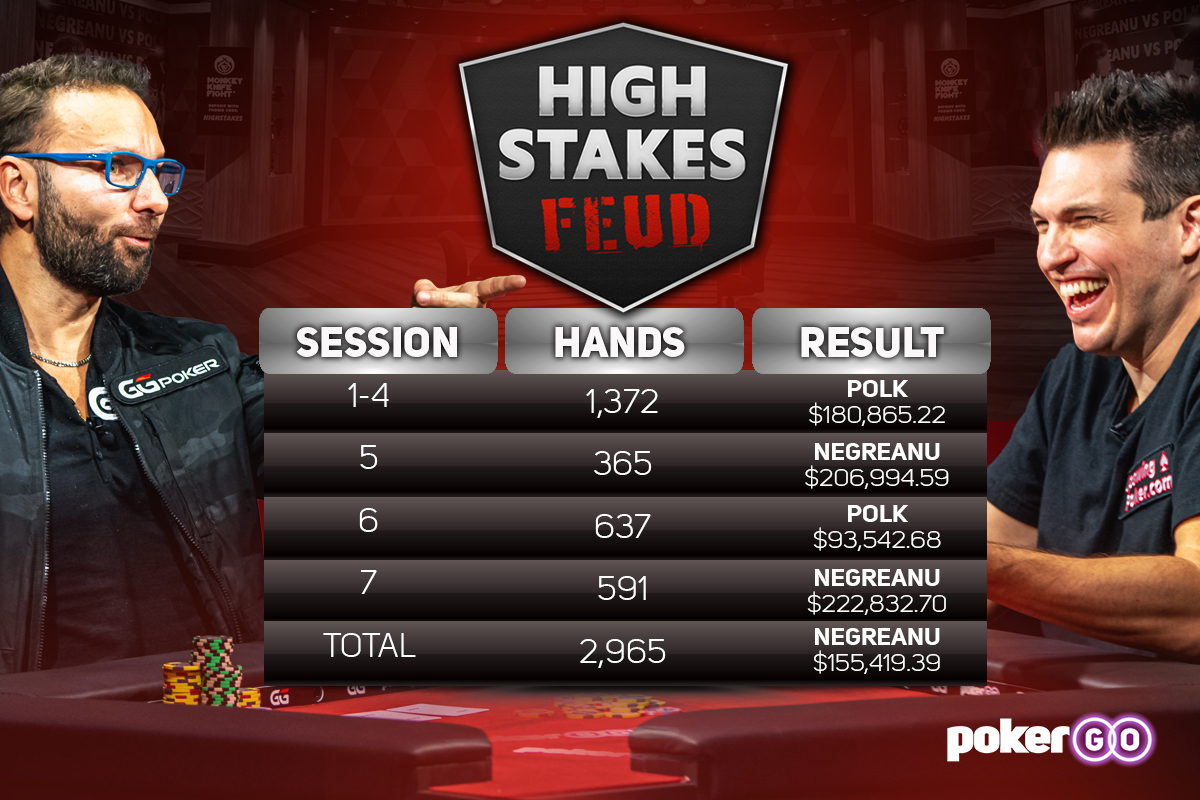 With seven sessions now complete, 2,965 hands have been dealt of the 25,000-hand quota in High Stakes Feud. Negreanu holds a lead of $155,419.39 over Polk on the back of two $200,000-plus profit sessions for "Kid Poker" as Poker Central will continue to provide weekly updates of all the High Stakes Feud action until a winner is crowned.
Connect with PokerGO on Facebook, Twitter, and Instagram. Use code "HSP" for $20 off an annual PokerGO subscription now!