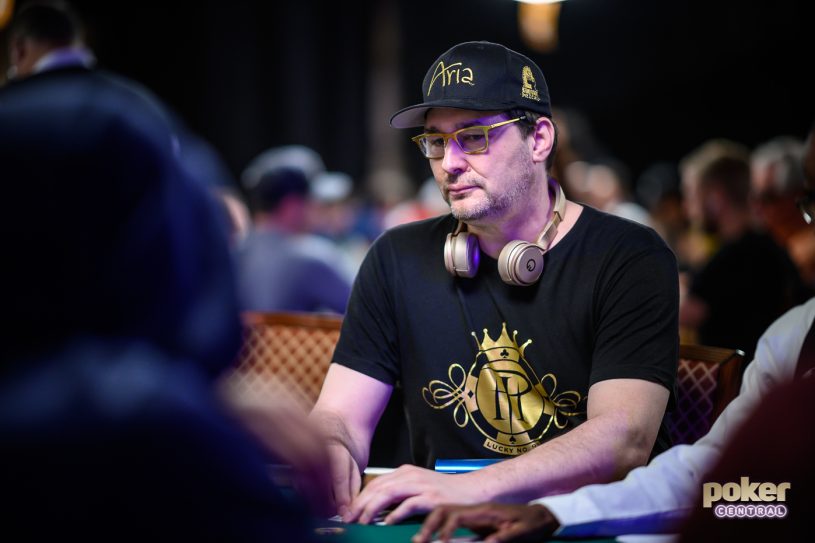 After almost three weeks at the felt, some poker players will start to lose a grip on reality. Not the many pros we feature here in our catch-up of what's been said online about the World Series of Poker. From face-masking to Father's Day, everyone's got their feet on solid ground.
CONNIFF ASKS FOR WSOP TO UNCOVER RULE-BREAKERS
Asher Conniff has snapped this player at the felt, covered from the top of his/her head to the bottom of his/her chin in order not to give anything away, which directly flouts a pretty important WSOP rule. Will we see changes in the World Series as it progresses?
This shit should not be allowed pic.twitter.com/Lf2KsbGhWf

— Asher Conniff (@misterashmoney) June 7, 2019
SHACK-HARRIS IS CLOWNING AROUND
There have been some innovative ideas this World Series for WSOP events, but the addition of a certain party favorite at the rail? We are honking our metaphorical noses.
Hiring a clown to stand on the rail. Every time somebody busts, they're given a balloon to hold for the walk of shame #WSOP

— Brandon Shack-Harris (@Oscillator_WSOP) June 14, 2019
KESSLER CUTTING CORNERS
After some distinctly un-Kessler-like behaviour at the 2019 World Series, it would appear that normal service has been resumed…or rather, no service required.
I'm not saying @AllenKessler is cheap but he is drinking from a @Chik_Fil_A cup on a Sunday. 🤔 pic.twitter.com/ivydwmPZRl

— Robert Goldfarb (@robertgoldfarb) June 16, 2019
HELLMUTH THANKS FATHER FOR HIS INFLUENCE
Record WSOP bracelet holder Phil Hellmuth paid tribute to his Dad on Father's Day as Hellmuth Senior came out to join his son for brunch in Vegas.
Happy Fathers Day Dad! You've been an amazing father for 54 years, thank you. You taught me perfect morals and ethics, and instilled great values in me. You have lead by example. Blessed to have you and Mom here in Vegas w me now for Fathers Day brunch #POSITIVITY #PHNiceLife pic.twitter.com/kWknR8ZUAB

— phil_hellmuth (@phil_hellmuth) June 16, 2019
VAN ZADELHOFF ENJOYS A SLOW TABLE
Steven van Zadelhoff had previously made a complaint about the WSOP antiquated clock system, but he didn't mind a slow table in his latest event.
When you're too busy to complain on Twitter about the slow structure of a tournament, because you are actually playing poker 💪🤣🔥 #wsop #doublestack #thosekids #gimmegimme #million pic.twitter.com/2qS5xbavYN

— Steven Van Zadelhoff (@zvzff) June 17, 2019
DAN ZACK HOLDS STRONG LEAD IN PLAYER OF THE YEAR RACE
Will Dan Zack ever be caught? His latest ranking points saw him crawl over the 2,000-point mark, as you can see in the up-to-date Top 10 below. The American has cashed in over a quarter of the tournaments he's played, for a total of almost $200,000 in results and one, rather priceless WSOP bracelet.
Top 10 WSOP POY Leaderboard
| | | |
| --- | --- | --- |
| Position | Player | Points |
| 1 | Daniel Zack | 2,093.00 |
| 2 | Scott Clements | 1,642.02 |
| 3 | Robert Campbell | 1,605.08 |
| 4 | Daniel Strelitz | 1,597.26 |
| 5 | Stephen Song | 1,503.76 |
| 6 | Frankie O'Dell | 1,447.89 |
| 7 | John Gorsuch | 1,431.95 |
| 8 | Isaac Baron | 1,396.76 |
| 9 | Benjamin Heath | 1,393.92 |
| 10 | Femi Fashakin | 1,384.62 |
Who'll win a WSOP bracelet today and become part of poker history at the 2019 World Series of Poker? Watch the action unfold live on PokerGO and CBS All Access as more coverage of the 2019 WSOP bracelet events takes place. Selected bracelet events will be streamed exclusively on CBS All Access in the United States.