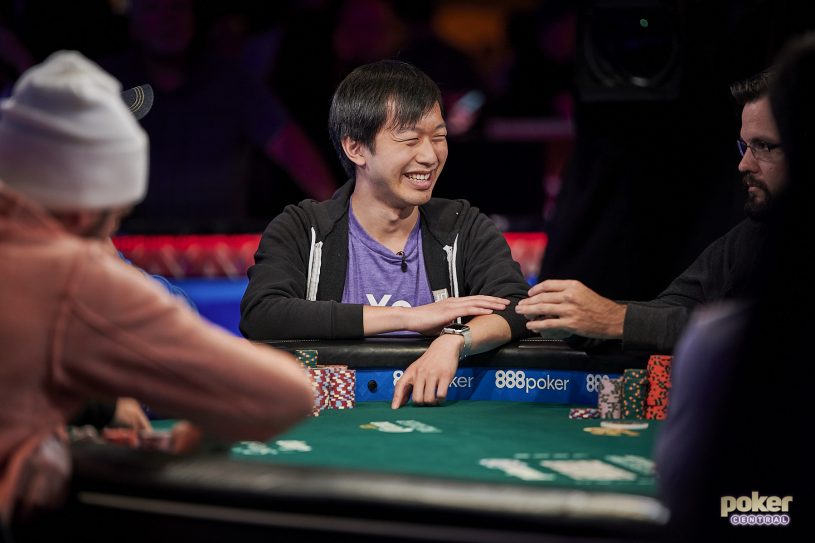 The pressure of the World Series of Poker Main Event has reached heights that can make even the biggest pros cave in but first-timer Timothy Su seems unphased. The last two days, Su has been in full control but when asked about what the key to his success is, he plays it cool.
On the fence about his career, Su found himself split between music school and going into software engineering, all three things of interest he sees as being very closely related.
"There's a lot of parallels between music, poker, and software in terms of taking liberties in choosing what you think is correct or not, and I like that."
Music, for Su, was something he grew up with as his parents had him in piano and violin lessons for an early age before he transitioned to playing the oboe. Even though music was, and still is, a big passion of his, he ultimately chose the practical route and got into software engineering.
Now, Su combines his job with his two passions, one of which might bring him a $10,000,000 payday when it's all said and done.
"It's a lot of running good," Su smiled. "Sometimes the cards just play themselves and when you're running hot, you're running hot."
Hailing from Boston, Massachusetts, Su describes himself as a "nerd", and works as a software engineer writing code for a living with poker and music as his two big hobbies.
"Poker, to me, was a very surprisingly freeform way to be creative but also make some money. I started playing casually online and in dorm rooms. It's every poker player's dream to play in the Main Event and win it because that's where the best and the brightest compete."
Su is now amidst a crazy run that might end up turning him into a poker legend as he's sitting on 45 million chips with 45 players remaining. Just now, Su eliminated Sam Greenwood in a monster pot that extended his lead. Tune into PokerGO right now for the latest action from the biggest tournament in the world.