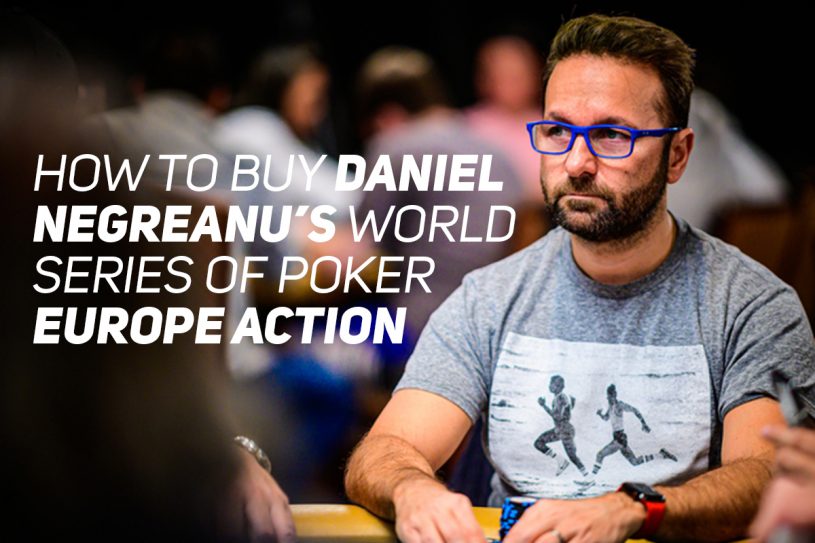 The 2019 World Series of Poker was highlighted by an exciting sweat for dozens of poker fans and players who were able to obtain a piece of Daniel Negreanu's action in all events. With World Series of Poker Europe just a few weeks away, Negreanu has made it public that he will be offering up his action again for the 15 events in Rozvadov and we have the latest on how this will play out.
The 2019 WSOP in Las Vegas
Looking back at this summer, Negreanu posted on Twitter that he would be selling action for the 2019 World Series of Poker and the response was overwhelming, to say the least. The five-time WSOP bracelet winner offered his action in three different tiers, low, mid, and high, at no mark-up and the interest was enormous.
After his action went on sale on May 25th, a major problem occurred as all packages were sold out in less than a minute. A software glitch allowed for fans to buy pieces despite them already being sold out and Negreanu made a big gesture by refunding all investors that missed out as well as the $60,000 in transaction fees.
When it was all said and done, after playing 58 events for a total of $760,000 in buy-ins and $2,042,752.92 in earnings across 16 cashes, Negreanu recorded an ROI of 168.78%. The numbers across all three packages looked like this.
| | | | | | | |
| --- | --- | --- | --- | --- | --- | --- |
| Level | Event | Buy-ins | Cashes | Winnings | ROI | Action sold |
| Low | 29 | $48,800 | 9 | $25,333.40 | -48.09% | 10% |
| Mid | 24 | $186,200 | 6 | $291,579.52 | 56.59% | 25% |
| High | 5 | $525,000 | 1 | $1,725,838 | 228.73% | 50% |
WSOP Package breakdown based on $100. Here is your return less fees:

Low $81.82
Mid $137.37
Hi $318.21

Net return for investors is $481,026.82

Lastly, you're welcome!

😂😂😂

— Daniel Negreanu (@RealKidPoker) July 18, 2019
Daniel Negreanu's Action at the 2019 World Series of Poker Europe
Yesterday, Negreanu Tweeted that he will be releasing his World Series of Poker Europe package which will come down to 15 total events for total buy-ins of €449,600. Including possibly re-buys the package will be selling at a total price of €1,211,700.
Speaking to Negreanu last night about the action that he's selling, he said, "The plan is to offer pieces first to those that unfortunately had to be refunded. We know the order in terms of who was closest, and we will start there and go down the list of the 8,000 or so people. If there is any leftover, we will open it up to the public. There will be no markup either way."
Similar wording was expressed in a Tweet he sent out just prior to us catching up with him. If you were unfortunate to miss out this summer, this might be your chance to get a piece of Negreanu as he chases World Series of Poker Player of the Year honors in Rozvadov. Currently, Robert Campbell leads the 2019 World Series of Poker POY race followed by Shaun Deeb, Negreanu, Dan Zack, and Phil Hui.
WSOPE package will be released this week with those missing out on the WSOP packages getting priority.

If that's you, check your emails this week, follow here on Twitter, and you can also check the FB group for info related to how and when you can buy.

— Daniel Negreanu (@RealKidPoker) September 23, 2019
Negreanu's biggest result at the 2019 World Series of Poker was a runner-up finish in the $100,000 high roller where he lost heads-up to Keith Tilston. Relive that entire final table on PokerGO right here. New to PokerGO? Subscribe right now.