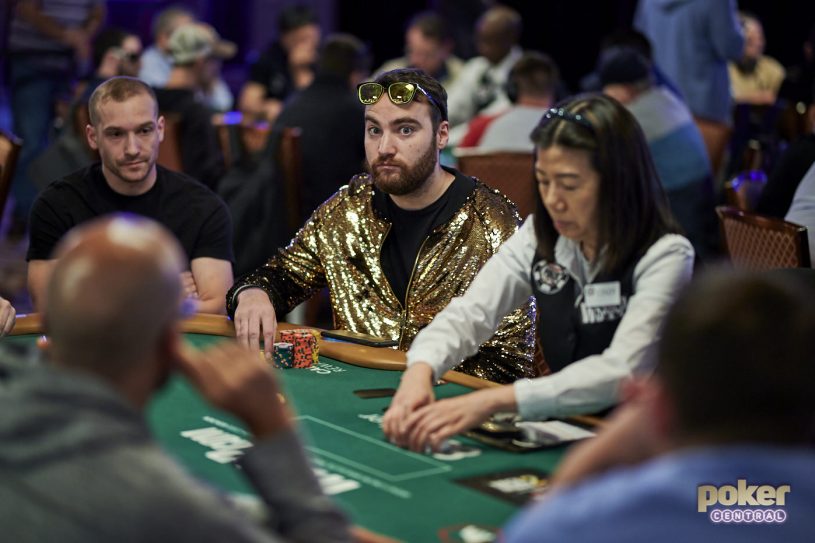 Busting the Main Event is a feeling like no other in poker. You're going to have to wait another year to play in the greatest tournament in poker, you will have to watch as your vanquisher goes about attempting to win it instead of you with your chips, and, well, it hurts like a punch in the gut. It's the dream dying.
ANDERSEN JUNIOR IS SPOT ON
There are good ways and bad ways of dealing with the pain of leaving the WSOP Main Event, but few better than this, from an 11-year-old. He's going to be one to watch in 10 years time.
I mean…how next level is my kid's main event bustout support? Literally the best. 😭😂 pic.twitter.com/3TUd0gNACA

— Danielle Andersen (@dmoongirl) July 10, 2019
If that wasn't good enough, there's a serious intelligence behind his support. Either that or he's wicked smart about getting the pizza he wants.
His legendary status grows. 🤣💸#MyOffspring #MakeItRain #JustLikeMom pic.twitter.com/E6btwYu3hP

— Danielle Andersen (@dmoongirl) July 10, 2019
BRINGING THE POWER
Chad Power managed to get there with pocket queens against pocket kings on a spectacular day of drama. Gues what those folks back home are asking him?
Day 5 of the main event is about that time where your friends from home start asking you if you count cards and have a good poker face.

— Chad Power (@Chad_Power) July 10, 2019
SLIDE AWAY
Dan 'Jungleman' Cates visited friend and online foe Ben 'Sauce123' Sulsky to check out his water slides. Yes, that's plural. Three of them. We need to know – are they color-graded for danger?
This just in, Ben Sulsky's (high stakes super pro) house has THREE water slides @PhilGalfond

— Daniel Cates (@junglemandan) July 9, 2019
GREENWOOD THE GENTLEMAN
Crushing souls in the Main Event isn't enough for Sam Greenwood, he has to be a really nice guy too. He's got it all..but could he be about to become the Main Event winner?
Cashed the main event with my brother, @BigSey93 said my dad was one of the nicest people he's ever met and got berated by the lady who called Dan Shak a "pussy loser" three fulfilling and unforgettable experiences in the WSOPME. Day 5 tomorrow.

— Sam Greenwood (@SamGreenwoodRIO) July 10, 2019
SEYMOUR FANS, APPLAUD THEM
Richard Seymour has so many fans inside poker and NFL that he could very well be fending off fan mail with more defensive dexterity that he had to use to win three Super Bowls.
The guys are locked into #WSOP50 Main Event and enjoying the run former @Patriots star @BigSey93 is making in Las Vegas… but will we ever see @richeisen enter?@WSOP @RealKidPoker @MagicAntonio @PokerGo pic.twitter.com/TUELJo4L1N

— Rich Eisen Show (@RichEisenShow) July 11, 2019
MONEYMAKER MADE UP
Ask Chris Moneymaker how his WSOP Main Event went? Go on, give him a poke.
My main event. Thanks for the awesome rail. Couldn't be happier with result and the future pic.twitter.com/M3LoabTP4A

— Chris Moneymaker (@CMONEYMAKER) July 10, 2019
AUSMUS PROUD OF… NOTHING
To all those players who say it's the Main Event or nothing this time of the World Series, Jeremy Ausmus says…actually, they're right.
I made day 2 of a poker tournament no one cares about right now. My chipstack: inconsequential. Cards are back in the air at who gives a shit #WSOP50

— Jeremy Ausmus (@jeremyausmus) July 10, 2019
ZACK ON THE ATTACK IN PLAYER OF THE YEAR RACE
Does Dan Zack want to win the WSOP Player of the Year? You bet he does….
Selling to tomorrow's 100k NL. Can't promise I'm +EV although if not I certainly hope it's close. If you want to gamble or help me prevent two @shaundeeb posters on the wall lmk

— Daniel Zack (@Dan__Zack) July 11, 2019
….and here's where he currently sits on the leaderboard. It's Top 5 or nowhere, this close to the line.
| | | |
| --- | --- | --- |
| Position | Player | Points |
| 1 | Robert Campbell | 3,079.31 |
| 2 | Daniel Zack | 3,020.71 |
| 3 | Phillip Hui | 2,881.67 |
| 4 | Shaun Deeb | 2,706.67 |
| 5 | Jason Gooch | 2,536.96 |
You can watch the WSOP Main Event action unfold on ESPN and check out additional coverage on PokerGO throughout the biggest poker tournament in the world and bracelet event coverage on CBS All Access.