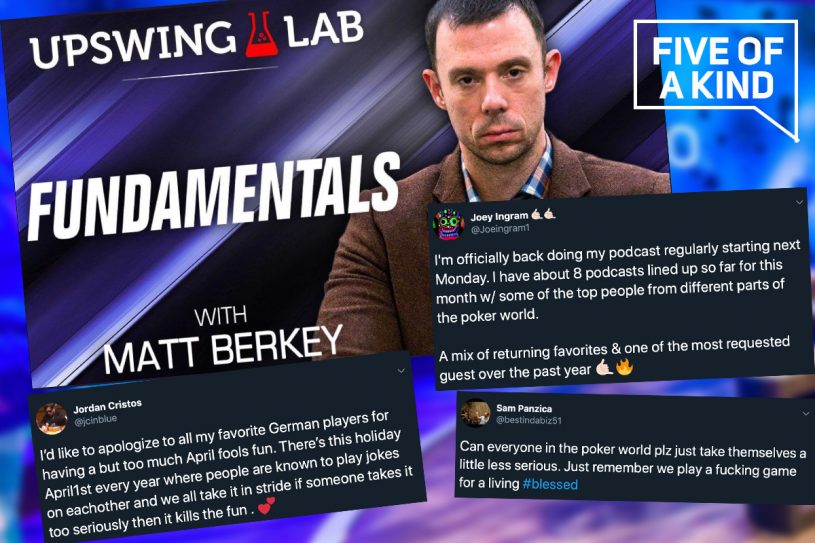 Every week, Five of a Kind presents you with some of the best Tweets and other social media posts in the world of poker. We found some more gems this week, so let's dive in!
Don't Joke with The Germans!
Serial tanker and U.S. Poker Open event winner Jordan Cristos did not get the laughers on his hand when he took some jabs at the German pros during an April Fool's back and forth on Twitter. Cristos eventually back peddled on this jokes, or was he really needling the boys in Germany?
I'd like to apologize to all my favorite German players for having a but too much April fools fun. There's this holiday April1st every year where people are known to play jokes on eachother and we all take it in stride if someone takes it too seriously then it kills the fun . 💕

— Jordan Cristos (@jcinblue) April 2, 2019
April Fool's – Doug Polk Style
What's up guys, Doug Polk here! Polk threw some fun shade at some of the game's most recognizable faces during a string of April Fool's Tweets that got him some serious interaction! The likes of Phil Hellmuth, Doc Sands, Allen Kessler, and Viktor Blom were part of the joke but we've decided to highlight the creative plays of Matt Berkey and Will Kassouf in the Tweet below.
— Doug Polk (@DougPolkPoker) April 1, 2019
Panzica's Wisdom
Sam Panzica – winner of the last WPT Shooting Star event for $1.3 million as well as the bestbet Bounty Scramble WPT Jacksonville – made a public service announcement this week. Panzica thinks everyone playing poker for a living should take themselves a bit less serious and as the interactions indicate, most seem to agree with the winner of $4.2 million in live tournaments.
Can everyone in the poker world plz just take themselves a little less serious. Just remember we play a fucking game for a living #blessed

— Sam Panzica (@bestindabiz51) April 2, 2019
Return of the Joey
Joey Ingram is always up to something and this time he's here to announce his return to regular podcasts. Best of luck to all involved, as Joey always brings the heat!
I'm officially back doing my podcast regularly starting next Monday. I have about 8 podcasts lined up so far for this month w/ some of the top people from different parts of the poker world.

A mix of returning favorites & one of the most requested guest over the past year 🤙🏻🔥

— Joey Ingram 🤙🏻🤙🏻 (@Joeingram1) April 2, 2019
Mercier Family Life
The Mercier family has plenty of poker accomplishments to be proud of, but they are all in on family life right now with little Marco growing up fast and another boy on the way! Whenever there are chips involved, the poker habits return quickly as evident by this video of Jason shuffling what looks to be some of Marco's toys!
We don't miss poker at all pic.twitter.com/57AEdrCwHr

— Natasha Mercier (@natasha_mercier) April 3, 2019
Suggestions for Five of a Kind? Send them into Poker Central on Twitter. New to PokerGO and ready for some poker action? Subscribe right now and never miss another big moment.