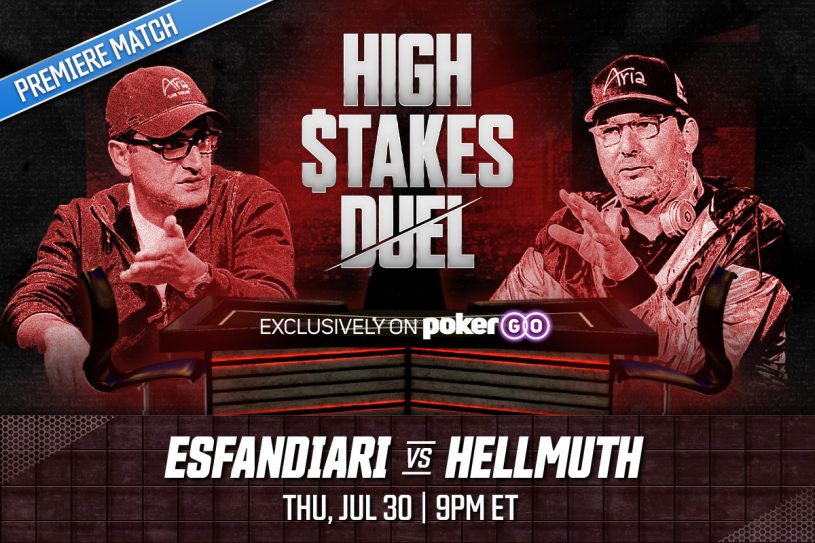 High Stakes Duel is PokerGO's newest original series that is set to premiere free and exclusively on PokerGO this Thursday, July 30, at 9 p.m. ET.
The first round of High Stakes Duel was announced last week, and would see a $100,000 heads-up duel between Antonio Esfandiari and Phil Hellmuth. Whoever wins will advance to the next round with the loser receiving the option to challenge for a rematch – and if the loser declines his option to have a rematch – a seat against the winner will be offered to any player willing to put up the money. The stakes will double each round with a potential total prize pool of $12.8 million in the final round!
"This series is different than anything we've created before in poker," said Mori Eskandani, Executive Producer at Poker Central. "If you're a fan of the game, you definitely don't want to miss this. The stakes and rivalries will be on another level."
The first two players in High Stakes Duel will pit The Magician against The Poker Brat. Esfandiari versus Hellmuth. It's not just money on the line for these two. It's about pride.
"For 10 years I've been challenging Phil to a heads-up match where the winner shoots the loser with a taser gun – so going head-to-head in 'High Stakes Duel' has been a long time coming," Esfandiari said. "The idea that the winner has to go double-or-nothing at least two more times after the first match is brilliant."
"Antonio and I have a long history of playing poker together," Hellmuth said. "From the time he came to my house as a young man and insisted we play heads up (he won), to the time we played televised cash games together (he won), to the NBC Heads Up Championship in 2005 – I won it all. Looking forward to this battle!"
Are Esfandiari and Hellmuth rivals? Or are they just adversaries looking for some bragging rights over the other? Looking at each of their respected poker careers, it's hard to pick which one comes out on top. Hellmuth may have 12 more WSOP bracelets then Esfandiari, but The Magician has two WPT titles – which is two more than The Poker Brat has. Both players have amassed an astonishing amount of lifetime tournament earnings with Esfandiari having won $27,810,802 to Hellmuth's $23,417,333, as the tale of the tape falls as follows:
| | | |
| --- | --- | --- |
| Antonio Esfandiari | Tale of the Tape | Phil Hellmuth |
| 41 | Age | 56 |
| The Magician | Nickname | The Poker Brat |
| 3 | WSOP Bracelets | 15 |
| 2 | WPT Titles | 0 |
| $27.8 million | Winnings | $23.4 million |
| 15th | All Time Money List | 22nd |
| Shoes Off | Style | #POSITIVITY |
The WSOP bracelets, WPT titles, and #POSITIVITY will be put aside this Thursday, July 30, as both Esfandiari and Hellmuth square off for round one of High Stakes Duel.
Will we see an instant rematch announced by the loser, or will he play possum instead? The only way to find out is to watch the premiere of High Stakes Duel for free and exclusively on PokerGO at 9 p.m. ET this Thursday!
Connect with Poker Central on Facebook, Twitter, Instagram as well as PokerGO on Facebook, Twitter, and Instagram.