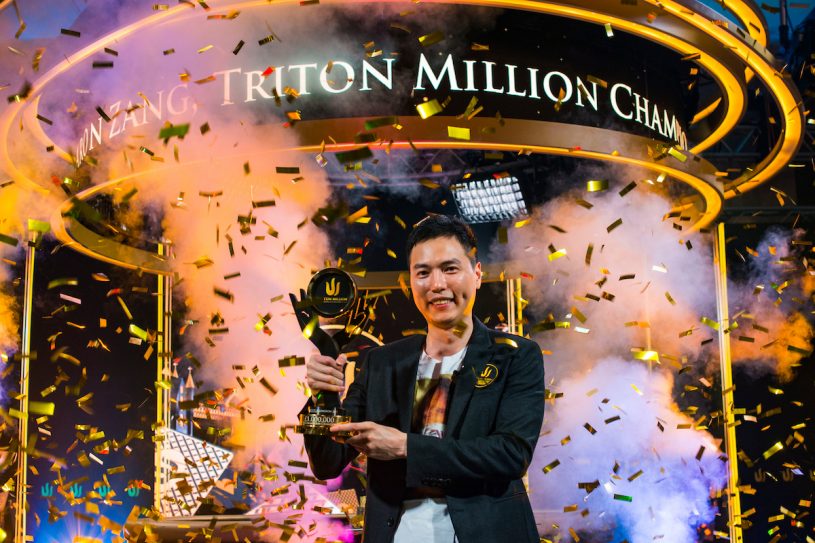 Aaron Zang has done it! The Chinese businessman bested a field of 54 millionaires to take home the £13.7 million first prize after a heads-up deal with Bryn Kenney who secured a £16.8 million payout in the Triton Million.
The final table that was streamed live and for free on PokerGO started with eight players lead by Vivek Rajkumar who held a commanding chip lead with all eyes on the £19 million top prize. Rajkumar had 150 big blinds coming into the final table with his next closest rival, Stephen Chidwick, had 82 to work with.
The narrative of the start of the final table was controlled by a string of Bill Perkins doubles ups and a beautiful Al DeCarolis bluff versus Timothy Adams. Starting out as the short stack, Perkins managed to chip up to fifth place while Timothy Adams slipped into the short stack position.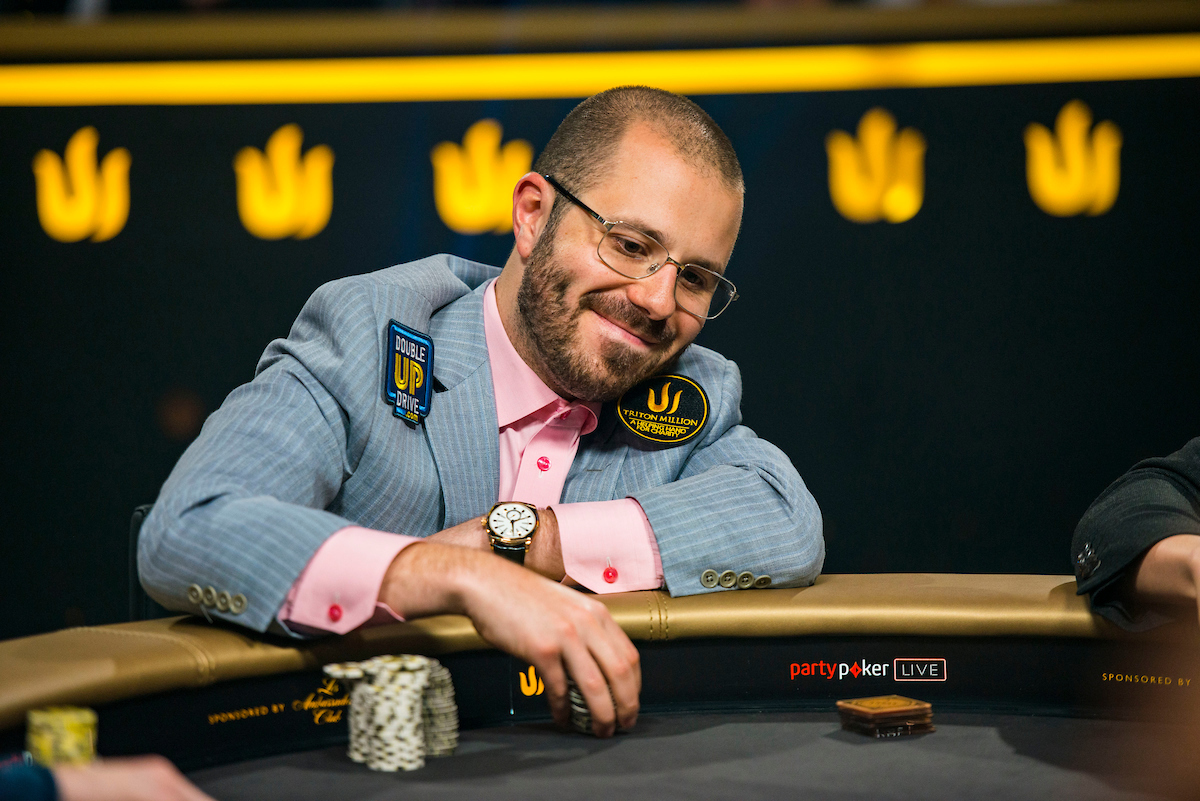 Timothy Adams Finishes 8th (£1,4 Million), Alfred DeCarolis 7th (£1.72 Million), and Dan Smith Takes the Chip Lead
Despite doubling through Chidwick, Adams was the first to get eliminated when he ended up all in with pocket kings against the ace-ten of Rajkumar. For a pot worth 11 million chips, Adams saw the board bring an ace that lead to his departure for £1.4 million.
Right after Adams' elimination, Chidwick doubled through Rajkumar calling for his tournament life with top pair weak kicker to put him right back in it. On the very next hand, DeCarolis moved all in over a Chidwick raise only to get snap-called by pocket aces. DeCarolis tabled ace-three of hearts and did not get any help from the board.
In the orbit that followed, Rajkumar lost the chip lead for the first time since midway through Day 2 of this event. Dan Smith got his stack into the middle with jacks against Rajkumar's top two pair on ten-nine-four. The pot worth 17.5 million was decided on the river when Smith hit a third jack to stay alive and take the lead.
Bill Perkins Eliminated in 6th (£2 Million), Vivek Rajkumar Gets 5th (£3 Million), and Bryn Kenney Takes Control
After Aaron Zang doubled back into the game through Dan Smith, it was Perkins' short stack that couldn't find any help against the aces of Bryn Kenney. Perkins shoved king-ten overtop of Kenney's raise and departed in sixth place. A few hands later Kenney doubled through Zang with nines against eight-seven of diamonds as an aggressive move by the Chinese businessman backfired.
On the hand that followed, Kenney grabbed the tournament chip lead when he eliminated Rajkumar in fifth place. Kenney, once again, picked up aces and this time he was up against ace-eight for another massive payjump. Rajkumar came into the final table with a big chip lead but he couldn't close it out.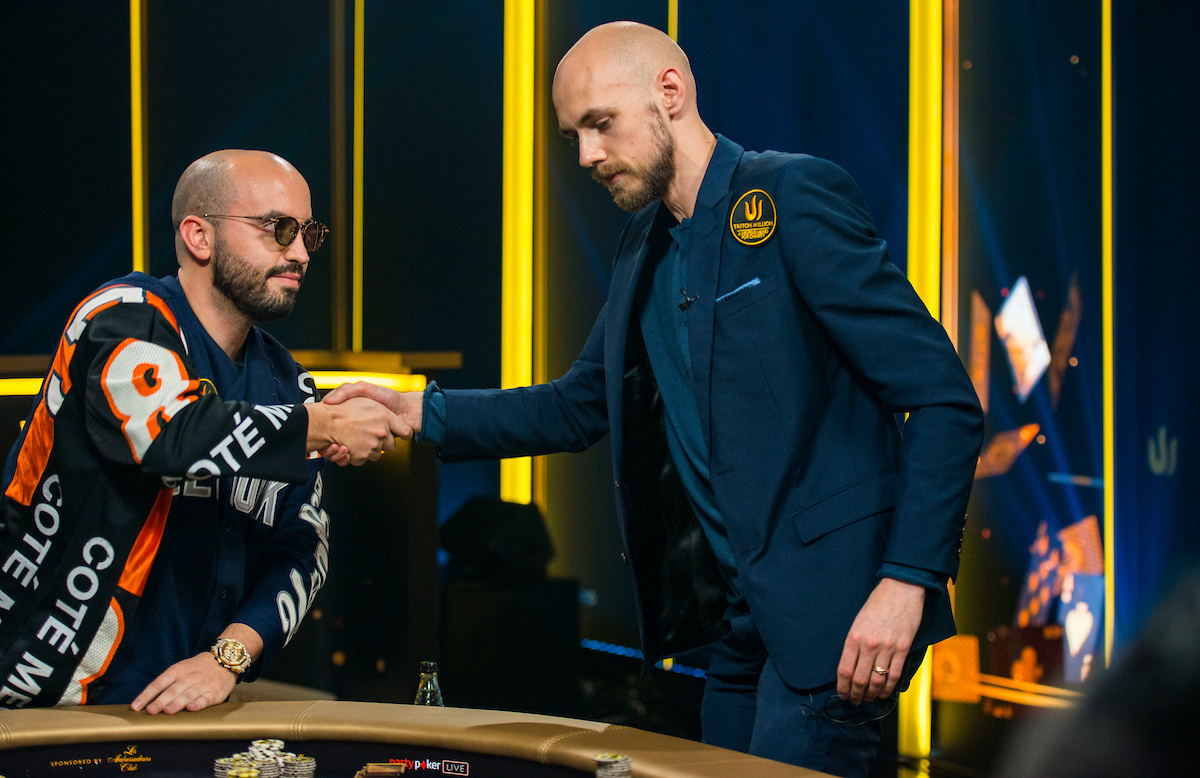 Massive Chidwick-Kenney Clash Defines the Final Table Outcome
Arriving at four-handed play, Aaron Zang was sitting on just 2.5 million chips versus Chidwick's 9.4 million, Dan Smith with 20 million, and chip leader Bryn Kenney sitting on 21 million. No fewer than seven hands later, Zang had the chip lead, and Smith found himself nearly tied for the short stack with Chidwick.
In the orbits that followed, Chidwick battled his way into second place only to get shoved on by Kenney after he raised with two sevens. Zang and Smith combined had equal to Chidwick's stack but he opted to call the shove to be up against Kenney's king-jack for a whopping 27 million chip pot.
The board gave Kenney a winning pair of kings and Chidwick took home £4.41 million for his fourth-place finish. At this point it was clearly Kenney's event to lose with nearly 40 million chips versus the combined 14 million for his two remaining opponents.
Dan Smith Busts 3rd for £7.2 Million as Zang Hangs Tough
It bears repeating that every single elimination carried the added gravity of potentially life-changing money even for pros competing at this level. With his massive chip lead, Kenney kept the pressure on and put both his opponents all in from the button. Smith called all-in with ace-ten after which Zang folded ace-nine in the big blind. Kenney tabled queen-ten of hearts and won the hand after the board brought him two queens.
Heads-up action started with Zang sitting on just 9.8 million chips but he quickly closed the gap. After doubling with sixes versus king-queen, Zang made a full house with king-seven nearly doubling against when Kenney followed through with a bluff until the river.
Aaron Zang battles back to beat @BrynKenney for the @tritonpoker Million title! 🔱💰🏆
Zang wins £19,000,000, Kenney goes 🔝 of the all-time money list! #TritonMillion pic.twitter.com/bwl9CwgiTo

— PokerGO (@PokerGO) August 3, 2019
Aaron Zang Wins the Biggest Buy-in Tournament in Poker History
On the final hand of the tournament, Zang raised to 1,000,000 with eight-five of diamonds and Kenney defended his big blind with ace-six of spades. The flop brought out eight-four-three with two spades on which Kenney check-raised the 2 million bet to 5.775 million.
Zang moved all in after getting check-raised and Kenney called to created a pot that included all but four million of all the chips in play. Zang had Kenney covered and found himself two cards away from writing poker history.
The turn brought the nine of clubs and the river the king of diamonds to crown Aaron Zang the 2019 Triton Million champion for a £13,779,491 payday. Due to a heads-up deal, Kenney received the largest payout in poker history for £16,890,509, which after conversion becomes the first-ever $20 million cash in poker history.
Triton Million Payouts
Name
Country
GBP Payout
USD Payout
1
Aaron Zang
China
£13,779,491
$16,754,497
2
Bryn Kenney
United States
£16,890,509
$20,537,187
3
Dan Smith
United States
£7,200,000
$8,719,164
4
Stephen Chidwick
United Kingdom
£4,410,000
$5,340,488
5
Vivek Rajkumar
India
£3,000,000
$3,632,985
6
Bill Perkins
United States
£2,200,000
$2,664,189
7
Alfred DeCarolis
United States
£1,720,000
$2,082,911
8
Timothy Adams
Canada
£1,400,000
$1,695,393
9
Wai Leong Chan
Malaysia
£1,200,000
$1,459,081
10
Chin Wei Lim
Malaysia
£1,100,000
$1,337,491
11
Winfred Yu
Hong Kong
£1,100,000
$1,337,491
Want to watch more exciting poker action? Subscribe right now to PokerGO for more than 100 days of live poker action every single year including an extensive on-demand library of poker action and original content. Follow Poker Central and PokerGO on Twitter to stay up to date with all the latest poker action.