The U.S. Poker Open has been a who's who of poker greats, and with excitement did we notice that Antonio Esfandiari jumped into the $25,000 No Limit Hold'em Event #5. Esfandiari's absence in the first four events was noticed, but for the 39-year old married father of two, the times of playing poker night and day, living the quintessential 'poker player lifestyle' and turning the Las Vegas nightlife scene upside down are all but a distant memory.
"It's pretty simple," Esfandiari said about the priorities in his life these days, "You just always take care of your family and spend as much time as you can with them. Only when everything is good and everyone's happy, and you've had a lot of quality time with everyone, then you can start looking to do a little one or two day escape here and there. So, family first 100% and when I have time to get away I act on it."
Already a highly accomplished professional with two World Poker Tour titles, a World Series of Poker bracelet and as one of only five players to have appeared on every season of High Stakes Poker, Esfandiari had nothing to prove when he won the first ever million dollar buy-in tournament, the Big One for One Drop in 2012.
However, by winning that event Esfandiari's star rose even further, taking home the biggest first prize in poker with $18 million and becoming the leader on poker's all-time money list. Esfandiari stayed in the No. 1 spot for two years, but regaining ground or striving for big poker accomplishments is no longer at the forefront of his mind.
"Obviously my desire to have poker success was a lot stronger back in the day. Once I had kids, my priorities in life just completely changed. Now I just want to make sure that my kids are taken care of, the wife is happy, and everything else is secondary. My poker goals and aspirations are not like they used to be. It's not to say that I don't want to do well, but I only have so much energy units in my life and body, and most of it goes to the kids."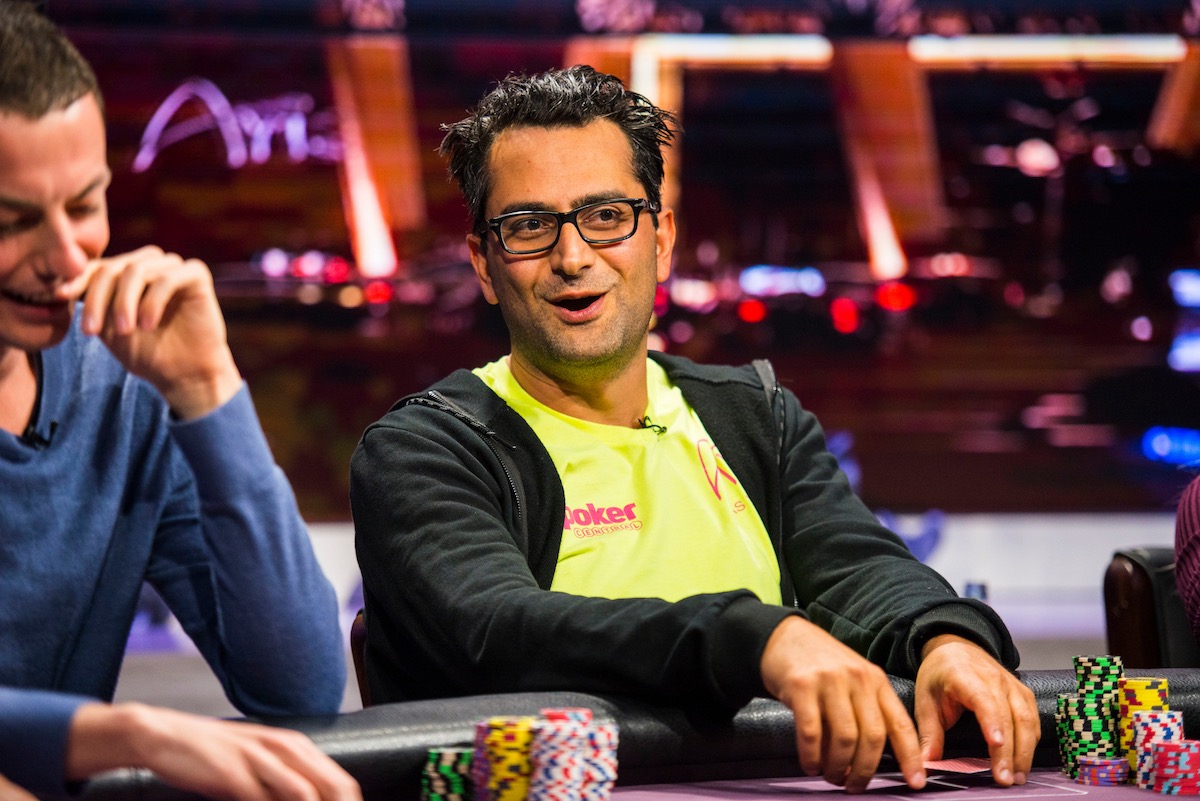 Despite poker no longer being the number one focus, Esfandiari does show a lot of love for the game that brought him to where he is today.
"I get to live the life that I live today because of poker. I love poker and I always will, but again, the family is always going to be first."
"I always wanted a family, and I always knew that when I had one my priorities would change. I didn't know that it would be this intense and this time consuming, but that's just the way it is, and it's awesome. Don't get me wrong, I absolutely love it more than anything. I wake up every day, no matter what time I went to bed, and when my kid runs and jumps on me I can be so tired but I'm waking up because it's the best."
Without the love for poker fading, but the amount of love and time going towards his family ever increasing it'd be easy to assume that his game isn't what it was at the peak of his powers. The man with $27.6 million in live tournament earnings, however, doesn't see any reason to panic or doubt himself when he's back on the felt.
Like a true wizard of deception and deceit, Esfandiari proclaimed himself, "A fish" when asked about his current skill level.
An awkward pause followed during which Esfandiari tried keeping a straight face, before bursting into laughter. Still, no fish, but also not a dedicated professional with a strict study regiment, Esfandiari finds ways to stay on top of the latest shifts in the game.
"I see what the kids are doing, I try to learn from them, and then make my own tweaks. You just have to have more courage if you want to win these days. You just got to go for it. There are no more single or double-barrel bluffs, you got to triple barrel your whole stack or you have no chance in these things. But not being in the game every day doesn't hurt my confidence. I have the best life in the world and everything else is totally secondary."
Esfandiari spoke in reference to the U.S. Poker Open, where some of the best in the world challenge each other in events ranging from $10,000 to $50,000. While not able to find time to participate in all events, between the lines the competitor in him still found a fire burning for the competition.
"It's hard to make it for so many of the different events out there, but this is an essential Poker Central and PokerGO event and I really wanted to be here and play at least one of them. Obviously, I really wanted to play on Friday [The $50,000 Main Event] but I can't make it."
As the tournament break wound down, Esfandiari touched on the future of his children and how they'll likely never know what it's like to put up $25,000 on a Wednesday in February to play in a poker tournament.
"Well, my kids are going to college and they're not going to play poker professionally, I'll tell you that. They're obviously going to take whatever direction they want to take, and I'll be totally supportive, but I really hope that they don't follow a career in professional poker!"
As of publishing, with 28 of 37 players remaining in the $25,000 No Limit Hold'em event, Esfandiari is cruising along with one of the biggest stacks in the room. No matter how big the gaps between his appearances on the biggest stage of poker might be or become, his voice can always be heard serving up a new prop bet idea, or starting banter with the players around him, seemingly in an attempt to gauge their comfort level and making the reads needed for big decisions when all the money eventually will be on the line.
Family man or not, Esfandiari still knows what it takes to come out on top.
The U.S. Poker Open runs through Sunday, February 11th, live on PokerGO daily. Tune in on Thursday for the final table of the event Esfandiari's currently playing. The action kicks off on PokerGO at 4 pm ET. For more on Esfandiari, check out his Pokerography and Deep Issues episode exclusively on PokerGO.