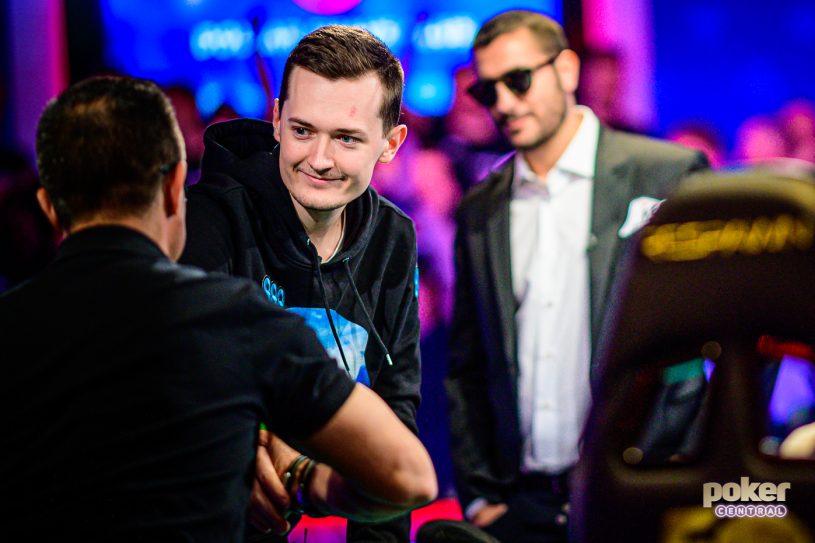 Nick Marchington finished in 7th place at the 2019 WSOP Main Event final table for $1,525,000. On this final hand, Marchington moved all in over a raise from Hossein Ensan for a total of 14 million. Ensan called with two kings and Marchington was eliminated holding ace-seven when the board brought no help.
Since its initial boom in 2003, poker has quickly become a young man's game. The records of the youngest bracelet and Main Event winner have been broken numerous times since, and while playing the game at a high level can be done from a very early age, it's not common to have the peace of mind and perspective to put a WSOP Main Event final table run into context.
Enter Nick Marchington.
Speaking eloquently, passionately, humbly, and full of joy, the 21-year old Brit quickly became a fan favorite over the last few days as his aggressive play and positive attitude resonated with those that came into contact with him. Having held the chip lead for long stretches of the event, Marchington at one point seemed destined to break Joe Cada's record and become the youngest Main Event winner ever but it wasn't meant to be.
"Maybe I'll be the youngest seventh-place finisher in the Main Event ever?" Marchington joked, shortly after being eliminated.
"Yeah, it's been an incredible run. I felt really happy the whole way. I really enjoyed the final table. Not sure why but I didn't really feel too much pressure. I just loved every minute of it."
Reflecting back on his play, the online cash game pro mentioned a hand from Day 7 where he "blasted off" with ten-deuce suited, and while the hand cost him dearly, he did not regret his aggressive approach.
"I think people were playing but money scared while I was trying to win the tournament. I wasn't trying to play for ninth place, I was going for the 10 million. It didn't work out this time, maybe next time."
Looking ahead, Marchington thinks he'll try to stand still for a while, figure his life out, and enjoy finding a better balance in his life. Supported by his parents, who flew in last minute from the UK, Marchington's life changed forever by the sum of money, the experience, and the excitement that he went through and he can't wait to do it all over again next year.
"I've loved playing the World Series, it's just like summer camp. I'd love to have another go. I'll definitely be back here next year and I'll try and add some more love stops around the world."
Lastly, Marchington provided some advice for young players who might think that making the top is harder than ever before.
"I would tell young players to believe in themselves but also I think that seeing someone win a lot of money romanticizes the idea of poker. My number one piece of advice would be, be responsible with your money and be realistic with what your skill level is.
Watch the final table of the WSOP Main Event on ESPN and PokerGO in non-ESPN affiliated regions. Read about ninth-place finisher Milos Skrbic's story right here. Read the story of Timothy Su, who finished in eight-place, right here.