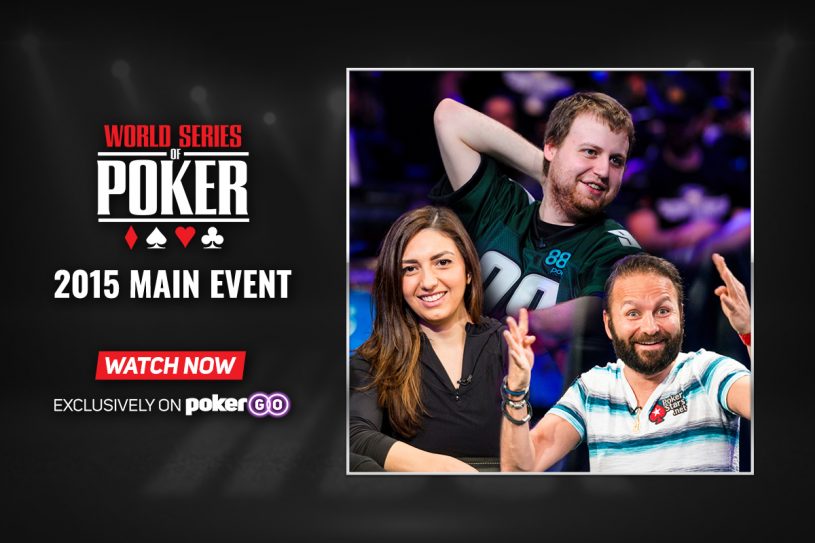 The 2015 WSOP Main Event would see the field size drop to 6,420 players which created a prize pool of $60.3 million. The November Nine returned for the eighth time as four countries were represented among the final nine players – six from the United States, and one each from Israel, Italy, and Belgium.
For the first time, the final table played over three nights. On Day 1 the final nine were reduced to just six players with Joe McKeehen holding a substantial chip lead, and on Day 2 there would be just three remaining with McKeehen leading Neil Blumenfield and Josh Beckley. After 40 hands on the final night, it would be McKeehen defeating Buckley heads-up to be crowned the 2015 WSOP Main Event champion and recipient of the $7,683,346 first-place prize.
Originally from North Wales, Pennsylvania, the 24-year-old McKeehen had already amassed nearly $2 million in live tournament earnings prior to winning the 2015 WSOP Main Event. 2014 would be his breakout year where he won over $1.28 million on the back of five titles and a second-place finish in the WSOP $1,500 Monster Stack. McKeehen first made an appearance during the Main Event broadcast on Day 5 and became a regular thereafter as he made a run up the leaderboard and found himself seated among the feature tables. McKeehen also featured heavily in PokerGO's 2015 WSOP Main Event – Top 5 Hands | World Series of Poker video where he was involved in three of the showcased hands.
There are 18 episodes from the 2015 WSOP Main Event available now on PokerGO with coverage beginning on Day 4. Feature table play is dominated by Phil Hellmuth and Daniel Negreanu, and with Negreanu building a sold chip stack, he remains the headline act when play progresses to Day 5. Negreanu is joined by the likes of Fedor Holz, Justin Bonomo, Max Steinberg, Upeshka De Silva, and Kelly Minkin on the feature tables.
When the tournament progresses to Day 6, some eventual November Nine faces begin to emerge such as Tom Cannuli, Neil Blumenfield, and Josh Beckley, while others that fall just a few places shy also are highlighted in the coverage and include Patrick Chan and Justin Schwartz. Day 7 captures the action as the final 27 players return all eyeing one of the final nine spots. Across these four episodes from Day 7, McKeehen puts his stamp on the broadcast delivering some massive eliminations on his way to reaching the November Nine as the dominating chip leader.
The final table is spread over the final two episodes, and McKeehen joined Remko Rinkema on PokerGO's Run it Back with Joe McKeehen | 2015 WSOP Main Event to discuss everything from the final table. The first episode concluded with just the final three players remaining, while the final episode would inevitably crown McKeehen as the 2015 WSOP Main Event champion and recipient of nearly $7.7 million in first-place prize money.
The 2015 WSOP Main Event was broadcast on ESPN and is now available on PokerGO. Select your favorite episode from the overview below and start watching right now.
2015 WSOP Main Event Viewing Guide
Episode
Day
Featured Player/Episode Note
PokerGO Link
1
Day 4 (Part 1)
Phil Hellmuth and Mukul Pahuja
Link
2
Day 4 (Part 2)
Daniel Negreanu and Phil Hellmuth
Link
3
Day 4 (Part 3)
Antonio Esfandiari, Fatima Moreira de Melo, and Daniel Negreanu
Link
4
Day 4 (Part 4)
Jake Cody, Daniel Negreanu, and Antonio Esfandiari
Link
5
Day 5 (Part 1)
Daniel Negreanu, Max Steinberg, and Justin Bonomo
Link
6
Day 5 (Part 2)
Justin Bonomo, Chad Power, and Daniel Negreanu
Link
7
Day 5 (Part 3)
Fedor Holz and Upeshka De Silva
Link
8
Day 5 (Part 4)
Kelly Minkin and Daniel Negreanu
Link
9
Day 6 (Part 1)
Tom Cannuli, Matt Jarvis, and Kelly Minkin
Link
10
Day 6 (Part 2)
Patrick Chan, Justin Schwartz, and Josh Beckley
Link
11
Day 6 (Part 3)
Daniel Negreanu, Chad Power, and Kelly Minkin
Link
12
Day 6 (Part 4)
Neil Blumenfield, Kelly Minkin, and Daniel Negreanu
Link
13
Day 7 (Part 1)
27 players remain
Link
14
Day 7 (Part 2)
Justin Schwartz, Federico Butteroni, and Joe McKeehen
Link
15
Day 7 (Part 3)
Zvi Stern, Joe McKeehen, and Tom Cannuli
Link
16
Day 7 (Part 4)
Joe McKeehen, Alex Turyansky, and Daniel Negreanu
Link
17
Final Table (Part 1)
Pierre Neuville, Max Steinberg, and Joe McKeehen
Link
18
Final Table (Part 2)
Joe McKeehen, Josh Beckley, and Neil Blumenfield
Link
World Series of Poker Main Event coverage is available right now on PokerGO. Check out the WSOP Classic collection and watch the best moments from past Main Events including Johnny Chan's quest for a third title, the meteoric rise of Chris Moneymaker, and Joe Cada setting the record as youngest champion.